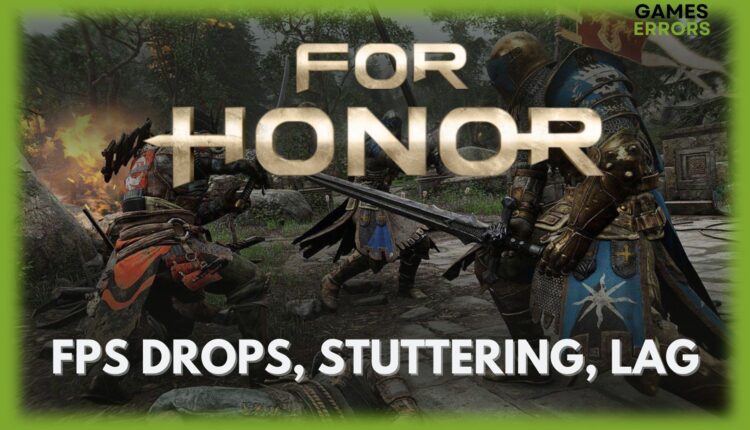 For Honor FPS Drops, Stuttering, and Lag Problems? Fix it Quickly
To fix FPS drops, stuttering, and lag problems in For Honor, ensure that your GPU driver is up to date.
X
INSTALL BY CLICKING THE DOWNLOAD FILE
If you're experiencing FPS drops, stuttering, disconnecting, and lag problems in For Honor, you're not alone. Many players have complained about getting performance issues, especially FPS drops in the middle of gameplay. This troubleshooting guide provides effective tips for fixing For Honor FPS drops and other issues for a seamless gaming experience.
Why are my frames dropping For Honor?
Your frames may be dropping in For Honor for many reasons, including:
You're trying to run the game using graphics/visual settings that are above recommended specifications
Your graphic card drivers are outdated
You have missing or corrupted game files
You're running too many non-essential background apps
Xbox Game Bar
How do I fix FPS drops in For Honor?
Here are the methods you can use to fix For Honor FPS drops, stuttering, and lag problems:
1. Modify in-game settings
Optimizing the in-game setting on For Honor allows you to increase performance without having to do any external troubleshooting. Here's how to modify your in-game settings:
Open For Honor and navigate to Display settings.
Tweak the following settings:
Display Mode: set to fullscreen
Screen resolution: set to monitor's native resolutions
VSync: turn it off
Refresh rate: set to the highest refresh rate of your PC
Start the game and note if there's any difference in performance.
2. Update graphics and other device drivers
The latest graphic card drivers ensure the best For Honor gaming experience on your PC. Faulty or outdated drivers will likely cause stuttering, freezing, and FPS drops when playing the game. To update your PC's GPU manually, follow the steps we've listed below:
Search for Device Manager on your PC and open the app.
Click on Display Adapters and right-click on the one you're using to display options.
Let Windows install any driver updates and restart your PC to apply changes.
You can also update your GPU automatically using
DriverFix
– a driver update assistant that helps you update and install drivers on your PC.
3. Set power plan to high performance
If your PC is on the incorrect power plan, you'll likely experience FPS drops, stuttering, and lag problems when playing For Honor. PCs have three power plan features – power saver, high performance, and balanced. You must set the power plan to high performance for your game to play smoothly. Here's how to do this:
It's essential to note that setting your power plan performance high will drain your PC's battery but eliminate any performance issues.
4. Disable Xbox Game Bar
Although the Xbox Game Bar enhances your gaming experience, it uses too many system resources, affecting how For Honor runs. Disabling it frees up more resources for For Honor to use and run smoothly. Follow these steps to disable Xbox Game Bar:
Press Windows key + I to access Settings.
Disable the Xbox Game Bar.
If none of the solutions worked for you, consider the following:
Close all the unnecessary background apps
Repair the corrupted game files
Reinstall the game
Conclusion
These troubleshooting tips may help you fix For Honor FPS drop. Just work your way down the list if one method doesn't work. If you're still experiencing FPS drops and stuttering when playing, drop a comment down below.
Follow us for more For Honor troubleshooting guides, including For Honor crashing on startup fixes.
If you encounter any issues or errors while playing your favorite games and require support, feel free to contact us here. Our team is always ready to assist you and ensure your gaming experience is seamless and enjoyable.