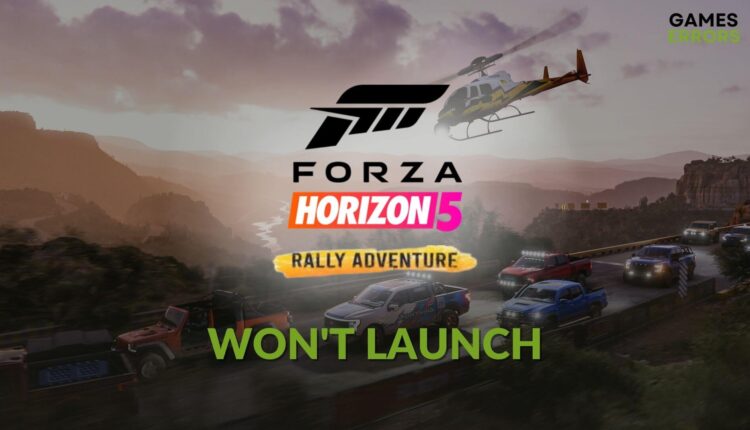 Forza Horizon 5 Rally Adventure Won't Launch: Best Fixes
If you cannot run Forza Horizon 5 Rally Adventure, update the GPU, reset the game and repair the game files ✅
X
INSTALL BY CLICKING THE DOWNLOAD FILE
When there is something wrong with Windows or the game itself, Forza Horizon 5 Rally Adventure won't launch. But if you tweak a few things, you will be able to run this item successfully.
For any racing game lovers, Forza Horizon 5 has a special place. The new Rally Adventure DLC has brought a lot of new things. But, for some gamers, FH5 may not launch after installing this DLC. If you are one of these unlucky people, don't worry. We have the solutions.
Why is Forza Horizon 5 Rally Adventure not launching on PC?
If the Forza Horizon 5 is not opening on your PC after installing the Rally Adventure DLC update, it is because of these reasons:
System requirements: Your PC doesn't meet the system requirements, which is the reason this game will not run.
Graphics driver problem: Outdated or corrupted GPU driver problem can prevent Forza Horizon 5: Rally Adventure from launching on your PC.
Antivirus or Firewall: Your antivirus or firewall may block this game which is causing the issue.
Third-party services: Some third-party services may interfere and create this launching problem.
Disk performance issues: If you have installed the game on an old HDD, it may be the reason you are encountering this problem.
Problematic game components: Problematic or outdated game components also can cause this issue.
How do I fix Forza Horizon 5: Rally Adventure won't launch?
Before getting started, we suggest you do the following things:
Now, follow these methods to fix Forza Horizon 5 Rally Adventure launching issues:
1. Run as administrator
Open the Start Menu, and search for Forza Horizon 5.
Right-click on it and choose Run as an administrator.
If you use Steam, we suggest you go to the game installation directory. Then, right-click on the EXE file of this game and go to Properties. Then, tick Run this program as an administrator from the Compatibility tab. Save it.
2. Update the graphics driver
Press Win + X and go to Device Manager.
Double-click on the Display adapters to expand it.
Right-click on the graphics driver you are using and then click on Update driver.
Click on Search automatically for drivers.
Follow the onscreen steps to finish the updating process.
We suggest you use DriverFix to update your GPU driver. This tool can install your graphics card's most compatible version of the official game-ready driver. It helps to solve any launching problems with games like Forza Horizon 5.
3. Enable Game mode
Press Win + I on the keyboard to open Windows Settings.
Now, enable the Game mode by toggling the appropriate switch.
Restart your PC.
Now, try to play the game and see what happens. It should solve Forza Horizon 5: Rally Adventure won't launch.
4. Enable High performance
Open Windows Settings.
Restart Windows.
5. Reset the Microsoft Store
If you are using Steam for FH 5, skip this method. For the gamers who have purchased it from Microsoft Store or the game has come free because of the Game Pass subscription, they should reset the store app. It will help if Forza Horizon 5 Rally Adventure is not launching. Here are the steps to follow:
Press Win + R on the keyboard to open Run.
Wait for a few seconds.
6. Repair the game files
Open the Xbox app.
Go to Forza Horizon 5 from the game library.
Give it some time to finish the process.
For Steam, go to the game library, right-click on Forza Horizon 5, and go to its properties. Then, go to the Local file tab and click on Verify integrity of game files. It will solve any type of launching issues.
This method also works if the Forza Horizon 5 Rally Adventure keeps crashing on your PC.
7. Reset the game
Time needed: 2 minutes.
If the Forza Horizon 5: Rally Adventure is not launching, reset this game's data completely. It will solve the problem.
Give it some time.
If you use Steam, there is no straightforward way to reset the data. You can completely re-install the game or follow other methods.
8. Run in clean boot
In Run, type msconfig, and press Enter. It will open the System Configuration.
Go to the Services tab.
Click on Apply and OK.
Restart Windows.
If you can be able to run FH5 in the clean boot, it means a third-party service is the root of the problem. Find it and uninstall it from your PC.
Additional methods:
Is the game still not opening? Try these methods as well:
Re-install the game.
Update Windows to the latest version.
If necessary, reset Windows.
This article has explained what you should do to fix Forza Horizon 5: Rally Adventure won't launch. If you have any questions, feel free to let us know in the comment box.
If you encounter any issues or errors while playing your favorite games and require support, feel free to contact us here. Our team is always ready to assist you and ensure your gaming experience is seamless and enjoyable.