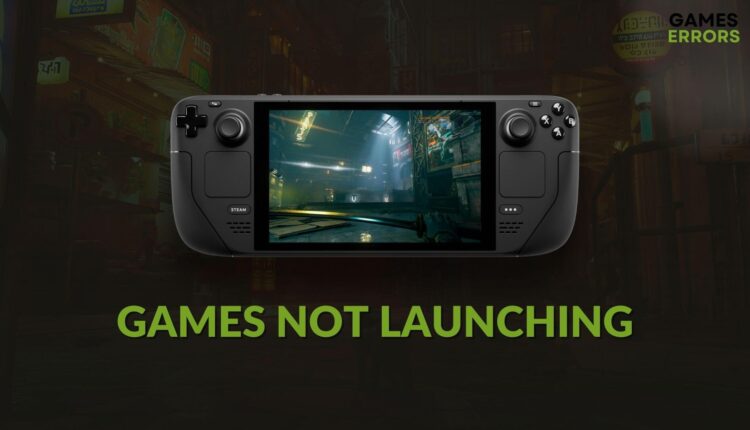 Games Not Launching on Steam Deck: How to Fix
If you are unable to run any games on Steam Deck, update the firmware and repair the game files 🎮
X
INSTALL BY CLICKING THE DOWNLOAD FILE
Are games not launching on your Steam deck console? You are not only the person experiencing this unwanted problem. We have prepared the best solutions to solve this issue.
Unlike other small-sized gaming consoles, Steam Deck is a very powerful one and capable of running most modern AAA titles. But, for some users, small to bigger, any games may not run on this device. Luckily, you can take some effective steps to solve this problem.
Why won't my games run on Steam Deck?
If your games are not launching on Steam Deck, try to find out what is the root of the problem. Usually, you will find any of the following ones:
Low disk space: If your Steam Deck's internet SSD is full or has very little available space, it might be the reason you are unable to open a game on this device.
Outdated firmware: Any latest and updated titles may not launch on this console if the firmware or Steam OS is not up to date.
Problems with the game files It's also possible that the game files have some problems, and it is preventing Steam Deck from launching the game.
Unverified games: Not all games are certified to run on this small console, even though you can try playing any titles you want. In this type of case, you may experience various gaming launching problems.
How can I fix games not launching on Steam Deck?
Before taking any key steps, we strongly suggest you do some quick things. These are:
Visit this Steam Deck Verified page and see if your game is Verified or not.
If you are using external storage, ensure it has no problems.
Ensure that there are no internal problems or disk-related issues on your console.
If everything seems alright, you can proceed to the following methods to fix games not launching on Steam Deck:
1. Uninstall some games to free up disk space
Tap on the Steam button.
Go to Settings.
Navigate to the Storage.
Select the game you prefer and press the X button.
Tap on Uninstall.
Now, run a game and see if it has worked.
2. Update Steam Deck
Sometimes, games may not launch on your Steam Deck if its firmware is extremely outdated. So, you should update it by following these steps:
Go to Steam Deck settings like before.
Navigate to the System.
Follow any onscreen steps to finish the process.
3. Tweak the compatibility settings
Select the problematic game.
Tap on the physical three lines button on your device and go to the Properties.
Go to the Compatibility tab.
Change your Proton version.
Now, try to run the problematic game and see if it has solved the launching problem or not. You can switch between various versions of Proton and figure out which one works for a particular game.
4. Verify the integrity of the game files
Time needed: 4 minutes
In most cases, a game on Steam deck will not run if there is something wrong with the installation files. So, you should verify and repair the game files.
Give it some time to complete the process.
5. Re-install the problematic game
Uninstall the game as shown in method 1.
Now, tap on the Install button to install the game again.
Launch it and see if it has worked.
6. Reset Steam Deck
Go to Steam Deck Settings like before.
Navigate to the System.
Scroll down and tap on the Factory Reset button.
This process may take some time to finish. But, once it's done, you may no longer encounter any launching issues with any games on Steam Deck.
7. Reimage the Steam Deck
On your PC, go to a web browser.
Visit the SteamOS download page.
Download the OS image.
Use a pen drive with 16 GB+ storage and use a tool like Rufus to create a bootable USB using the downloaded ISO file.
Turn off the Steam Deck.
Connect the Pendrive with your USB-C adapter to the console.
Now, press the Volume down button + Power button and hold until you hear a chime sound.
Release the Volume down button and then the Power button.
Boot from the USB storage device.
Select Reimage Steam Deck option.
Click on Proceed.
Give it some time to finish the process.
After reinstalling the OS, install your favorite games again. Then see if it has solved the problem or not.
If you are interested, learn how to fix Steam Deck Stuck on Loading Screen.
This article has explained the ways to solve games not launching on Steam Deck. If you have any questions, let us know in the comment box.