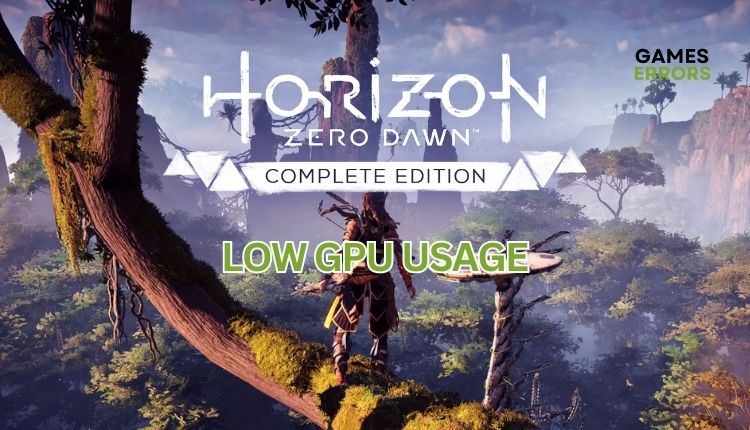 Horizon Zero Dawn Low GPU Usage: How to Fix
If you're experiencing low GPU usage in Horizon Zero Dawn, we have the best solution to boost your game's performance. 🪄
Guerrilla Games lived up to its name and offered us an excellent adventure in which we will lose hours and hours with the charismatic Aloy. A problem that can reduce your gaming experience is if you notice that Horizon Zero Dawn has low GPU usage. This raises the suspicion that the graphics card is not providing its maximum and that you will have reduced performance in the game. But don't worry; if this problem has hit you, we've made a guide on how to solve it and continue enjoying this great game quickly.
Why is my GPU utilization so low in Horizon Zero Dawn?
Your GPU usage is low because you're using integrated graphics and outdated drivers, you have a CPU bottleneck, a locked frame rate, corrupt systems files, an antivirus issue, or the game isn't optimized.
How do I fix Horizon Zero Dawn low GPU usage?
We recommend trying these basic steps first before following our troubleshooting tips:
Do you have only one stick of RAM? If you're experiencing low GPU usage, FPS drops, and general stutter, it could be due to having only one stick of RAM. Consider installing another identical stick to utilize dual-channel RAM and improve your system's performance.
Unlock your frame rate. If you have locked the frame rate at 60 FPS in the game, your powerful card will cope with this frame rate without significant load.
It might be using your IGP card instead of the discrete one by default. Disable the integrated graphics card in Device Manager.
To identify which program is causing low GPU usage, temporarily disable all startup programs and turn them on individually.
If you have done all the precheck steps but still have Horizon Zero Dawn has low GPU usage, take the following steps:
1. Update system drivers
It is crucial to keep all system drivers updated when gaming to prevent potential problems such as game crashes, stuttering, low GPU usage, or difficulty starting games. We suggest maintaining regular updates for your GPU, network, sound, and chipset drivers for optimal gameplay performance. Here is how to update your GPU driver manually:
1. Right-click on the Start Menu and choose Device Manager.
2. Double-click to expand Display adapters.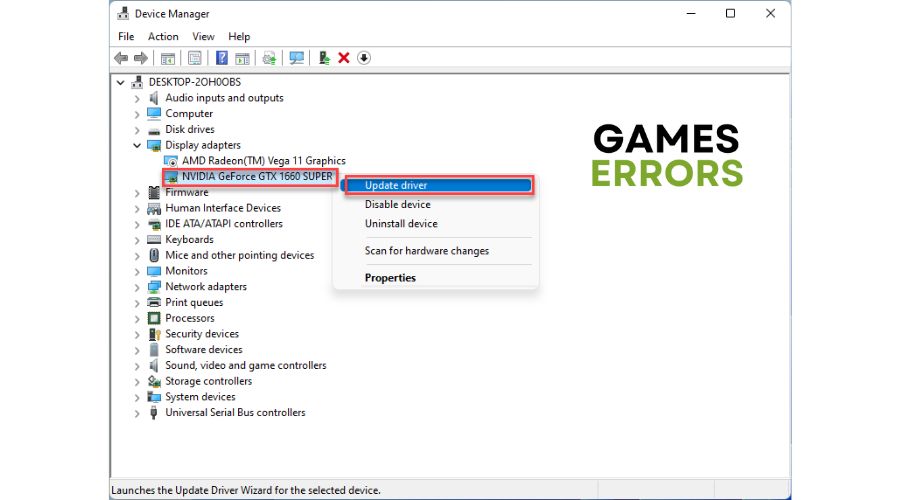 3. Right-click on your primary graphics card and click Update driver. Note that the IGP card is disabled.
4. Choose Search automatically for drivers and wait for Windows to complete the update.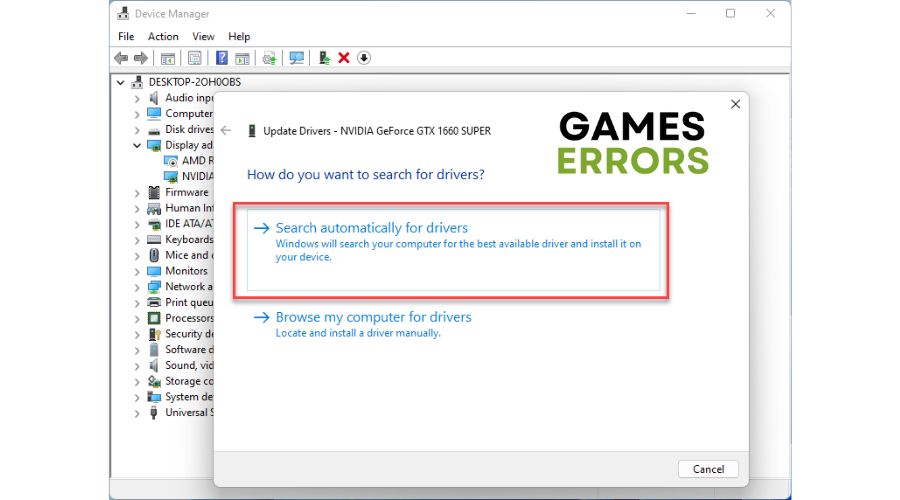 Keeping your Windows system drivers up-to-date can be daunting, but we have a solution. Try using Outbyte Driver Updater – a reliable and effective tool that automatically updates your drivers once a new version is released. This eliminates needing to scour the internet for genuine drivers or manually update through a device manager. Give it a go and experience how easy updating your drivers can be.
⇒ Get Outbyte Driver Updater
2. Repair system files
One of the possible reasons why you get Horizon Zero Dawn's low GPU usage is that your system drive has some file issues. Run a simple SFC tool (System File Checker) to check the integrity of system files. It is a Windows utility that scans and possibly repairs corrupted system files. Do the following:
1. Click on the search box and enter cmd.
2. Right-click on the Command prompt and select Run as administrator.
3. In the command prompt, type; "sfc /scannow" and press Enter.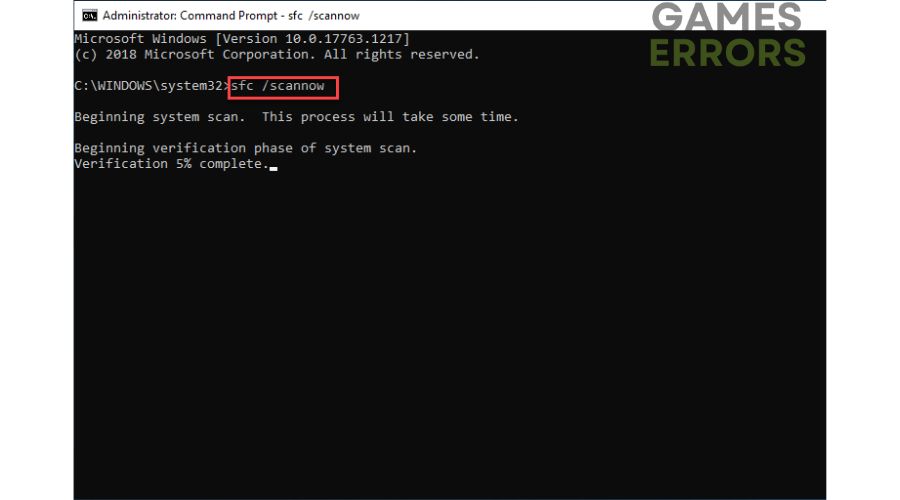 4. Wait a few minutes until SFC scans and repairs system files, then restart your PC.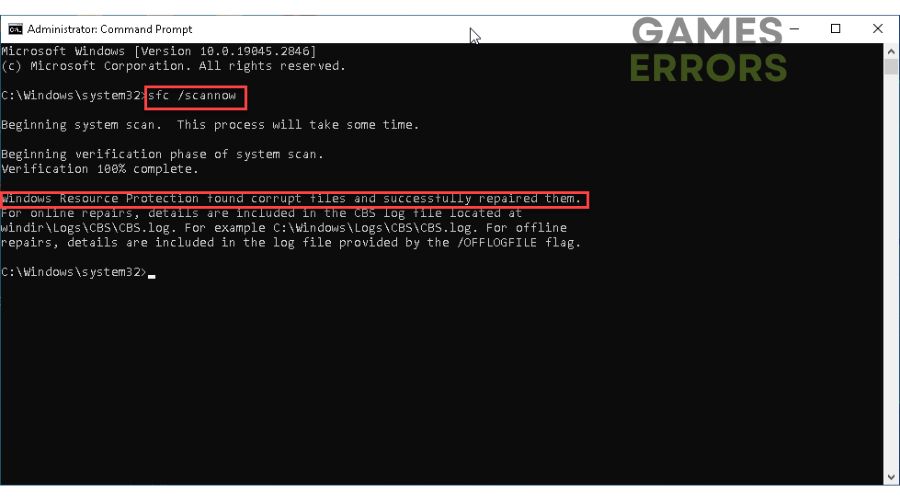 3. Adjust the GPU driver
Time needed: 3 minutes
AMD and NVIDIA offer different settings within their graphics card software to adjust various features. Inaccurate configuration of these settings can result in low GPU usage and clock speeds, causing performance issues.
Open AMD driver software

Navigate to the Gaming section and select Global Graphics. Make sure that Radeon Chill is turned off.

Go to advanced settings

Disable Frame rate target control, Morphological Anti-Aliasing, Anisotropic Filtering, and OpenGL Triple Buffering. Enable Surface Format Optimization. Set Texture Filtering Quality to Performance.

Open NVIDIA driver software

If you have NVIDIA GPU, open the NVIDIA control panel. Select Adjust image settings with preview, then Use the advanced 3D image settings and click on Take me there.

Adjust NVIDIA Settings

Set Power Management Mode to Prefer Maximum Performance, Low Latency Mode to On, CUDA – GPUs to All, Shader Cache to On, Texture filtering – Quality to High Performance, Threaded optimization to Auto.
👍Extra steps
Do you still have a low GPU usage in Horizon Zero Dawn? Here are some additional options to consider:
Update Windows to the latest version.
Update DirectX, .NET Framework, and VCRedist.
Temporarily disable Windows Firewall and Virus&Threat Protection.
Run the game as administrator from the install folder (bypass the game launcher.)
Conclusion
We have tried to provide the best solutions for low GPU usage in Horizon Zero Dawn. Let us know in the comments below which solution worked for you or if you have a better one that we haven't mentioned.