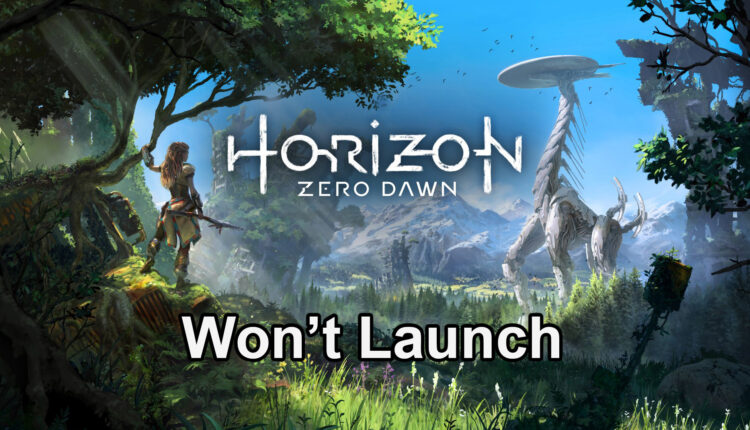 Horizon Zero Dawn Won't Launch: Why & How to Fix
Before doing anything else, try to close as many unnecessary apps running in the background ⚙️
Horizon Zero Dawn, an acclaimed action role-playing game developed by Guerilla Games, has enthralled players with its immersive world and captivating storyline. However, some players have encountered the Horizon Zero Dawn won't launch issue.
Therefore, this troubleshooting guide will explore various solutions to address the "Horizon Zero Dawn Won't Launch" problem. By following these steps, players can overcome technical obstacles and enjoy the game to its fullest.
Why won't my computer launch Horizon Zero Dawn?
The launching issues are most commonly caused by outdated software. While it is probably your GPU drivers, it can also mean that your Windows build is outdated or Visual Studio C++. Still, it can also mean that your PC isn't powerful enough to run the game properly. All in all, to get rid of the launching issues, check out the following section.
How to fix the Horizon Zero Dawn not launching problem?
Resolving this issue should not be overly challenging. In this guide, we will provide a few simple and straightforward solutions to try. Before we delve into them, it is important to consider the following:
Check system requirements – Ensure that your PC meets the minimum requirements for running Horizon Zero Dawn. Insufficient hardware power can often lead to launch issues.
Close background apps – Dozens of applications running in the background can interfere with the game's launch. Use the Task Manager to close as many unnecessary apps as possible.
After doing that, if the issue still persists, move on to the simple and yet effective methods below:
1. Update video card drivers:
Outdated video card drivers can often be the culprit behind launch issues. To ensure optimal compatibility and performance, it is essential to keep your GPU drivers up to date. Follow these steps to update your video card drivers:
Press the "Windows" button on your keyboard and search for "Device Manager."
Expand the "Display Adapters" option and right-click on your video card.
Select "Update driver" and choose the "Search automatically for drivers" option.
After the update is complete, restart your PC and attempt to launch Horizon Zero Dawn again.
Still, believe it or not, all of these steps can be replaced by a single tool called Outbyte Driver Updater. With Outbyte Driver Updater, you can easily scan and update any driver for your PC in a single click. That is why we highly recommend you go with this hassle-free solution if you want to be more time-efficient. 
2. Launch the game in windowed borderless mode
Running the game in full-screen mode can sometimes cause compatibility issues, especially if your system is near the minimum requirements. Launching the game in windowed borderless mode may resolve this problem. Here's how:
Open the Steam client and navigate to the "Library" section.
Right-click on Horizon Zero Dawn and select "Properties."
In the text box under "Set Launch Options," enter the following command: -windowed -noborder
Click "OK" to apply the new settings and relaunch the game.
3. Update Windows
An outdated Windows version can lead to various performance issues, including problems with launching games. Keeping your operating system up to date is crucial for smooth gameplay. Follow these steps to update Windows:
Use the "Windows + I" shortcut to access system settings.
Go to the "Windows Update" section.
Click on "Check for updates" and wait for any available updates to download and install.
Restart your PC to apply the changes and attempt to launch Horizon Zero Dawn.
4. Reinstall Visual Studio C++
If the previous methods have not resolved the issue, reinstalling the Visual Studio C++ component may be necessary. This ensures that the necessary runtime libraries are properly installed. Here's what you need to do:
Press the Windows + R keys, type "appwiz.cpl," and press Enter.
Locate the Microsoft Visual C++ Redistributable and uninstall it.
Visit the official Microsoft website and download the latest version of Visual C++.
Run the downloaded installer and follow the on-screen instructions to install Visual C++.
Restart your computer and try launching Horizon Zero Dawn again.
Additional tips to fix Horizon Zero Dawn not launching:
Disable Firewall and Antivirus – As these two tend to flag video games as threads, disabling them temporarily may address the launching problem.
Reinstall the game – In the end, if none of the methods above worked, try reinstalling the game.
Other related articles:
Final Verdict
Encountering launch issues in Horizon Zero Dawn can be frustrating, but with the troubleshooting methods provided in this guide, players can overcome such issues.
Updating video card drivers, launching the game in windowed borderless mode, updating Windows, and reinstalling the Visual Studio C++ component are some of the most effective strategies for resolving these problems.