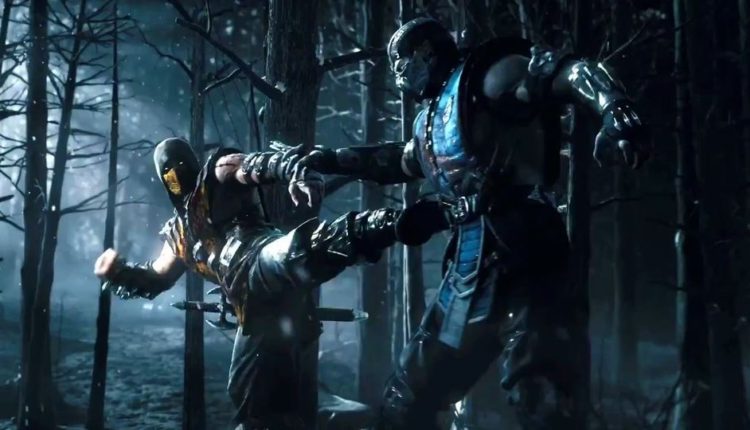 How to Fix Mortal Kombat X Errors, Random Crashes, Low FPS, Not Starting
Mortal Kombat X was released yesterday on Steam and because the game comes with a new pre-loading feature many players complained about issues and errors. With the pre-loading feature you can download the first 3GB of the game and unlock single-player and tutorials, the rest of the game being downloaded in the background. The most common Mortal Kombat X errors that people reported on Steam forum are: Random Crashes, Low FPS, Game Not Starting and Login Error. Below you can see this error described and you can also find solutions on how to fix them.
How to fix Mortal Kombat X Errors:
#1 Mortal Kombat X Crashes
For some players, the game crashes when they start it or when they enter combat. Also, some players encounter random crashes during the game. After these crashes, the game closes and you might lose progress, some players also need to restart their PC's. Follow the solutions below to fix the crashes in the game.
There seems to be a menu crash that is encountered by a lot of players, this issue should also be fixed with these solutions. Try all of them until your game won't crash anymore.
"I can't even play the game when I go to single player and then single fights my game just crashes."
Solutions: 
Follow our tutorial at the end of the post to fix this issue.
Don't play with a controller because some users reported that this was why their game crashed
#2 Mortal Kombat X Low FPS
Many players are complaining about FPS issues, some players can't remove the FPS cap and some players are having constantly terrible FPS, like 15-30 FPS. Follow the tips below to remove the fps cap and to improve the game performance overall.
"I have i7 GT 650M and 8 GB RAM and my game won't go higher than 15 fps with lowest settings any ideas?"
"60fps is great and all, but I WANT MORE. unlocked fps is always better"
To remove the FPS cap follow these steps:
Go to C:\Users\[yourname]\AppData\Roaming\MK10 (if you can't see the AppData folder go to Control Panel and here open the Folder options, here uncheck the hidden folders box)
Open options.ini in a text editor
Find the word CapFPS under [Development] and set to false
Performance Issues Fix:
To fix the game performance issues like Low FPS and FPS Drops you need to follow the tutorial at the end of the post and to apply our patch to your game.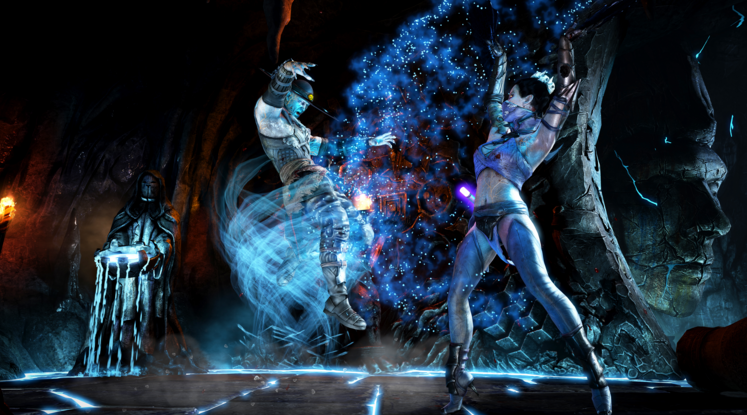 #3 Mortal Kombat X Login Error (iOS), if you are having this error you can't sign in WB Play, it's not recognizing your WBID login, even though you know you have the right email address and password.
To fix this error on iOS game, follow this instruction:
Instead of entering your email address and password, click where it indicates to sign up for a new one.
Enter your existing email address and password, and enter your birthday.
Click "sign up using email" to try and create an account.
You'll be told that you already have a WBID, and it will ask if you'd like to associate it with this game.
Say yes.
Once you're back at the menu, quit the game and relaunch it.
Congratulations! You've connected your WBID to Mortal Kombat X mobile.
#4 Mortal Kombat X Not Starting
For some users the game won't even start, when they click Play nothing happens, the Steam icons goes green and says that they are playing MK but after that, it turns back to blue. Follow the solution below to start your game.
"Every time I go to boot the game it simply "starts" which installs DirectX again then the green profile pops up like the game started, then just goes blue again. Nothing happens after that."
Solution: Follow our tutorial at the end of the post and after you apply our patch to your game you will be able to start it.
#5 Mortal Kombat X Missing Modes/Characters
You need to complete the game tutorial for the modes and characters to appear. You can also try to verify the integrity cache of the game to make sure that you don't have any missing files or you can wait until the developers releases an official fix for this bug.
#6 Mortal Kombat X Failed to create D3D Device
It seems like this issue occurs mostly on the following AMD graphic cards: Radeon X300, Radeon X700, Radeon X800, Radeon 9###. Follow the solution below, that Steam provides here.
Before updating your drivers, please visit Windows Update and make sure that you have all of the critical updates and the .NET framework installed.

If you get a Failed to create D3D device error and are using any of the above ATI Cards, please update your drivers to the latest version of Catalyst by visiting the ATI driver page.

If you use a Nvidia or any other type of video card, please visit the manufacturer's website for the latest video card drivers.

You can use the dxdiag tool to view your DirectX information.  dxdiag will show what driver version you have, what video card is in the system and so on and may provide valuable data on your system.

If you have the latest drivers for your video card and are still seeing the failures it's possible that your system has gotten into an unusual state.  Restarting your system may reset things to a working state.

If the crash persists, set the following launch option:

Go to Steam's

Library

.
Right-click on the affected game.
Go to

Properties > General > Set launch options…

Type in -dxlevel 81.
Click

OK

.
Mortal Kombat XTutorial to Fix Major Issues:
Our team of developers managed to release a patch that helps you fix the errors described above. You can see how our patch looks like below, where you can also find a tutorial on how to use it and a download link. Please follow the tutorial step by step before asking any questions regarding your issues. Our patch won't interfere with your Steam account, it will just change some files and .dll in the game folder in order for the errors to be fixed.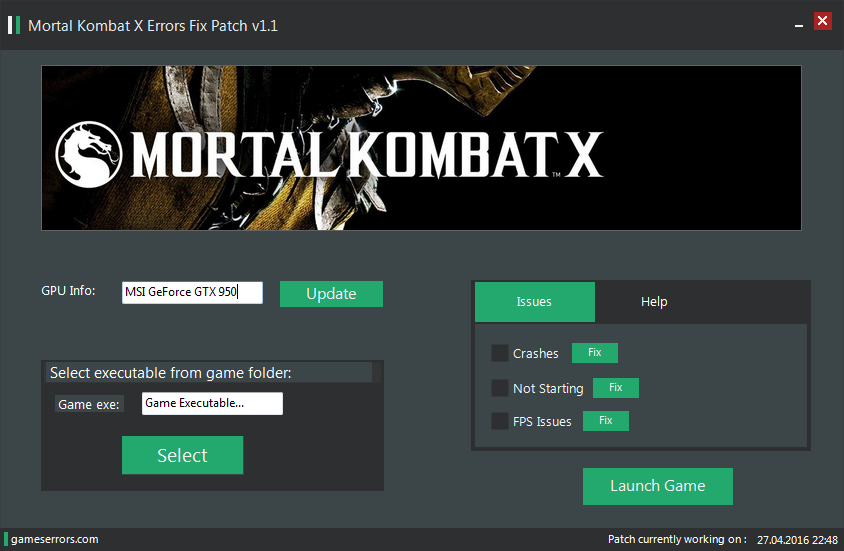 Follow the tutorial below to apply the patch correctly to your game.
How to apply our patch:
Download the archive of the patch from here: download
 Extract the downloaded archive on your PC, and open the patch from the folder.
Your GPU will be selected automatically, make sure that you use your dedicated GPU if you have a laptop!
Select the game executable from the game folder, if you used the default install folder it should be: "C:\Program Files (x86)\Steam\Steamapps\common\Mortal Kombat X"
 Select your issue or issues from the box to the right and click the corresponding "Fix" button.
After your errors are successfully fixed you can click the "Launch Game" button and play the game.
How to download: Well, you might think that our download service is pretty annoying but is very effective. To download you just need to complete a simple offer, it usually takes a few minutes, and after that, you will be able to download the patch. We use this service because is the only way to support our developers and to keep releasing and updating patches for games. Thank you! We hope you understand us and have fun playing Mortal Kombat X!
We hope that our tips helped you fix your Mortal Kombat X Errors and if you have any questions or if you don't know how to use our solutions, please comment below and we will help you fix your game. – GamesErrors.com Team