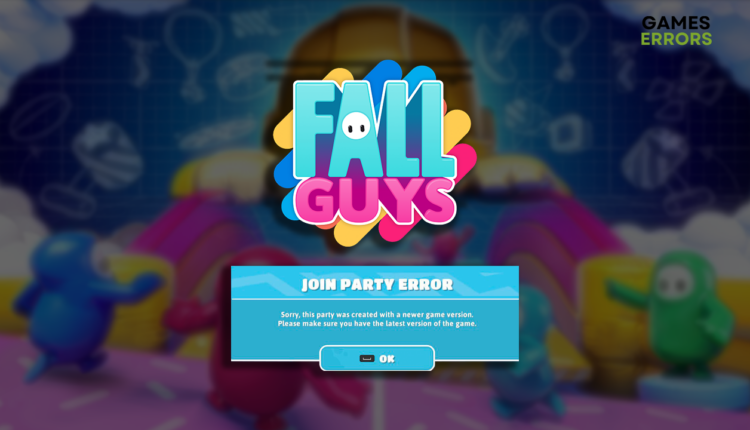 Join Party Error Fall Guys: Fix It Quickly [PC & Xbox]
Battle royale games are much more fun when playing with your friends. Let's discover how we can make that happen! 👾
Many gamers experienced inconvenience due to the join party error Fall Guys. We were determined to find the causes of this annoying issue. This investigation resulted in a list of actionable solutions you can apply on your PC or Xbox!
Why do I get a join party error Fall Guys?
You get the join party error in Fall Guys due to a mismatched game version, poor internet connection, temporary issues with network devices, weak wireless signal, an outdated network driver, pilled-up cache files, corrupted game files, or bugs on Steam and Epic Games.
Join party error in Fall Guys on Xbox occurs due to the above-mentioned network reasons, but also temporary issues with the game, outdated Xbox software, corrupted save data, or enabled Parental Controles.
How do I fix join party error in Fall Guys?
Regardless of the platform you are playing on, start by applying these easy checks and fixes:
Check your internet: Visit the Google Speed Test page and check if your connection works. If you have general connection issues, try connecting through an alternative network.
Restart network devices: Find your router or modem and press the restart button on the back panel. Wait for a few minutes and try joining the party again.
Use a wired connection: Although a wireless connection is convenient in many situations, we recommend you use a wired (ethernet) connection whenever possible.
💡 The most common reason for join party error is a mismatched game version. Ensure the auto-update option is enabled on your Steam, Epic Games, Xbox, or PlayStation, depending on the platform on which you play the game.
Here are the most efficient technical solutions for the join party error Fall Guys on PC.
1. Update the network driver
Time needed: 5 minutes
The network driver manages the connection between your PC and the game server. Keep the network driver updated to avoid potential connectivity issues.
Click the Windows icon, type Device Manager, and open this tool under Best Match.

Double-click on the Network Adapters section.

Right-click on your internet adapter and select Update driver.

Select the Search automatically for drivers option.
Install the driver update if the Update Driver Wizard finds one.
Restart your PC.
Automatize driver management by using Outbyte Driver Updater. This swift and reliable tool handles it all! From scanning and monitoring to performing driver updates, the worry doesn't have to be your responsibility.
2. Delete cache files
Fall Guys and other games on your PC store temporary files so they can launch and run smoother. Due to inappropriately closing the session, crashes, and other reasons, these files can get corrupted. Head to the Local folder and delete them.
Use the Windows Key + R shortcut to open the Run dialog, type %localappdata%, and hit OK.

Use the CTRL + A shortcut to select all files in the folder.
Press the Delete key on your keyboard to delete all the files in the folder.
➡ If prompted to confirm, click on Yes.
➡ If some files can't be deleted, click on Skip.

Extra steps
Here are some additional fixes you can apply to get rid of the join party error Fall Guys:
📁 Verify game files on PC: This way, corrupted or outdated game files can be replaced quickly.
➕ Re-add your friends: Remove the friend you are trying to play with, restart the game, and re-add them. You can also try to invite them through Steam or Epic Games Launcher.
🔁 Reinstall Fall Guys: The last resort you can apply on your PC is uninstalling the game, restarting your PC, and performing a clean installation.
How to fix the join party error Fall Guys on Xbox? 🎮
Here are some solutions to apply on your Xbox to get rid of the join party error in Fall Guys:
🔁 Restart Fall Guys: The quickest, and maybe the most efficient solution, is to restart the game.
⬆ Update Xbox software: Press the Xbox button on your controller, navigate to Settings, select System, and choose Updates & Download. Select the Console update available and wait.
💿 Clear save data: Navigate to the home screen, select My Games & apps, highlight Fall Guys, and choose Manage Game & add-ons. Select Saved data and hit Delete.
❌ Disable Parental Controls: Go to Xbox Settings, choose Account, and go to the Family section. Set Parental Controls to Off, enter your password to confirm, and restart your Xbox.
Conclusion
In conclusion, before taking action regarding the join party error Fall Guys, check your internet connection network devices and ensure you are connected via ethernet cable. If playing on a PC, update the network driver and delete cache files. Additionally, re-add your friends and verify game files.
Resolve this error on Xbox by restarting the game, updating the Xbox software, and clearing save data. Remember, if Parental Controls are enabled, you won't be able to play Fall Guys with your friends. The last resort option is to uninstall the game and perform a clean installation.
If you encounter any issues or errors while playing your favorite games and require support, feel free to contact us here. Our team is always ready to assist you and ensure your gaming experience is seamless and enjoyable.