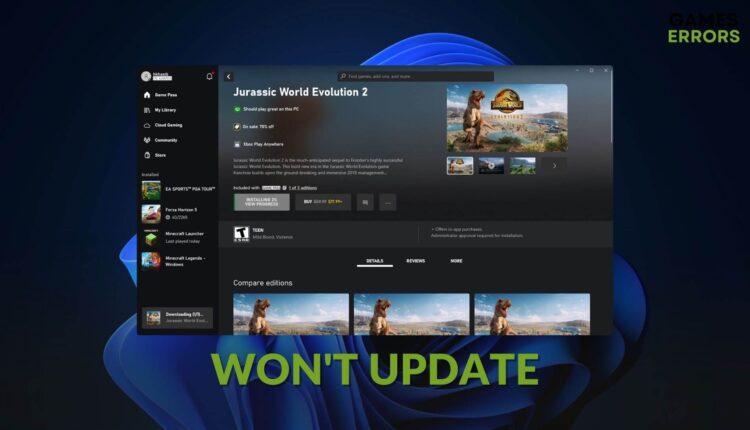 Jurassic World Evolution 2 Won't Update: How to Fix
Disable the firewall and delete local cache to fix Jurassic World Evolution 2 won't update 🎯
When you notice that something unexpected happened and the Jurassic World Evolution 2 won't update on your device due to the error 0x80070005, you should take some effective steps to fix this problem. This article will describe these steps and will also tell why it happens.
If you are a prehistoric animal lover who has a deep interest in any Dinosaur-related simulation-strategy games, Jurassic World Evolution 2 is undoubtedly an excellent choice. Also, the developer often releases updates to this game to improve the stability and user experience.
For some gamers who use the Microsoft Store version, the Xbox app may not be able to download and install the updates due to an error code 0x80070005. It's a problem that must need to be fixed. Otherwise, other issues may appear when the item becomes outdated.
Why is Jurassic World Evolution 2 not updating?
When you try to update Jurassic World Evolution 2, it may stop by stating something unexpected happened with the error code 0x80070005. If it happens to you, it is because of the following reasons:
Network problem: The first thing that may affect the updating process is your internet connection.
Firewall and antivirus: If your antivirus or firewall interferes with the Jurassic World Evolution 2 updating process, this problem may appear.
Remote server problem: This problem can be related to the remote server from where you are supposed to get the update.
Corrupted components: Else, some corrupted components can also prevent you from updating this Dinosaur game to the latest version.
What should I do if Jurassic World Evolution 2 won't update?
There are several methods you can try to resolve Jurassic World Evolution 2 updating problem on the Xbox app in Windows 11 or 10. But, before that, you should ensure these things to avoid unwanted hassles:
Make sure that you have a stable internet connection and that you are not using any proxy or VPN.
Confirm that you are logged in with the correct account on the Xbox app and that the Xbox Service status is not down.
Ensure that the date, time, and region settings are correct on your device.
Make sure that the Xbox app is up to date.
If everything is alright, go through the following methods to successfully update Jurassic World Evolution 2:
1. Disable your antivirus or firewall
In Start Menu, type Windows Security, and press Enter.
Go to Firewall & network protection.
Click on Private Network, as shown in the screenshot.
Under the Microsoft Defender Firewall section, turn off the switch.
Similarly, disable Firewall for Public Network too.
Restart your PC.
2. Delete corrupted local cache
Time needed: 2 minutes
There are several successful methods. But, deleting the corrupted locally cached files has the most success rate in fixing Jurassic World Evolution 2 won't update.
Delete all contents from this folder.
Restart Windows.
3. Repair the Xbox app
If you constantly get the message something unexpected happened with the error code 0x80070005 while updating Jurassic World Evolution 2 using Xbox app, you must repair this application. To do it, follow these steps:
Press Win + I on the keyboard to open Windows Settings.
Find the Xbox app and click on the three horizontal dots next to it.
Go to Advanced options.
Click on Repair.
Give it a few seconds to finish the process.
Similarly, repair the Gaming Services app. It should solve the problem.
4. Change DNS
The Jurassic World Evolution 2 won't update if there is a problem with the DNS. So, to fix it, you can use a better DNS by following these steps:
Go to Windows Settings like the previous method.
Select Manual.
Enable IPv4.
Restart Windows.
It will also help to fix Xbox app not downloading games and similar problems.
5. Reset Microsoft Store
Open Run.
Give it a few seconds to finish the resetting process.
These methods are sufficient to fix this issue. If not, update Windows to the latest version. Dig deeper to know if Windows is corrupted or not. If yes, repair it or reset or re-install the operating system.
If necessary, learn how to fix the Xbox app not launching games on PC.
This article has featured how to fix Jurassic world evolution 2 won't update. If you have any questions or suggestions, write them down in the comment box.