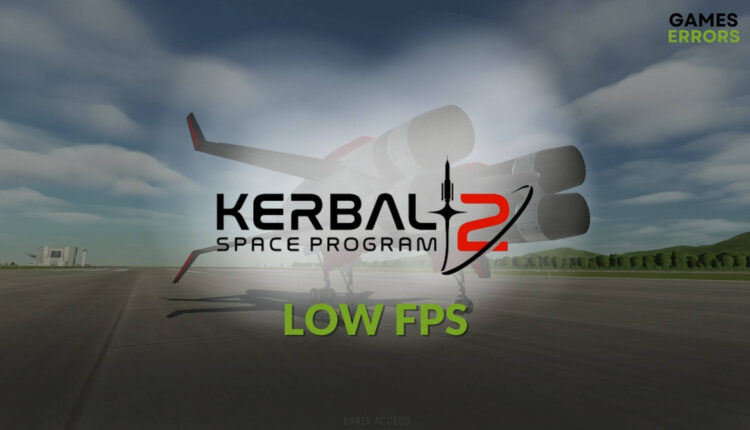 Kerbal Space Program 2 Low FPS: Fix & Boost the Performance
Fix KSP 2 low FPS in seconds by following our effective methods 🚀
X
INSTALL BY CLICKING THE DOWNLOAD FILE
Kerbal Space Program 2 low FPS problem may appear on your PC even if you have a decent GPU like RTX 4080. It has some reasons. However, you can significantly increase its performance if you tweak a few things.
More or less, the frame rate is important for every type of video game you play on your computer. A space-flight simulation game like KSP 2 can give you an exciting experience if the frame rate is good enough. But, if the FPS drops suddenly and everything feels laggy, you will not enjoy the game at all.
Why am I having a poor frame rate on Kerbal Space Program 2?
Frame rate drop, stuttering, and laggy experience on Kerbal Space Program 2 mainly occur due to the following reasons:
Problematic graphics driver:

The graphics card and the associated driver are the first things that directly affect the game's FPS. If you don't get the expected performance from KSP 2, the problem with the driver may be the reason.

System requirements:

If your computer doesn't have the necessary specifications, it will not give you the playable experience on Kerabal Space Program 2.

Third-party background services:

Third-party services, including your antivirus and firewall, also may affect the game FPS. It also can cause KSP 2 launching problem.

Improper settings:

If the in-game settings, as well as other configuration, is not suitable for your PC, you will not get a reasonable frame rate.
How can I fix Kerbal Space Program 2 low FPS problem?
To fix KSP 2 low FPS problem, restart your PC as the first step. Then, check out the following things before going through the main troubleshooting methods:
If these primary steps don't help, go through the methods mentioned below to boost Kerbal Space Program 2 FPS:
1. Update the graphics card
Open the Start Menu, type device manager, and press Enter.

Double-click on the

Display adapters

.

Choose

Search automatically for drivers

 and update the driver.
To fix poor FPS in gaming, you must have the WHQL game-ready driver for your graphics card. For this, we suggest you use
DriverFix
. This tool can get the most recent official driver for your GPU and install it on your PC. In addition, it can scan for outdated drivers and update them automatically without your interactions.
2. Reduce background processes
Press Win + X on the keyboard and go to

Task Manager

.

Go to the

Processes

 tab.

Disable all the unnecessary CPU and memory-intensive tasks.
3. Disable fullscreen optimization
Go to the KSP 2 installation folder.

Right-click on 

ksp2.exe

 file and go to its 

Properties

.

Click on 

Apply

 and 

OK

.
For some users, disabling fullscreen optimizations may increase FPS on Kerabal Space Program 2.
4. Disable in-game overlay
Open 

Steam

or Epic Games Launcher, depending on where you have installed the KSP 2.

Go to the 

Settings

.

Go to the

In-Game 

tab.

Relaunch 

Steam

.
In the Epic Games Launcher, the steps are slightly different. But it is easy to figure out. After doing it, play the game and see if it has solved the Kerabal Space Program 2 low FPS problem or not.
5. Enable game mode
Press 

Win

 + 

I

to open Windows Settings

.
This feature was first introduced in Windows 10. Windows 11 also has this option. It can increase FPS and performance in a game like KSP 2.
6. Roll back the GPU driver
Open 

Device Manager,

like method 1.

Right-click on the graphics driver and go to Properties.

Click on 

Roll Back Driver

.

Follow any on-screen steps to complete the process.
If the latest version of the GPU driver has some issues, you will notice lower FPS after updating the driver. In this type of situation, this method will help to fix Kerabal Space Program 2 poor FPS problem.
7. Re-install the GPU
7.1 Uninstall the driver
In the Device Manager, right-click on the graphics card and choose

Uninstall

.

Restart Windows.
7.2 Install again
Visit

AMD

, 

Intel

, or 

NVIDIA driver download page

, depending on the GPU you are using.

Download the driver.

Install it on your PC.
8. Disable Vsync
Open the graphics card control panel, for example, the NVIDIA Control Panel.

Go to

Manage 3D settings

.

Now, launch the game and see if it helps to increase the FPS on Kerabal Space Program 2 or not.
9. Repair KSP 2 game files
Open 

Steam.

Right-click on the 

Kerabal Space Program 2

and go to its

Properties

.

Go to the

Local Files

 tab.

Click on 

Verify integrity of game files

.

Wait until it finishes the scanning and repairing process.
On Epic Games Launcher, you will get a similar repair option. It will help to solve this FPS problem.
Other things to do:
If the problem still exists, we suggest you do the following things as well:
Re-install the game completely.
Update Windows to the latest version.
Play with lower settings or apply settings suitable for your PC's specs.
If necessary, learn how to fix Kerabal Space Program 2 crashing problem.
The abovementioned methods will indeed help to solve Kerabal Space Program 2 low FPS problem. Feel free to let us know which method has worked for you in the comment box.
If you encounter any issues or errors while playing your favorite games and require support, feel free to contact us here. Our team is always ready to assist you and ensure your gaming experience is seamless and enjoyable.