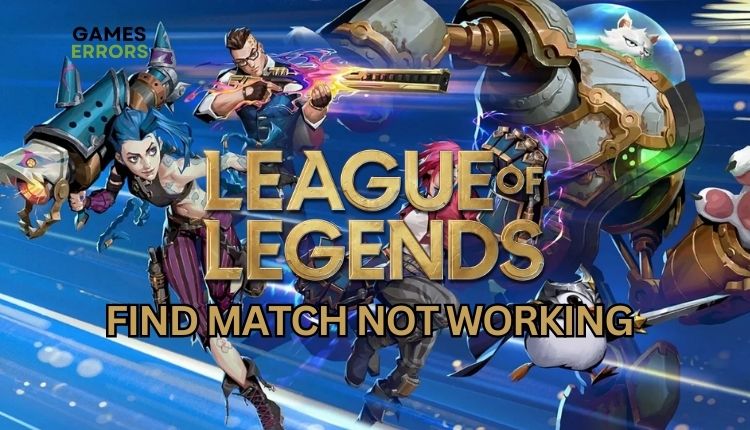 League of Legends Find Match Not Working: How To Fix
Check our quick solutions if the Find Match button is not working on League of Legends. ⚡
Back in 2009, a video game was released for PC called League of Legends, modeled after the DotA mode in Warcraft III. Today, a MOBA game has spawned a movement. League of Legends has successfully made its way into every aspect of leisure. For a real e-sports player, it can be frustrating to experience internet connection problems while searching for a match in League of Legends. One of the resulting errors is the greyed-out "Find Match" button. Additionally, pressing the button without any response can also pose frustration. Aware of the League of Legends Find Match not working problem, we've created this guide to show you how to fix it.
Why is find match in League of Legends not working?
There could be several reasons why you are experiencing trouble with finding a match in League of Legends, such as:
server issue
slow or unstable internet connection
outdated system drivers
Windows firewall interferes with the game
corrupt game files
How to fix League of Legends find match not working?
Before proceeding with our troubleshooting tips, we recommend performing these easy steps first:
Check the League of Legends game server status. You must wait if the server is currently undergoing scheduled maintenance or if a problem is being fixed.
Power cycle your network devices (modem and router) and restart your PC.
Test and verify your internet connection (download, upload, and ping). If there are any difficulties, contacting your Internet Service Provider (ISP) is advisable. They can determine if the problem is on their end or if they have restricted your network resources.
If you've followed the simple steps mentioned earlier and are still experiencing that Find Match still not working, follow our tips:
1. Update system drivers
Updating your system drivers is an excellent first step if you're experiencing various issues while playing League of Legends. Here is how to update your network driver manually:
1. Right-click on the Start Menu and choose Device Manager.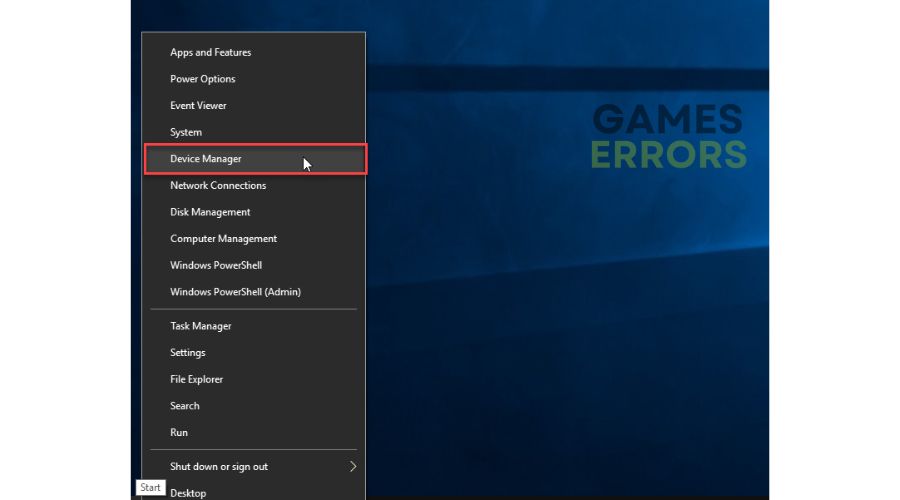 2. Double-click to expand Network adapters.
3. Right-click on your network card and click Update driver.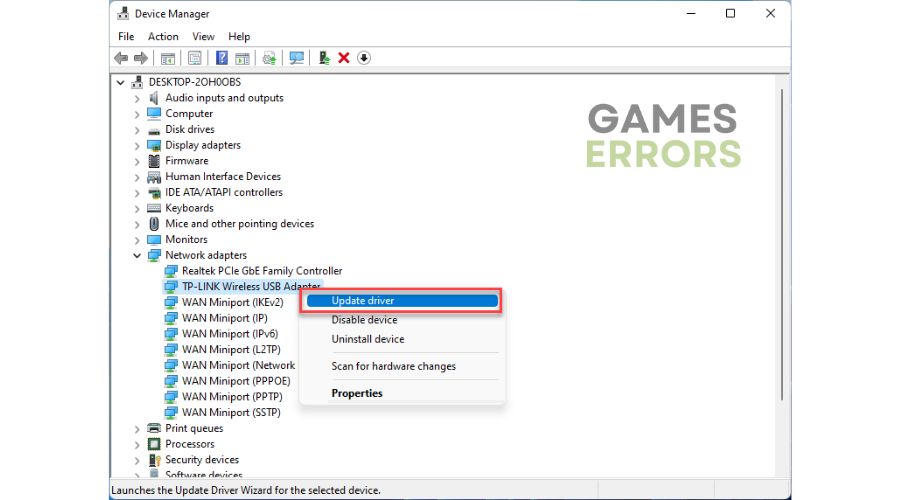 4. Select the option Search automatically for drivers and patiently wait to install any available new drivers.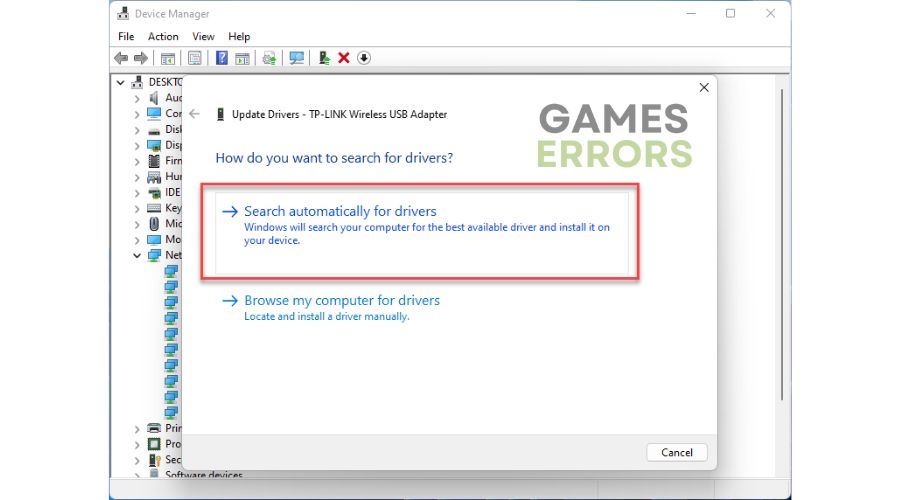 📌 An alternative method we recommend is using Outbyte Driver Updater. It is a simple tool that updates all drivers on Windows OS. Unlike manually updating or downloading drivers through your browser, Outbyte Driver Updater ensures your system has the most current drivers available.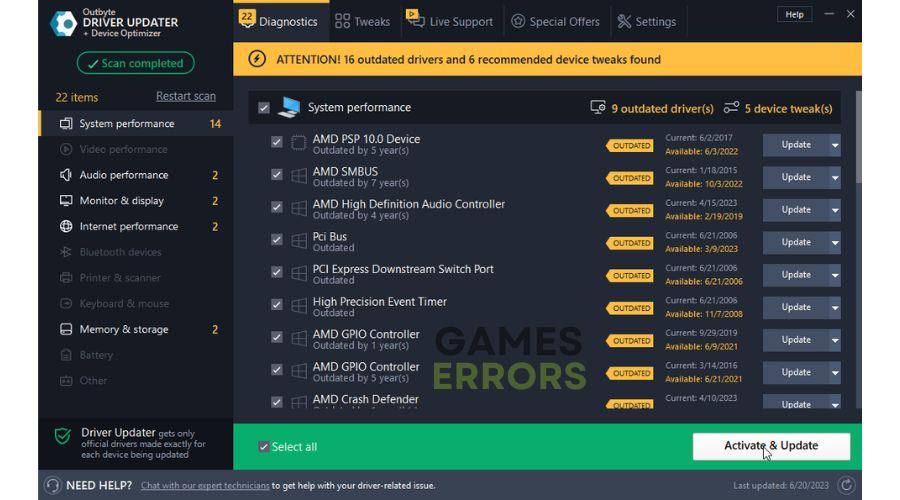 2. Disable IPv6
Time needed: 1 minute
If you're having trouble with the Find Match not working issue in League of Legends, IPv6 may be one of the causes. Follow these easy steps to turn off IPv6 on Windows 10 and 11:
Open the Run dialog box

Press Win + R keys to open the Run dialog box. Type; "ncpa.cpl" and press Enter.

Select your Network Card

Right-click on your network adapter and select Properties.

Disable IPv6 protocol

Uncheck the box next to Internet Protocol Version 6. Click OK to save the changes.

Restart your PC

Check if Find Match in League of Legends is working.
3. Change your DNS server address
Sometimes, the DNS provided by your ISP may not meet your needs. However, adjusting the DNS settings and utilizing Google Public DNS addresses can aid in resolving connectivity problems. Do the following:
1. Press Win+R on the keyboard to show the Run dialog.
2. Type: "ncpa.cpl" in the box and press Enter to open Network Connections.
3. Select the network adapter you are connecting to your local network, right-click, and select Properties.
4. Click on the Internet Protocol Version 4 (TCP/IPv4) and click on the Properties button.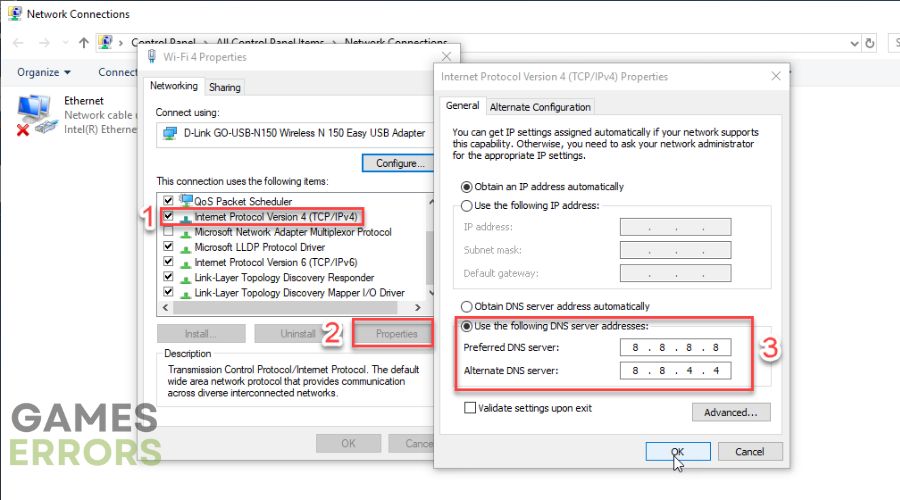 5. Under the General tab, confirm the radio button: Use the following DNS server addresses:
6. For Preferred DNS server input 8.8.8.8 and for Alternate DNS server input 8.8.4.4.
7. Confirm changes on OK, and try to launch League of Legends to check if the issue is gone.
✅ Extra steps:
If you have followed all the previous steps and Find Match in League of Legends is still not working, here are some additional options to consider:
Update Windows to the latest version.
Run the game from the installation folder as administrator.
Close any unnecessary tasks running in the background (like multiple downloads simultaneously and heavy apps – VPN, P2P, Office, Photoshop, etc.)
Temporarily disable firewall and third-party antivirus software.
Turn off the VPN, especially if you use free VPNs, which can cause excessive lag and stuttering while gaming.
Use a wired connection instead of a wireless one for a more stable and faster internet speed.
Reinstall League of Legends.
Conclusion
We hope the above solutions have helped you fix when League of Legends Find Match is not working. Feel free to leave any questions, comments, or alternative solutions to the problem in the comment section below.
If you encounter any issues or errors while playing your favorite games and require support, feel free to contact us here. Our team is always ready to assist you and ensure your gaming experience is seamless and enjoyable.