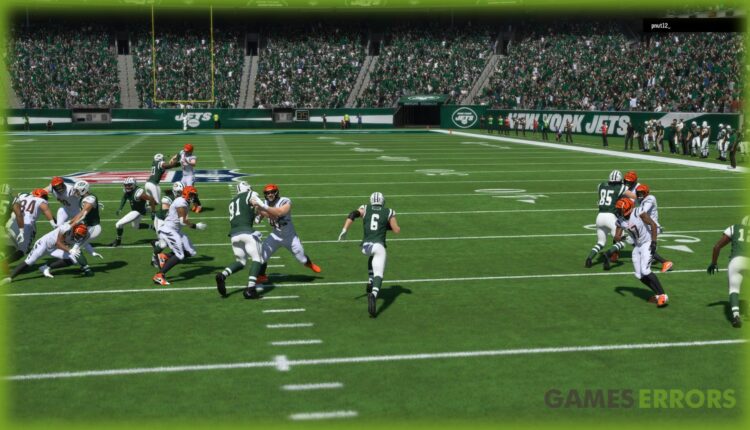 Madden 23 Stuck on Loading Screen: How to Fix it Quickly
Don't break a sweat trying to fix stuck on loading in Madden 23 & dive into our fixes ❇️
X
INSTALL BY CLICKING THE DOWNLOAD FILE
Madden 23 is an EA game loved by football fans all over the world due to sports video graphics. Yet, there are issues with Madden 23 getting stuck on the loading screen that drives players mad.
Gamers have been complaining about the frustrating experience of Madden 23 stuck on loading screen. This problem has been noted to happen mostly on PS4, PS5, Xbox Series X, and Xbox One.
Fortunately, we have some solutions that can help fix the problem. Let's take a look at them.
Why is Madden 23 stuck on loading screen?
Outdated game: The problem could occur if you haven't updated your game for a while.
Corrupt game saved files: If your game or cache files are corrupt.
Limited storage: The game could be stuck on loading screen if you have limited storage to run it efficiently.
How to fix Madden 23 stuck at loading screen?
The loading issue on your Madden 23 might be caused by something that could easily be fixed with a simple tweak. So always make some preliminary checks before you try out more detailed solutions.
Restart your game console.
Check your internet connection to be sure the problem isn't due to a poor network.
Update the game. There could be a new update available for the game that resolves the issue.
1. Update Madden 23
The first thing to try when Madden 23 gets stuck on loading screen is to update the game as recent updates might have fixed the issue.
On PS4 & PS5
Find Madden 23 on your PlayStation home screen.
Follow the instructions to download and install any available updates.
For Xbox One
Go to My Games and Apps on your dashboard.
You'll find any updates of the game you haven't installed. Click and install the update.
2. Rebuild the database and cache
Rebuilding the game database can help fix issues on your console such as Madden 23 stuck on loading. This method won't delete any of your game data or saved files but will delete all your temporary cache files and help fix issues with the game.
Rebuild the database on PS4
Turn off your console.
Press and hold the Power button then let go after the second beep.
Connect the controller with the provided USB cable.
Press the PS button on the controller.
Select Rebuild Database.
Clear cache PS4 and Xbox One
Turn off the game console.
Unplug the power cable and leave it for at least one minute.
Plug back the cable, turn on the console, and the cache will be cleared.
Rebuild the database and clear cache on PS5
Select Clear Cache and Rebuild database > Clear System Software Cache > Ok.
3. Ensure you have enough storage space
Lack of storage space can cause issues with Madded 23. Always ensure that you have enough storage space and that you have enough storage space on your internal or external drive, depending on where the game is installed.
On PS4/PS5
Go to Settings > Storage.
You'll be able to see how much storage space you have left.
On Xbox One
Press the Xbox button on your controller and scroll to the right until you get to System.
Scroll down and select Settings.
4. Delete Saved Data
If you have limited space in your internal or external storage, you should delete saved data to create enough space for all Madden 23 loads properly. Just make sure you back up the data first before deleting it.
On PS4/ PS5
Open Settings > Storage > System Storage.
Click on the Options menu and select Delete all.
On Xbox One
Go to My Games > Madden NFL 23 > press the 3 lines on your controller.
Select Manage game and add-ons.
Click on your username and select Delete from the console.
5. Reinstall NFL 23
If you're still having the issue after trying all the above solutions, reinstalling NFL 23 should fix the issue. Reinstalling the game would remove any corrupted game files that could be causing the problem.
On PS4/ PS5
Hover over Madden NFL 23 on your home screen and click the options button on your controller.
Select Delete.
Reinstall the game again once deleted and check if the issue has been resolved.
On Xbox One
Go to My games and apps on the home menu> More Options.
Reinstall the game.
That's about it. You can surely repair this occurring issue on Madden 23 with this descriptive guide that aims to help every player in need.
The methods should help you permanently fix Madden 23 stuck on the loading screen both on PlayStation and Xbox consoles.
If you ever encountered Madden 23 crashing on PC and consoles, make sure to check our latest article to fix this problem easily.