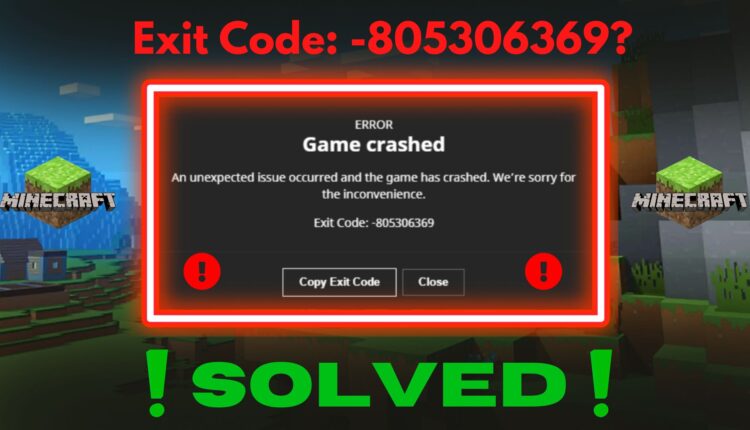 Minecraft Exit Code -805306369: What is & How to Fix It
Don't worry if you got 'Minecraft Exit Code -805306369'! We have the easiest fixes for you 🎯
X
INSTALL BY CLICKING THE DOWNLOAD FILE
When opening the game, Minecraft players run into the issue of "Exit Code: -805306369," which limits their access to the game, and as a result, Minecraft crashes or freezes on PC. If you are dealing with such an issue, the solutions can be found by referring to the advice provided below.
What is exit code -805306369 in Minecraft?
It can be challenging to identify the exact cause of this exit code, which can be caused by a number of problems. It frequently results from the game running out of memory. If this is the case, check your Java virtual machine or uninstall any installed resource packs. Malware may potentially be at blame for this, too.
How to fix Minecraft Exit Code -805306369?
Table of contents:
To fix the Exit code: -805306369 you'll have to free up video RAM in your gaming PC. The simplest (and most obvious) answer is, if it's possible, to improve your video card. There may be little to no RAM onboard in many outdated video cards. Intel visual cards were never intended for gaming. The best (and only) two manufacturers of video cards for gaming are NVIDIA and AMD.
Of course, since an onboard graphics card is integrated into the motherboard of a laptop or all-in-one PC, you cannot change your video card. If this is not a solution for you, check our additional solutions below.
1. Update your video card driver
Make sure the installed graphic drivers on your system are up-to-date and current. If the present systems are outdated, make sure to get the most recent ones as soon as you can. Visit the official websites to get the necessary GPU drivers:
When manually updating your GPU driver appears to be challenging or time-consuming. Having knowledge of the ability to update your drivers automatically with a specialized third-party program like DriverFix will be helpful. It updates any drivers you choose with just a few clicks and it's very simple to use.
Launch the app and it will start scanning the outdated drivers on your PC.
Click Update All Drivers Now

to fix all errors.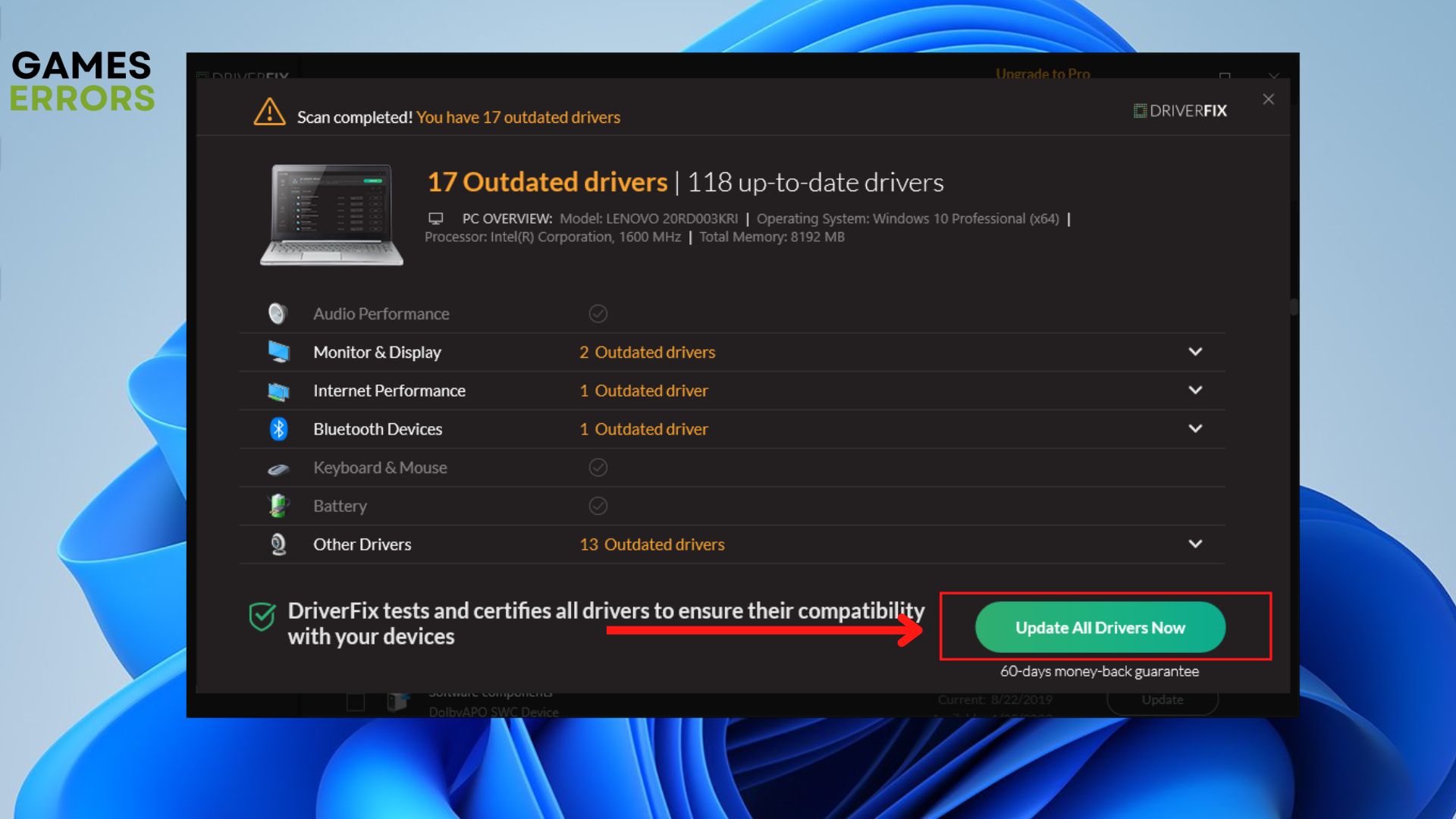 2. Close all opened programs
Close all open apps immediately if you run out of memory, including those in the System Tray. Shut everything down and you can continue playing Minecraft.
3. Perform a power cycle
If the problem is the result of some temporary issues, power cycling is a troubleshooting technique that is quite successful. There's a chance that when you're playing a game or using another program, some background services or processes are affecting their ability to function. Additionally, it might just be a short-term glitch. Power cycling is sufficient in each of these scenarios to resolve the Minecraft -805306369 Error Code. Here is how you do it:
Turn off and/or unplug the device.
Wait 60 seconds.
Plug in the PC or Xbox and/or turn it back on.
4. Clean up any processes by checking Task Manager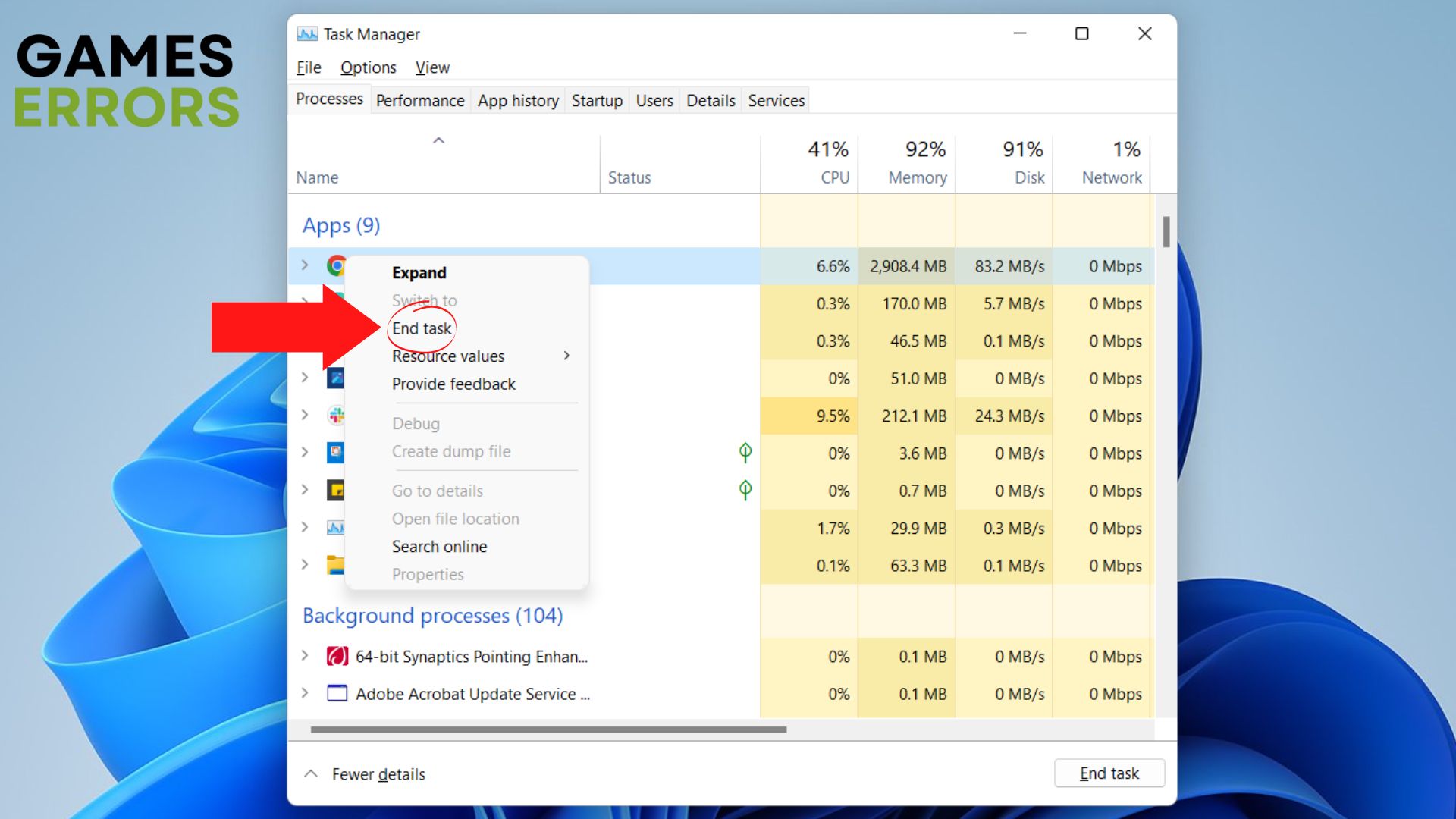 Time needed: 1 minute.
You should check the RAM capacity on your gaming computer if it is starting to crash, freeze or slow down. Go to the Task Manager to monitor the RAM use on your machine. You can see all the applications that are open and taking up RAM space here.

If you require more RAM and CPUs while playing the game, close any other open applications. Here is how you do it:
Open Task Manager (Shift + Ctrl + Esc).
Click on the Processes tab.
Choose the background application that uses a lot of memory.
Click on End Task to end all the unnecessary tasks.
5. Make a clean installation of the game
1. Uninstall Minecraft
Open Steam -> Go to Library tab -> Right-click on Minecraft then click on manage then uninstall -> Click Uninstall
2. Reinstall Minecraft
Open Steam -> Go to Library tab -> Right-click on Minecraft then click on install -> Proceed with the installation
6. Reconnect to your Microsoft Account
Close your Microsoft account within the Xbox application and try to reconnect. This action can assist you in resolving potential issues.
Open the Xbox application.
Click the Profile icon and then click Logout.
After completing this process, sign in to your Microsoft account again to see if the issue still appears.
7. Delete Minecraft files
By entirely deleting the ".minecraft" file located in the AppData folder, the error crashes and freezes can be solved.
Type "%appdata%" in the Windows search bar.
Delete the ".minecraft" file completely from the folder that opens.
After this step, by opening the Microsoft Store, you can try to download the Minecraft Launcher application and launch the game
Many Minecraft players are also experiencing Exit code: -1073740791 which makes their game crash. In this case, is simple, you just have to update your GPU drivers and continue enjoying the game.
We hope that our solutions were useful in resolving Minecraft Error Code -805306369. Please feel free to post a comment below or send us an email if you are having any problems that we did not cover. We would be pleased to assist you in fixing your game.
If you encounter any issues or errors while playing your favorite games and require support, feel free to contact us here. Our team is always ready to assist you and ensure your gaming experience is seamless and enjoyable.