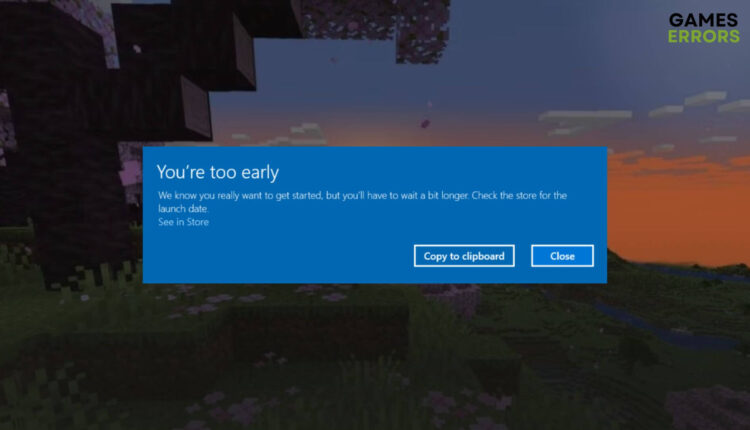 Minecraft Launcher You're Too Early: How to Fix
Use the correct account or verify your subscription to fix you're too early error in Minecraft Launcher 🎯
X
INSTALL BY CLICKING THE DOWNLOAD FILE
Are you encountering you're too early error after opening the Minecraft launcher on your PC? You are not the only one who is going through this problem. Luckily, there are effective solutions.
Minecraft launcher is the gateway to this game. It is used to log in, download and install Minecraft games. However, a lot of users may encounter various problems after opening this launcher.
The error message You're too early is one of them. If you take the proper steps, you can fix it. But, before that, you should know about this error more precisely.
What is the Minecraft launcher error: you're too early?
This is an error that appears when you try to launch Minecraft. Usually, when it occurs, you will see the following error message:
You're too early – We know you really want to get started, but you'll have to wait a bit longer. Check the store for the launch date.
What may cause You're too early error in the Minecraft launcher?
In general, it should only occur when you try to launch the game before its release. But, it also may appear because of any of these reasons:
Improper subscription: This problem may appear if your subscription doesn't allow you to play this game on a PC. For example, a lot of Xbox game pass users may get this problem just because they don't have a Game Pass for PC subscription.
Incorrect account: If you have purchased the game or subscription from an account but log in with another account, you may end up getting You're too early message in the Minecraft Launcher.
Problem with time settings: Problems with time and region settings also can be the root of this problem.
Corrupted game files: Else, problematic game files also may create internal issues, which may trigger this you're too early error message.
How do I fix Minecraft launcher: you're too early error?
We have found the root of the problem along with the most needed solutions. But first, you must do the following things:
Restart your PC and router.
Make sure that you have a stable internet connection.
Disable any VPN or Proxy.
Then, go through the following methods to get rid of you're too early error message from Minecraft Launcher:
1. Correct your time settings
Press Win + I to open the Windows Settings.
Correct your time and date.
If needed, correct your time zone as well.
Restart your PC.
Now, run the Minecraft launcher and try to open a game, and see if it has worked.
2. Use the correct account
Time needed: 2 minutes.
In most cases, You're too early error occurs in Minecraft Launcher due to an incorrect account. So, using the appropriate account is the best way to fix this problem.
Open the Minecraft Launcher.

Click on the Profile in the top left corner and then click on Logout.

Now, click on one of the login methods, like Microsoft login.

Login with the correct account.
You should check and verify whether you are using the correct account or not. If not, log in using the correct one, as shown above.
3. Get the correct subscription
If you have an Xbox Game Pass subscription, you will not be able to play on a PC. You must have the Game Pass for PC or Xbox Game Pass Ultimate. So, have the correct subscription and start enjoying Minecraft.
4. Repair the launcher
Open the Xbox app.
Give it some time to finish the process.
It may take a while to finish the process. After that, verify whether it has solved your problem or not.
5. Re-install the Minecraft launcher
In Xbox app, right-click on the Minecraft Launcher and go to Uninstall.

Install the game again.
These are the most common methods to fix Minecraft Launcher's you're too early error. Let us know in the comment box if you have any questions or opinions.
If you encounter any issues or errors while playing your favorite games and require support, feel free to contact us here. Our team is always ready to assist you and ensure your gaming experience is seamless and enjoyable.