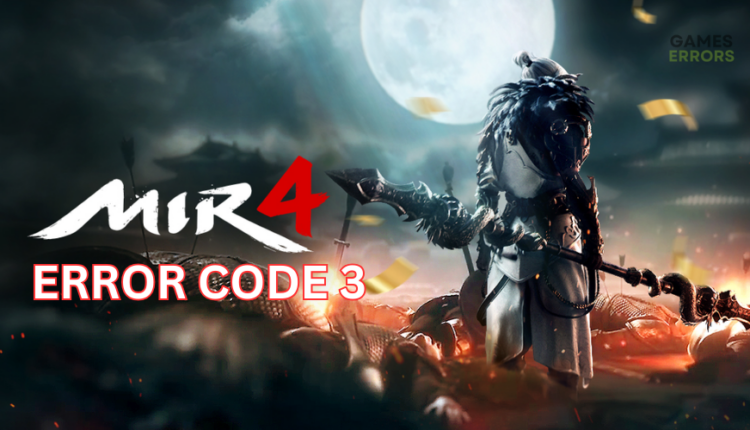 MIR4 Error Code 3: What It Is And How To Fix It On PC/Mobile
The MIR4 ads error prevents players from watching ads, but we can help resolve this below 😉
MIR4 is a unique open-world K-Fantasy MMORPG available for play on PCs and smartphones. The game features a high-quality design, amazing characters, and fantastic visuals that elevate the gaming experience. MIR4 runs fairly smoothly on most gaming devices but may occasionally experience errors that ruin the gaming experience.
One such error is the MIR4 error code 3. This error pops up unexpectedly and displays the following message:
An error occurred while displaying ads. Please try again.
In this article, we discuss in detail what the MIR4 error code 3 is and how you can resolve it to display ads properly.
What is MIR4 error code 3?
The MIR4 error code 3 is a MIR4 ads error that occurs when your device cannot display ads. It happens when you try to watch ads, and it asks you to try again later. There isn't much information regarding the MIR4 ads error online, and many players don't know what causes or triggers it.
After extensive research, we can conclude that some possible causes of the MIR4 error code 3 include the following:
DNS configuration issues: Your DNS server address may not be configured correctly, triggering the error code MIR4.
No ads available: Sometimes, there may be no ads available to watch, so when you press watch ads, you get the error code 3.
Server issues: The MIR4 servers may be experiencing downtimes, outages, or disruptions that prevent your ads from loading correctly.
Connectivity problems: If your internet connection is poor, unstable, or slow, you'll likely encounter the error code 3.
Ad restriction: Your gaming device may have restricted ads, which prevents you from watching them when you press play.
How do I fix MIR4 error code 3?
Before doing anything, check the MIR4 server status to ensure there's no scheduled maintenance, downtime, outage, or network congestion. Additionally, confirm your internet connection is stable.
If you still encounter the error, here's how to fix it on PC and mobile:
1. Change your DNS server address
Time needed: 2 minutes
Changing your DNS server address can help fix the MIR4 error code 3. Here's how to change the DNS server address on the PC:
Open Control Panel

In the Windows search bar, type Control Panel and click Open.

Network and Internet 

Click Network and Internet and select Network and Sharing Center.

Change adapter settings

Next, choose Change adapter settings.

Select the connection to configure the DNS

Select the connection you want to configure DNS in the new window that pops up. For example, if you use WiFi, right-click the WiFi connection and select Properties.

Networking tab

Choose the Networking tab and scroll to This connection uses the following items.

Internet Protocol Version 4 (TCP/IPv4)

Scroll the list and select Internet Protocol Version 4 (TCP/IPv4). Tick the checkbox next to it, then select it and choose Properties.

Use the following DNS server addresses. 

Now, navigate to the Use the following DNS server addresses tab. Replace the addresses as shown below:
For IPv4: 8.8.8.8 and/or 8.8.4.4
For IPv6: 2001:4860:4860::8888 and 2001:4860:4860::8844.

Complete process

Save changes and close the window. Try watching ads on MIR4 to see if the error code is solved.
If you're playing MIR4 on mobile, you can also change DNS. To do this:
Close MIR4 and exit the game completely.
Navigate to Google Play Store or Apple Play Store.
In the search bar, type DNS changer and pick one from the search results.
Click Install and wait for the app to download and install before opening it.
Next, click Start, and you'll be connected to the Google DNS server address.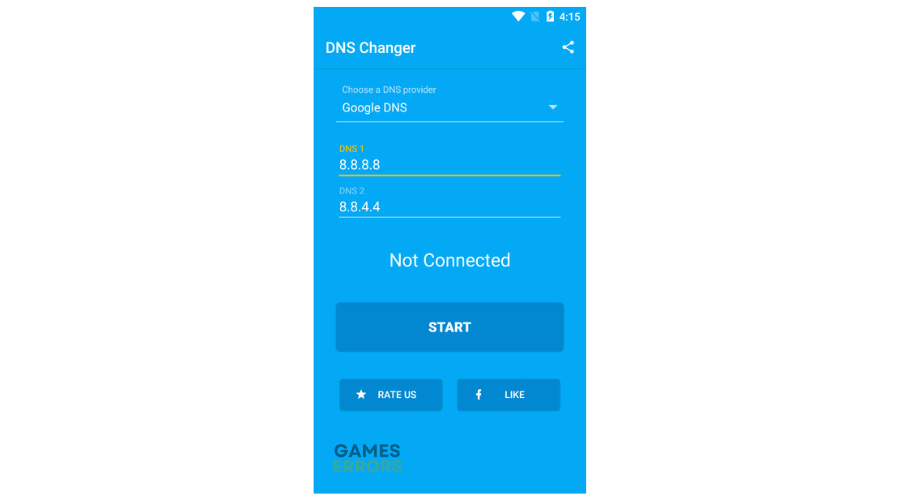 Next, open MIR4 and try playing ads to see if they're displayed.
2. Change privacy settings
Your privacy settings may restrict or block ads, which prevents them from loading when you press play. In this case, we recommend changing your privacy settings to allow ads. Here's how to do this:
👉On PC
Right-click the Windows Start button and select Settings.
Click Privacy.
Under General on the right pane, toggle on all the Change privacy options.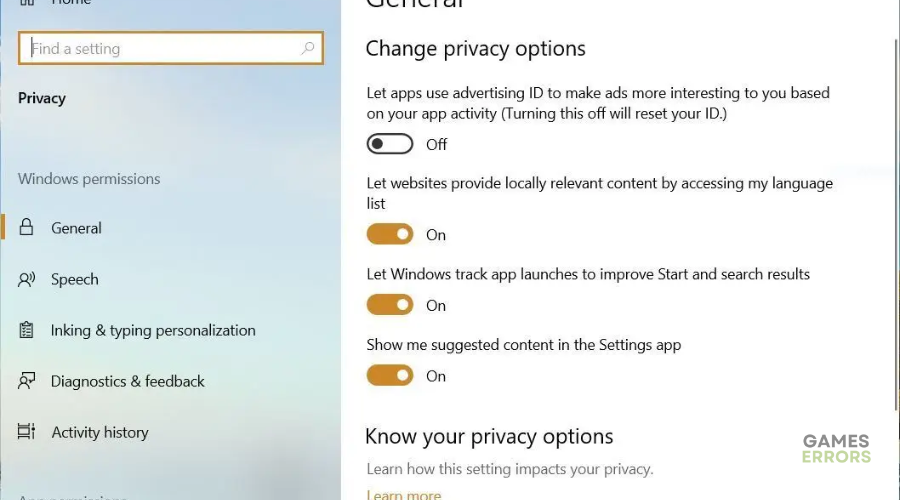 Launch MIR4 and try watching ads to see if the error is solved.
👉On mobile
Open the Chrome app.
At the top right, select the More icon and choose Info.
Next, tap Site Settings.
Click the drop-down menu next to Ads and select Allowed.
Launch MIR4 and try watching ads to see if the error is solved.
Related articles:
Conclusion
The MIR4 error code 3 prevents players from watching ads. Luckily, you can fix it by changing your DNS server address and changing privacy settings.
If you encounter any issues or errors while playing your favorite games and require support, feel free to contact us here. Our team is always ready to assist you and ensure your gaming experience is seamless and enjoyable.