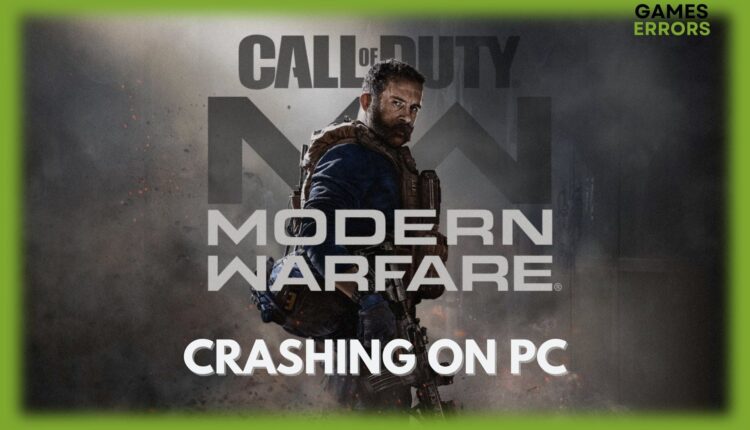 Call of Duty Modern Warfare Crashing on PC: How to Fix
Simplest ways to prevent CoD Modern Warfare from crashing on your PC ✅
X
INSTALL BY CLICKING THE DOWNLOAD FILE
Call of Duty (CoD) Modern Warfare is a popular first-person shooter game developed by Infinity Ward. Players engage in breathtaking covert operations with a cast of international forces and freedom fighters in iconic European cities and the Middle East.
However, many gamers are also complaining of CoD Modern Warfare crashing PC on startup. This article will provide quick but sure tips that will help you solve the issue.
Why is Modern Warfare Crashing on PC?
Many factors can cause CoD Modern Warfare to crash on your PC. Some of such include:
Outdated GPU Drivers

: It is important to always check and update your GPU if you play a lot of games. Outdated GPU drivers will cause CoD Modern Warfare to crash on your PC. To get the best of your game, your GPU should be updated.

Corrupted Game file

: If your CoD Modern Warfare keeps crashing, it could be an indication that your saved game is corrupted and must be verified.

Outdated game:

If your game is outdated, it can crash when you try to play it on your PC.

Incompatible DirectX version

: Sometimes, using an incompatible version of DirectX will lead to your game crashing.

Incompatible system requirements

: If your PC does not meet the requirements to play CoD Modern Warfare, you will experience the game crashing.
How to fix ModernWarfare crashing on PC?
If your Modern Warfare game is crashing and you want to carry out a fix, it is always important to carry out some of these preliminary checks first:
If you've carried out the preliminary checks above but Modern Warfare keeps crashing on your PC, follow the procedures below:
1.
Update GPU Driver
If your GPU drivers are outdated or not compatible with your PC, Modern Warfare will keep crashing when you launch the game. An outdated graphic driver can result in Call of Duty Modern Warfare PC crashing. Follow the instructions to update your GPU
Click on

Windows Key+X

and chose

Device manager

from the menu.

Click and expand the

Display Adapters

option.

Right-click on your

graphics card and select Update driver.



Select

Search automatically for updated driver software.

Windows will search for available updates and install them.

Restart your PC to complete the process.
To update the graphics card driver, we also advise using an automated driver updater. Windows Device Manager frequently struggles to download the newest driver. However, third-party programs like
DriverFix
make it simple to update all of your PC's drivers and fix issues with games crashing.
2. Verify the Integrity of your Game Files
Corrupted or missing game files are another reason for CoD Modern Warfare crashing on your PC. Corrupted game files can cause issues like Modern Warfare crashing PC no error, so it is important that you frequently repair the game files. You can verify the integrity of your game file using the Battle.net client or Steam. Below are the procedures:
Click on

Library

and locate

Call of Duty Modern Warfare

.

Right-click on the game and select Properties.

Click on the

Local Files

tab and Select

Verify the integrity of game files.
This will repair the game files.

Open

Blizzard Battle.net

client.

Select

Call of Duty: Modern Warfare

in the left pane.

Click on

Options

and choose

Scan and Repair

from the drop-down menu.

Select

Begin scan

to identify all corrupted or missing files. The corrupted or missing game files will be replaced.

Once you're done relaunch the game to see if everything returns to normal.
3.
Update Call of Duty Modern Warfare
To prevent your game from crashing, you must ensure the game is updated to the latest version. You can do this using the Steam or Battle.net client. Below are the steps:
Click on

Library

and locate

Call of Duty Modern Warfare

.

Right-click on the game and select Properties.

Click on

Updates

tab and

select Always keep this game updated.
Launch the

Blizzard Battle.net

client

Click on

Library

and locate

Call of Duty Modern Warfare

.

Click on the

Cogwheel

located after the play button.

Click on

Check for Updates.

Wait for the process to be completed.
Conclusion
Game crashing or GPU driver version error are one of the few problems experienced while playing Call of Duty Modern Warfare on PC. The solutions above should help you get rid of the issue immediately.
If you encounter any issues or errors while playing your favorite games and require support, feel free to contact us here. Our team is always ready to assist you and ensure your gaming experience is seamless and enjoyable.