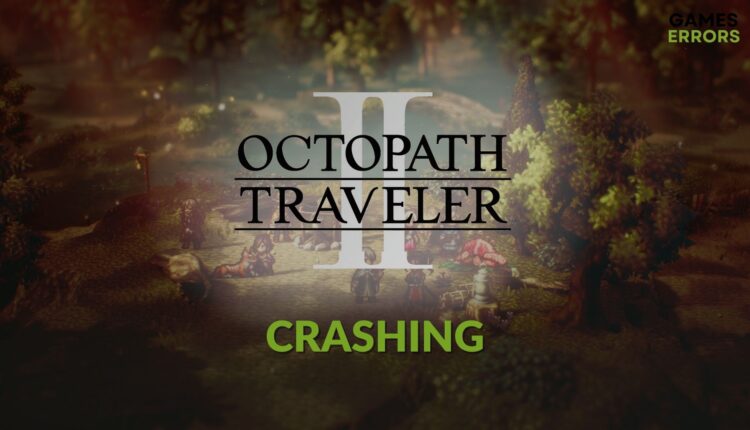 Octopath Traveler 2 Crashing PC: Easily Solve This Problem
If Octopath Traveler 2 stops working, update the drivers, repair the game, and follow these steps 🌟
Is Octopath Traveler 2 crashing on your PC? You are not alone. Other gamers are also encountering this problem. In this post, you will get the most powerful methods that can help you to fix this issue.
This pixel graphics turn-based RPG from SQUARE ENIX is a masterpiece. A specific group of gamers enjoys this type of game so much. However, if this item crashes in the middle of the gameplay or while starting, the excitement will be replaced by extreme annoyance. Luckily, you can easily fix this problem.
Why is Octopath Traveler 2 crashing on my PC?
Usually, if any of the following reasons exist on your PC, you may get this Octopath Traveler 2's crashing problem:
Outdated display driver:

Display driver-related problem is a very common reason behind any type of game's crashing issues.

Overclocking:

If you enable overclocking, your PC will generate more heat. If the cooling system cannot handle it, any games will crash.

Memory problem:

Any problems with system memory can cause crashing issues on any games or apps.

Third-party apps and services:

Some third-party services and apps are known for interfering with games and apps. If you have such apps, you may notice that Octopath Traveler 2 is stuck on the loading screen or it keeps crashing.
What should I do when Octopath Traveler 2 keeps crashing?
If your PC meets the system requirements of Octopath Traveler 2, the solutions featured in this article will solve the problem. Before trying out our methods, we suggest you do the following things:
Restart your PC.
Disable the antivirus and firewall to see if it helps.
Ensure that you are using a genuine copy of the game.
Now, follow these ways if Octopath Traveler 2 is still crashing on your PC:
1. Disable fullscreen optimization
Open Steam and go to the game library.
Right-click on the Octopath Traveler 2, hover your cursor on Manage, and click on Browse local files.
Go to the Octopath_Traveler2 folder, then Binaries.
Now, go to the Win64 folder.

Right-click on 

Octopath_Traveler2-Win64.exe

and click on

Properties

.

Go to the Compatibility tab.

Click on 

Apply

 and 

OK

.
2. Update graphics card driver
Press Win + X on the keyboard and click on Device Manager.

Double-click on the

Display adapters

to expand it.

Choose 

Search automatically for drivers

 and update the driver.
Device Manager may not find the latest driver and show that already best driver is installed. So, we suggest you use a dedicated tool like Outbyte Driver Updater. This tool can find the most compatible driver from the official source and update your PC drivers with just a single click.
⇒ Get Outbyte Driver Updater
3. Kill problematic background tasks
To stop Octopath Traveler 2 from crashing on your PC, you can kill some processes like Razer Synapse, MSI Afterburner, Game Booster, and other similar services. For this, follow these steps:
Right-click on the Taskbar and go to

 Task Manager

.

Go to the 

Processes

 tab.

End all other unnecessary and problematic processes in this way.
4. Uninstall problematic apps
Press Win + I on the keyboard to open Windows Settings.
Click on the three horizontal dots next to the problematic app and choose Uninstall.
While uninstalling, uninstall any game booster, overclocking apps, etc. Then, restart your PC and see if it has solved the Octopath Traveler 2 crashing problem or not.
5. Install the Visual C++ Redistributable packages
Go to the 

Microsoft Visual C++ redistributables

 page

.

Click on the download link for X64 architecture.

Install it on your PC.

Restart your PC.
6. Install the DirectX Runtime
Visit the 

DirectX Runtime download page

.

Download the installer.

Install it on your PC.

Restart your PC.
7. Repair the Octopath Traveler 2
Go to the Steam game library.
Right-click on Octopath Traveler 2

, and click on 

Properties

.

Navigate to the

Local Files

 tab.

Wait until it finishes the process.
It will find the problematic game files and replace them with a fresh copy from online. Doing this helps a lot to solve various game problems like Octopath Traveler 2 crashing.
8. Run in Clean boot
Press Win + R on the keyboard to open Run.

Type

msconfig,

 and press 

Enter

to open System Configuration.

Navigate to the

Services

 tab.

Click on 

Apply

 and 

OK

.

Restart your PC.
Now, run Octopath Traveler 2 and see if it still crashes or not. If it doesn't work, undo the changes.
9. Run the memory diagnostic tool
Open Run like before

Type

mdsched

 and press Enter.
It may take some time to finish the scanning and repairing process, depending on the situation. After that, you can try to run the game and see if it has worked. In rare cases, you may find that Windows has found some memory problems but cannot fix them. In this case, you may need to replace the RAM.
If the problem still exists, re-install the game and see if it works. Also, update Windows to the latest version.
If necessary, check out this ultimate guide on how to stop games from crashing.
This article has explained how you can fix if Octopath Traveler 2 crashes on your PC. In the comment box, you can tell us which method has worked for you.