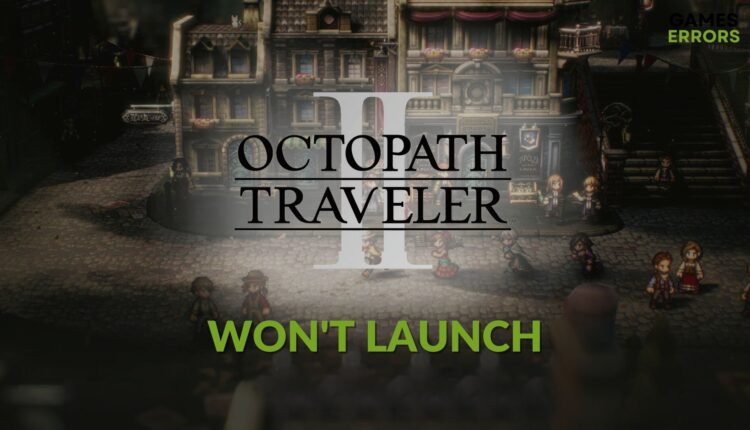 Octopath Traveler 2 Won't Launch: Run This Game Easily
Can't launch the Octopath Traveler 2? Install the missing packages, and follow the other steps ✅
X
INSTALL BY CLICKING THE DOWNLOAD FILE
If there is something wrong with your PC, the games like Octopath Traveler 2 won't launch at all. But you can easily tweak a few things to fix this issue.
Any gamers who play pixel graphics RPGs will like this game. If it doesn't run on your PC at all, you will not understand how enjoyable it is. But you can play this turn-based RPG if you take some essential steps.
Why Octopath Traveler 2 is not running on my PC?
If you see that the Octopath Traveler 2 is not launching, you will find any of these reasons exist on your computer:
Corrupted game files:

If the installation or the related game files become corrupted, this Octopath Traveler 2 will crash, or the game will not launch.

Third-party services:

 Third-party services can interfere with the game launching process and prevent Octopath Traveler 2 from running on your device.

Missing components:

 If some key components are missing which are necessary for gaming, the game will not run at all.

Outdated drivers:

Else outdated drivers, particularly the problematic graphics driver, are a very common reason behind this type of problem.
How do I fix Octopath Traveler 2 won't launch?
Before starting, you must first ensure that your PC meets the Octopath Traveler 2's system requirements. Then, before jumping into the main methods, do the following things:
Disable your antivirus and firewall and see if it helps.

Make sure that you have installed a genuine copy of the game from an official source.

Restart your PC.
Now, to solve Octopath Traveler 2 won't launch or similar problems, go through the solutions mentioned below:
1. Run as administrator
Go to the Octopath Traveler 2 installation folder.

Find the Octopath_Traveler2-Win64.exe file.

Right-click on it and go to

Properties

.

Go to the 

Compatibility

 tab.

Click on 

Apply

 and 

OK

.

Launch the Octopath Traveler 2 and see if it has worked.
2. Install the complete Visual C++ redistributable packages
Install it.

Restart your Windows.
3. Install missing DirectX runtime components
Visit the 

DirectX End-User Runtime download page

.

Install it.

Restart Windows.
4. Update the graphics drivers
Press 

Win

 + 

X

on the keyboard and click on Device Manager.

Expand 

Display adapters.

Click on

Search automatically for drivers

 and finish the updating process.

Update other drivers, as well.
To fix problems like Octopath Traveler 2 won't launch, you must ensure the drivers are up to date. So, we suggest you use
DriverFix
as it is more powerful in finding game-ready drivers. It helps to get rid of any gaming problems caused by driver issues.
5. Repair Octopath Traveler 2
Open the 

Steam

desktop app.

Go to the

Game library

.

Right-click on 

Octopath Traveler 2

, and go to the

Properties

.

Navigate to the

Local Files

.
This process will take some time to complete. After the repairing process, run Octopath Traveler 2 and see if it has solved the launching problem or not.
6. Delete Steam cache
Go to the Steam app.

Relaunch 

Steam

.
7. Delete the local profile
Deleting the local profile from the Documents folder will also delete the game progress. But it helps if you encounter a launching problem. So, follow this method only if you need to. To be safe, you can take a backup of the profile and follow these steps:
Open the 

File Explorer

or This PC.

Go to 

My Games

 folder.

Delete everything from this folder.
8. Re-install the game
Open the Steam app like before.

Click on the

Install

button after uninstalling the game.

Finish the process.
After re-installing, you will no longer encounter the Octopath Traveler 2 won't run or similar issues.
9. Try running the Octopath Traveler 2 in a clean boot
Open the Start Menu, type

msconfig,

 and hit 

Enter.

Navigate to the

Services

 tab.

Click on 

Apply

 and 

OK

.

Restart Windows.
In a clean boot, you should not encounter a problem. However, if it doesn't work, undo the changes to boot into normal mode. But, if it works, enable the third-party services you have disabled one by one to find out the culprit and uninstall it.
If the problem still persists, you can update Windows to the latest version. Alternatively, consider uninstalling any game booster, performance monitoring tools, and other similar apps.
If necessary, learn how to fix Octopath Traveler 2 is stuck on the loading screen.
This article has explained how you can fix Octopath Traveler 2 won't launch. If you have any questions, feel free to let us know in the comment box.
If you encounter any issues or errors while playing your favorite games and require support, feel free to contact us here. Our team is always ready to assist you and ensure your gaming experience is seamless and enjoyable.