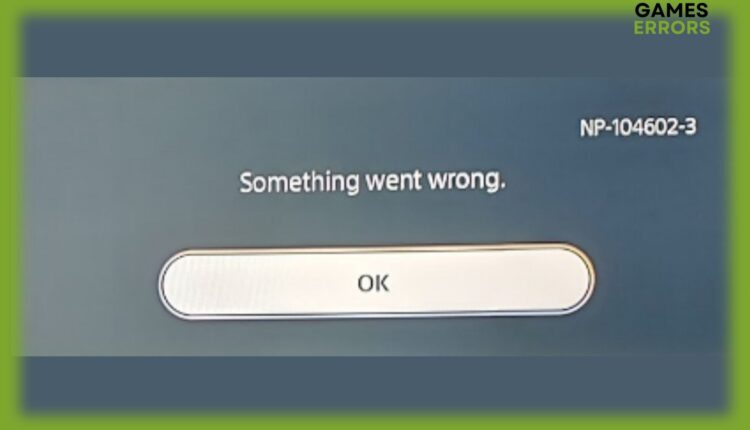 PS5 Error Code NP-104602-3: How to Fix it Quickly
PS5 Error Code NP-104602-3 is usually caused by problems with your internet connection 🌐
Several players who are experiencing the PS5 error code NP-104602-3 problem are unable to play online games or connect to the network on their PlayStation consoles.
If you are one of the unlucky PS5 users that are getting error code NP-104602-3, this article is for you. Here we will go into detail about what causes this error code and suggest effective methods to help you fix it in order to resume streaming or simply playing on your PS5.
🎮 What is PS5 Error Code NP-104602-3?
PS5 error code NP-104602-3 is typically caused by network connectivity issues that prevent users from using online features and services, such as online multiplayer and game downloads.
How to fix NP-104602-3?
To fix this annoying error code, as a preliminary check, ensure that your PlayStation console is correctly connected to the internet source and confirm that your internet is reliable and fast.
In case your internet connection is fine, let's dive into troubleshooting:
1. Restart your PS5
Restarting a console ends all running processes and programs and frequently resolves any types of errors such as PS5 error code NP-104602-3. This can assist in resolving any conflicts or problems that might be the source of the internet connection issue. Restarting a console can also assist in network connection refreshment and help restore a reliable internet connection.
2. Check the PS server status
Check the PlayStation Network service status by visiting the official web page and ensure that all services are up and running. If there are some problems or whether they are doing maintenance, you will be informed on their website.
3. Power cycle your WiFi router
PS5 error code NP-104602-3 is caused by network connectivity issues so you should consider restarting your router. Network problems may be caused by a router that is overwhelmed with data and a standard restart may resolve the issue.
4. Rebuild the database
On your PS5, navigate to the Settings menu.
Select "System" from the list of options by scrolling down.
Select "Storage" from the System menu.
Choose the storage system that you want to use for the database rebuild.
Choose "Rebuild Database" and then confirm your choice.
Be aware that rebuilding the database may need some time and may result in the deletion of certain data, including messages, game saves, and other items. Before rebuilding the database, it is always a good idea to back up your vital data.
5. Clear the cache
On your PS5, go to the Home screen.
Select the Control Center by scrolling up to it.
Choose Settings.
Select Storage.
Choose System Storage.
Select Applications.
Press the Options button on your controller after selecting the game you want to erase the cache for.
Choose Delete saved data.
Confirm removing the saved data.
By doing so, the cache for that particular game or application will be cleared and this can help you in fixing the error.
6. Change the Wifi Frequency Band
On your PS5, navigate to the Settings menu.
Select and click on Network.
Select Set Up Internet Connection.
Choose the network that you are connected to and press the Option button.
When the menu will appear, click on Wifi Frequency Band.
Change it to 5GHz or 2.4GHz.
Restart your console.
If you ever run into PlayStation 5 CE-112840-6 error, make sure to read our article on how to fix the error in just a couple of steps.
We truly hope that our guide assisted you in fixing PS5 error code NP-104602-3. If you have any other suggestions or questions, feel free to drop a comment down below.