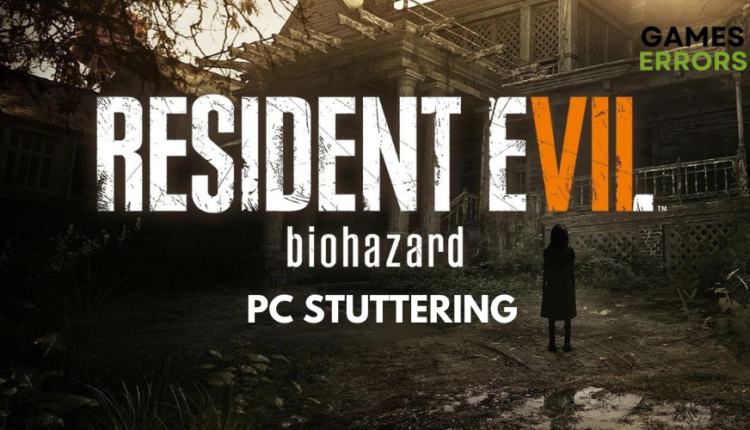 Resident Evil 7 Stuttering on PC: Why & How to Fix It Easily
Troubleshooting tips for fixing stuttering issues in Resident Evil 7 on PC
Capcom's Resident Evil 7: Biohazard is centered around Ethan Winters and his quest to look for his long-lost wife on a plantation inhabited by an infected family. 
Despite its popularity, many players have reported Resident Evil 7 stuttering on numerous occasions during gameplay. This can be frustrating as there has been a lot of anticipation for this release, as it is the first game in the series to be played in first-person, unlike its third-person predecessors.
Fortunately, we have done our research and identified some possible reasons and solutions you can apply to fix Resident Evil 7 PC stuttering and get back to enjoying the game in no time.
Why is Resident Evil 7 stuttering on my PC?
There are various reasons why players have reported Resident Evil 7 stuttering, especially when walking, running or turning around. Some of the common culprits include:
Outdated or incompatible drivers
Insufficient RAM or CPU power
Multiple running background processes
V-sync and framerate issues
How can I stop Resident Evil 7 from stuttering?
Before jumping into the solutions listed below, ensure your PC has met the minimum system requirements to run Resident Evil 7.
Table of contents:
1. Update your graphics driver
Time needed: 4 minutes
More often than not, an outdated GPU driver can cause stutters on the PC. Therefore, it is important to keep your PC up to date for optimized gaming performance at all times. To do this:
Click on the Windows icon and type "Device Manager" into the search bar.
Open Device Manager from the search results.
Double-click on the "Display adapters" section in Device Manager. The section will expand, and the GPUs will be listed.
Right-click on your GPU and select "Update driver" from the dropdown menu.

In the new window, select the "Search automatically for drivers" option.

The Update Driver Wizard will look for suitable driver updates. If an update is found, follow the installation steps.
Are you looking for a game-ready graphics driver for your PC? If so, we recommend that you use Outbyte Driver Updater. Saving you time and effort, this third-party tool automatically finds, downloads and installs the best GPU for your PC at the click of a button.
⇒ Get Outbyte Driver Updater
2. Close Startup and Background apps
Disabling unnecessary background apps helps reduce game stutters and improves your PC performance while running resource-intensive games like Resident Evil 7. You can achieve this by:
Press the Windows logo key and R on your keyboard to prompt the Run box.
Type 'taskmgr' in the Run box and press Enter to open Task Manager.
In Task Manager, go to the Processes tab.
Find the programs that are not necessary for playing Resident Evil 7.
Right-click on each program and select 'End task' to disable it.
Also, disable startup apps by:
Press Ctrl + Shift + Esc on your keyboard to open Task Manager.
Click on the 'Startup' tab at the top of the Task Manager window.
Identify the apps that you wish to prevent from running automatically at startup.
Right-click on each app and choose 'Disable' from the context menu.
After disabling the desired apps, restart your computer to apply the changes.
Launch Resident Evil 7 and check whether the game's performance has improved.
3. Tweak Resident Evil 7 graphics settings
Resident Evil 7 already consumes a lot of VRAM, making it almost impossible to avoid stutters if you aren't running the game on at least a 6GB card.
Tweaking Resident Evil 7's graphics settings can help optimize the game's performance and reduce your PC's stuttering, lag, or other performance issues.
If your game is stuttering, make the following changes through the main menu:
Shadow Cache: OFF
VSync: OFF
Frame Rate: Variable
Textures: Medium
Windowless Border Mode
4. Verify game files
Corrupted game files usually cause issues such as Resident Evil 7 stuttering. Therefore, verify the integrity of the game files to identify any corrupted, missing, or deleted game files. To do this:
For Steam users:
Launch Steam and go to the Library.
Find Resident Evil in the Library, right-click on it, and select Properties.
Click on the Local Files section in the left-hand menu.
Click the button that says "Verify integrity of game files".
For Epic Games Users:
Open the Epic Games Launcher and navigate to the Library.
Find Resident Evil 7, click the three vertical dots next to it, and select Manage.
Click on the "Verify" button to verify the game files.
Conclusion
There you have it! We hope you are solving puzzles and fighting enemies on Resident Evil 7 stutter-free. Feel free to leave a comment or question in the comment section below. Also, let us know what worked for you. Happy gaming!