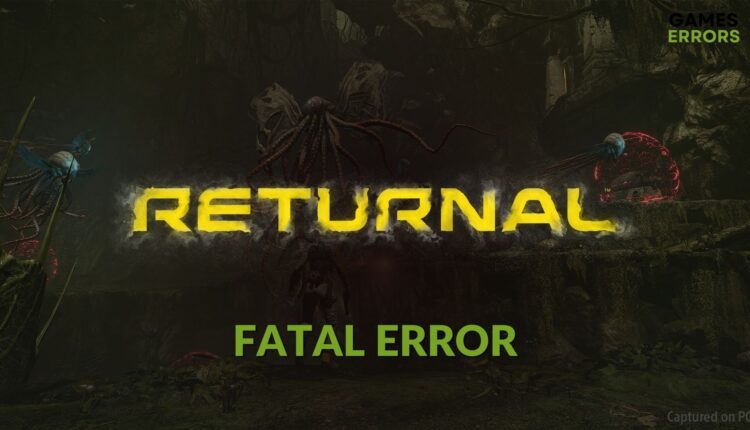 Returnal Fatal Error: Here's How to Fix It Easily
Fix fatal Returnal fatal error on PC by updating graphics card, and these suggested steps 🎯
X
INSTALL BY CLICKING THE DOWNLOAD FILE
If you are frequently getting the Returnal fatal error while playing this game, you are not alone. Many other gamers are going through the same bitter experience. But don't worry. This article has the solutions you need.
This newly released action thriller FPS game is winning a lot of gamers' hearts with its amazing gameplay mechanisms. But the story is not the same for a lot of PC gamers. This game is crashing by showing a fatal error message which is ruining the experience.
What is causing the fatal error on Returnal?
If you are constantly getting the Returnal fatal error, it may be because of the following things:
DirectX problem:

Fatal error while playing the game can indicate that there is something wrong with the DirectX configuration or components.

Video driver problem:

Graphics driver problem is another common reason you are getting this error on Returnal.

System requirements:

If your PC doesn't meet the Returnal's system requirements properly, it may trigger this type of problem.

A known bug:

It's also possible that this problem is related to a specific version of the game.
Else, some other issues may cause this error as well. But you can always get rid of it by taking the proper steps.
How can I fix the Returnal fatal error?
We have found the most working methods to troubleshoot this unexpected problem. But, before that, we suggest you do the following things:
Now, go through the following methods to fix fatal error in Returnal:
1. Update the graphics driver
Press

Win

+

X

on the keyboard and go to

Device Manager

.

Expand the

Display adapters

by double-clicking on it.

Click on

Search automatically for drivers

and complete the update.
We suggest you use a tool like Outbyte Driver Updater, which is more powerful and capable of finding the latest graphics driver. In addition, it can update all of the drivers on your PC with just a single click.
2. Repair Returnal installation
Open

Steam

.

Right-click on

Returnal

and click

Properties

.

Go to the

Local files

on the left sidebar.

Wait for a while to finish this process.
If game files become corrupted or modified, you may get this problem. Doing the above things will scan the Returnal files and detect if there is any problem. If necessary, Steam will replace the problematic files with fresh ones.
3. Disable in-game overlay
Go to the In-Game tab.

Relaunch Steam.

Try playing the Returnal and see if it has fixed the fatal error.
4. Modify engine.ini
Press Win + R to open Run.
Go to Local\Returnal\Steam\Saved\Config\WindowsNoEditor.
Open engine.ini with notepad or any other text editor you prefer.

Add the following lines and save it:
[SystemSettings]





r.Streaming.Boost=1





r.FastVRam.EyeAdaptation=1





r.bForceCPUAccessToGPUSkinVerts=1





r.Streaming.HLODStrategy=0





r.Streaming.LimitPoolSizeToVRAM=1





r.Streaming.MaxEffectiveScreenSize=0





r.Streaming.UseFixedPoolSize=1





r.Streaming.PoolSize=6144





r.Streaming.MipBias=0





r.Streaming.DefragDynamicBounds=1





r.HLOD.DistanceScale=1.5





r.HLOD.MaximumLevel=1





r.MaxAnisotropy=16





r.ViewDistance=2





r.ViewDistanceScale=2.0





r.LandscapeLODDistributionScale=2





r.LandscapeLOD0DistributionScale=2





foliage.MaxOcclusionQueriesPerComponent=128





foliage.MinInstancesPerOcclusionQuery=65536





grass.DensityScale=0.75





foliage.DensityScale=1.0





r.Shadow.MinResolution=2048





r.Shadow.MaxResolution=2048





r.Shadow.FadeResolution=2048
5. Switch to DirectX11
Open Steam.
Right-click on the Returnal and go to its properties.
Now, open Returnal.
6. Update the game
On Steam, go to this game's properties like before.
Go to Updates.
Set the Automatic Updates to High Priority, as shown in the screenshot.
Now, when there is an update available for Returnal, Steam will install it with the highest priority. It will fix the fatal error if the problem is related to the current version of the game you are playing.
Additional methods:
If you are still encountering the error, we suggest you do the following things:
Install Microsoft VP9 video extensions, as it worked surprisingly for a group of users.
Reinstall the game completely.
Update Windows to the latest version.
Disable overclocking, FPS booster, and other similar tools or uninstall them.
If necessary, you also can check out this ultimate guide on how to fix game crashing problems.
This article has explained how you can fix the Returnal fatal error. If you have a suggestion or opinion, feel free to write it down in the comment box.