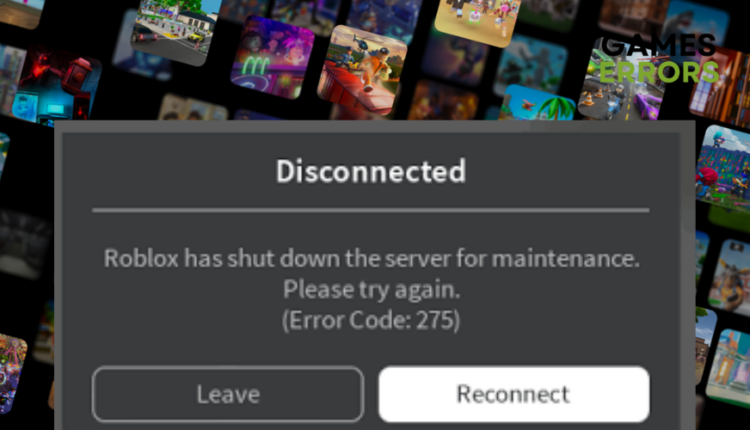 Roblox Error Code 275: How To Fix Quickly
Server-related issues can ruin your gaming experience. Luckily, we can help you fix the Roblox Error code 275🚀
Roblox, a massive online multiplayer game, offers players the unique opportunity to play games created by the online community and create their own games.
However, despite the captivating nature of Roblox, users may occasionally encounter errors that hinder their gaming experience.
One such error that players may encounter is the "Roblox has shut down this game server for maintenance (Error Code: 275)" message, which appears in a dialog box when an error occurs in the game.
In such cases, players can simply reload the page or patiently wait for the error to be resolved. However, if you are still experiencing Roblox Error Code 275, keep reading to get all the necessary information to fix the issue.
What is error code 257 on Roblox?
Basically, when the game server undergoes background maintenance, Roblox Error 275 occurs.
Generally, online services require periodic updates to enhance features and the game's overall security. During these updates, developers temporarily bring down the servers to make the necessary changes required. As a result, users may experience downtime and be unable to access Roblox.
How to fix Roblox error code 275?
As mentioned above, Error Code 275 in Roblox happens when the devs stop services to install updates. It is not a user-caused problem, so the only option is to keep checking the Roblox Server Status and wait until the servers are back up. Maintenance is usually quick, and users are usually notified of server downtime. Also, restart the game and device if the server is working just fine, restart your Steam client, and Check your internet connection to ensure it's stable.
However, you can also try the following solutions to get you back to playing Roblox quickly.
Table of contents:
1. Update your network drivers
Time needed: 4 minutes
Open the Run box

Press the Windows key + R to open the Run box.

Open Device Manager

Type "devmgmt.msc" in the Run box and click OK to open Device Manager.

Locate Network Adapters

Double-click on Network Adapters to view the list of network drivers on your PC.

Update Network Driver

Right-click on the dedicated network driver you're using and choose Update driver.

Install Driver

Select "Search automatically for drivers" and let Windows find and update the drivers.

Launch Roblox

Launch Roblox to see if the issue is resolved.
Do you find updating drivers manually to be time-consuming? That is why we recommend using Outbyte Driver Updater. This trusted third-party app scours the internet and finds the best driver for your PC.
2. Use a VPN
Download ExpressVPN.
Install the app on your PC and open the application.
Log into your ExpressVPN account.
Select a server that is closer to your physical location, as closer servers generally provide faster connections.
Launch Roblox again.
Check if you are still experiencing the error.
3. Reset your network device
Click the network connection icon on the taskbar.
Click on Network & Internet Settings.
Under Status, scroll down until you find "Network Reset."
Click on it and select "Reset now."
Select "Yes" to confirm.
Once the process is complete, restart your PC.
Launch Roblox to see if the error is resolved.
4. Switch to the Public DNS
Press the Windows +R to open the run box.
Type in "control panel" in the Run Window and open it.
Go to Network and Internet in the control panel and select Network and Sharing Center.
Click on your internet connection in the right pane.
Click on Properties in the upcoming Window.
Select Internet Protocol Version 4 (TCP/IPv4) and click on Properties.
Check the "Use the following DNS server addresses" option and enter the following DNS IP addresses:

Preferred DNS server: 8.8.8.8
Alternate DNS server: 8.8.4.4

Click OK to save the DNS settings.
Once you've finished, check if the error still persists.
Conclusion
In conclusion, if you encounter Roblox Error Code 275, it is important to be patient and check for updates regarding server maintenance. By following the suggested solutions and keeping an eye on the server status, you can minimize disruptions to your gaming experience and get back to enjoying Roblox's vast virtual world.
If you encounter any issues or errors while playing your favorite games and require support, feel free to contact us here. Our team is always ready to assist you and ensure your gaming experience is seamless and enjoyable.