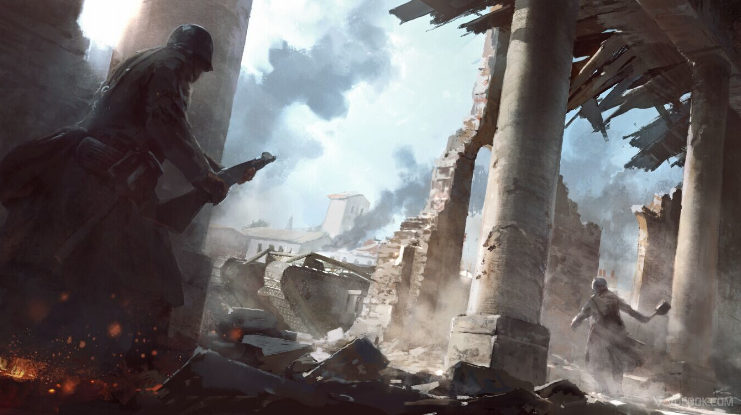 Solution For Battlefield 1 DirectX Function Error Crash Nvidia or AMD
Battlefield 1 was released worldwide on 21 October and it received very positive reviews from critics and was seen as an improvement over previous installments with most praise given to its World War I theme and visuals. The bad part is that the game has a small issue that persists and the developers haven't made any improvements to fix it.
Battlefield 1 DirectX Function Error Crash is the issue that stops a lot of people from playing the game. It seems that the game is randomly crashing due to a DirectX function error and players have experienced it, both, with DirectX 11 and DirectX12. In the first, there were just players with the Nvidia cards but after a while, AMD players started to experience this type of crash too.
The last responses from the developers of the game are the following:
We believe we have isolated a few of the DX issues in this thread and are working on fixes for those to be included in future patches.

The Dev team continues to work with our partners regarding this issue.
Unfortunately, I don't have any solid update at this time, but they have been working diligently with our partners to address the DX issue.
Until a definite fix, the developers of the game gave a lot of workarounds on how to fix this issue, you can find most of them below. We recommend to first apply all of these workarounds and after that, if nothing works for you, go to the definite solution at the end of the post.
The best solution to fix the Battlefield 1 DirectX Function Error Crash is to make some tweaks to your Nvidia GPU and optimize the game in order for this issue to be fixed. To find out how to do these things, go to the solution at the end of the post but before apply the workarounds too.
Battlefield 1 DirectX Function Error Crash Workarounds: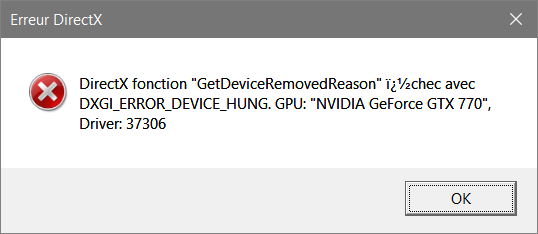 You can see a picture of how the issue looks like above. The error message that appears on the screen is the following: "DirectX function 'GetDeviceRemovedReason' DXGI_ERROR_DEVICE_HUNG. GPU: NVIDIA GeForce GTX 770, Driver: 37306".
If you don't know how to apply a workaround or if you have any questions, don't hesitate to contact our Support Team. We are available 24/7 and we will help you fix your game!
If you want a faster and easier solution on how to fix the DirectX function error, go to the end of the post and you will find exactly what you are looking for. (Click me to go now! :))
Bypassing the drivers on GTX 770:
Below you can find a batch file that will help you bypass the GTX 770 drivers and after that, you should not encounter any DirectX issues.
[win]+[x]
File Explorer
Double click on a Drive
Right click in open area > Create New > Text File
Open Text file
Copy the Below Code and paste it in the text file
Save As … Rename.BAT
Right Click Rename.BAT > Send to Desktop(shortcut)
Right Click on the Rename.BAT – Shortcut > Properties > Advanced > Check Run as Admin
if

exist C

:

\Windows\System32\nvapi64

.

Old

goto

Old

chdir

/

d C

:

\Windows\System32

ren nvapi64

.

dll nvapi64

.

Old

echo

@

Named

pause

goto

End

:

Old

chdir

/

d C

:

\Windows\System32

ren nvapi64

.

Old

nvapi64

.

dll

echo

@

Renamed

pause

goto

End

:

End
A potential workaround that has been working for some people. Note that there have been reports of problems with their OS or detection of your GPU. It might crash your system as well, so use at your own risk. (Note: Seems not to be compatible with Win10!)
I've literally spent more than an hour trying to find a fix without any result. As usual, I do not get any response from the EA support, which is quite annoying.
I have used the later driver, which did not help.
I have used the previous driver, which did not help.
I have tried re-installing the game and repairing the game, which did not help.
All suggested fixes that did not work for this specific error (Thanks to Kirister for keeping this list up to date):
GPU (GTX 770)
– Underclocked Core (-105MHz, which is the max value) / Mem (-685MHz).
– Set maximum safe values for Overvolt, Power and Temperature target.
– GPU temperature goes up to 75°c in 100% load, which is within the normal range.
– Removed GPU physically and cleaned the dust off.
– Stress tested GPU using Furmark: no issue.
– Set display to 60Hz (from 144Hz).
– No crash in any other game than BF1, including BF4.
GPU Drivers (nVIDIA)
– Tested drivers 368.81, 372.70 (nvapi64.dll bypass), 372.90, 373.03, 375.57, 375.64, 375.70.
– Uninstalled Geforce Experience (which includes Shadowplay).
– nVIDIA control panel: Power management mode – prefer maximum performance
– nVIDIA control panel: Threaded optimization – off
– nVIDIA control panel: Triple buffering – off
– nVIDIA control panel: Vertical sync – off
– nVIDIA control panel: Maximum pre-rendered frames – 3 (and 1, 2)
– nVIDIA control panel: PhysX to CPU
– Disabled all nVIDIA services.
– Minimal nVIDIA drivers install (without PhysX, HD audio, GeForce experience and 3d vision).
RAM
– Memtest came clean.
– Disabled XMP Profile in Bios (resulting in lower frequencies).
– Changed RAM (from 2x4Gb to faster 2x8Gb sticks).
Motherboard
– Updated Bios.
– Checked and updated all drivers (chipset, HDD, Realtek HD Audio…).
– Reset Bios settings to default.
– Disabled Intel SpeedStep/EIST in BIOS.
Origin
– Disabled Origin in-game overlay.
– Disabled all notifications.
Windows
– Running Windows 10 64bits up-to-date.
– Very clean Windows 10 install with minimal programs running in the background.
– Applied Regedit fix to increase TDR delay.
– Turned off DVR in Windows 10's XBox App.
– Reinstalled VC Redist.
– Changed Language for non-Unicode programs To English(US) (from French (FR)).
– Power options > PCI Express > Link state power management OFF.
– Installed DirectX 9.0c End-User Runtime.
– Created new user session.
– No overlay or GPU tool running in the background.
– Disabled Aero Peek.
– Reinstalled Windows 10
Also, apply these configurations to your game:
– Deleted settings (BF1 Folder in Documents).
– Repaired BF1.
– Deleted, re-downloaded and reinstalled BF1 completely.
– Switched from DX12 to DX11.
– Switched from Fullscreen to Borderless.
– Run the game as admin.
– Tested lowest settings.
– Toggled GPU Memory Restriction ON/OFF.
– User.cfg: Gametime.MaxVariableFps 60 (and 61~80…)
– User.cfg: RenderDevice.Dx11Dot1Enable 1 and RenderDevice.Dx11Dot1RuntimeEnable 1
– User.cfg: RenderDevice.RenderAheadLimit 2 (and 1, and 3)
– Motion Blur and Weapon DOF turned OFF.
– Tested with no ALT-TAB out of the game and fresh Windows session.
Solution For Battlefield 1 DirectX Function Error:
*Best and easiest solution to fix the DirectX issues
You are unable to play the Battlefield 1 game because you encounter a DirectX function error crash? Don't worry, a lot of players are complaining about this issue at this moment, and we will help you fix it.
GamesErrors Team noticed that this error persists since the launch of the game and that the developers didn't release any update to fix it. We come up with an easy way to fix it in just a matter of minutes!
Below you will find our tool that will optimize your game, and after that, you won't encounter any DirectX issue.
You are probably wondering what is this patch and how does it work, right? Well, our patch is developed by our team, we are a few gaming enthusiasts with a passion for coding, and by doing this, we are trying to help the gamers community. We know that you paid quite a lot of money for your game and not being able to play it it's just annoying.
Our patch will optimize your graphic card for the best performance and it will also update your GPU to the latest version that works with Battlefield 1. It will tweak your DirectX to make sure that you have the correct version and that everything works fine and it will install the required redistributables in order for the game to work properly. (Please Note: our patch won't interfere by any means with your Origin account, you will be safe the whole time!)
Below you can find an image on how our tool looks like and also a tutorial on how to properly use it. Please follow the tutorial step by step to make sure that you apply the patch correctly to your game. If you are not sure about some things please contact our support team. You can find the download link in the first step of the tutorial!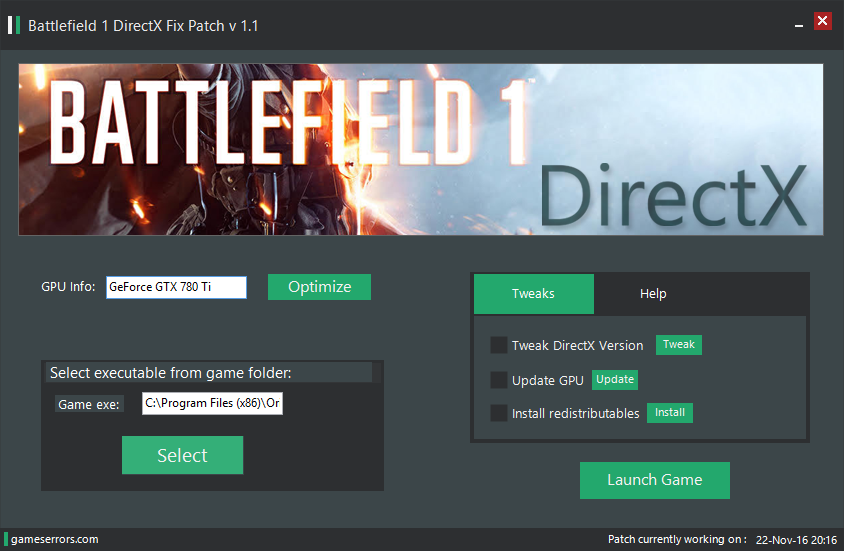 To make sure that you apply the patch correctly to your game please follow the tutorial below step by step. If you are not sure about something just ask us, our Support Team answers in a matter of minutes.
How to apply our patch:
Download the archive of the patch from here: download
Extract the downloaded archive on your PC, and open the patch from the folder.
Your GPU will be selected automatically, make sure that you use your dedicated GPU if you have a laptop!
Select the game executable from the game folder, if you used the default Origin install folder it should be: "C:\Program Files (x86)\Origin Games\Battelfield 1\″.
Apply all the tweaks from the box in the right.
After your issue is successfully fixed, you can click the "Launch Game" button and play the game.
How to download: Well, you might think that our download service is pretty annoying but is very effective. To download you just need to complete a simple offer, it usually takes a few minutes, and after that, you will be able to download the patch. We use this service because it's the only way to support our developers and to keep releasing and updating patches for games. Thank you! We hope you understand us and have fun playing Battlefield 1!
We hope that you managed to fix your Battlefield 1 DirectX function error and that now you are playing and enjoying the game. If you still encounter issues or if you don't know how to apply our patch, please comment below or open a Support ticket on our support page. After that, a member of our team will help you as soon as possible to fix your error so you can enjoy your game.–GamesErrors Team