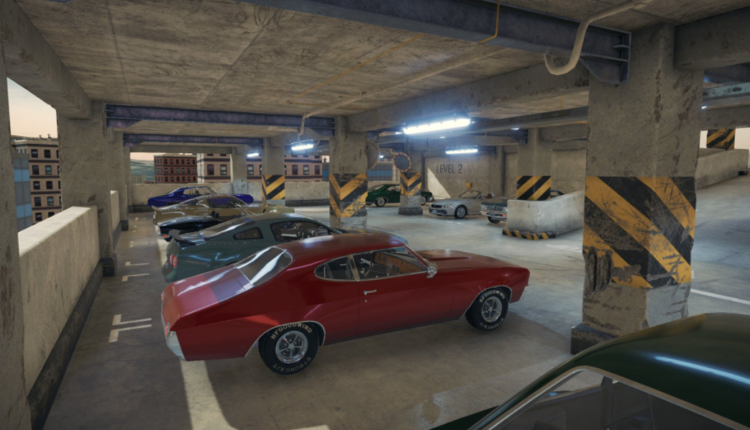 Solutions for Car Mechanic Simulator 2018 Errors, Black Screen, Not Starting, Performance Issues
Car Mechanic Simulator 2018 is now here and available on Steam but it seems that the game encounters a lot of errors. The simulator is available for some time and by now it got almost 700 Mixed reviews and the worst part is that most of these reviews are negative, people complaining about various bugs and glitches.
Proclaimed the best-selling Car Mechanic Simulator, I guess not anymore if they don't fix these issues soon, the game challenges players to repair, paint, tune and drive cars. In this new 2018 version, you can see features like car auctions where old cars are available for resale or purchase for your collection and photo-mode, you can take stunning before and after photos, and the game's infinite number of randomly generated missions will keep you more than busy (and dirty).
As you can see in the right picture below, the game suffers from a lot of glitches. The most common Car Mechanic Simulator 2018 errors are related mainly to optimization, it seems that the game is poorly optimized and players reported low frame rates, drops of fps, freezes, black screen, crashes and many other issues.
Here at Games Errors, we came up with a guide that will help you find a solution for all of these annoying errors that are making the game unplayable for you. Well, let's start fixing them, first, you need to check the system requirements of the game below and make sure that your PC can run the game at least on minimum.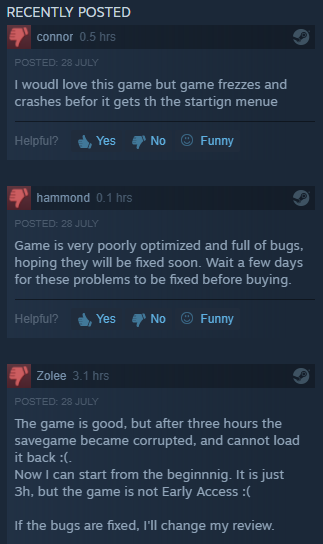 SYSTEM REQUIREMENTS
MINIMUM:
OS: Windows(64-bit) 7 or Newer
Processor: Intel Core i3 3.0 GHz
Memory: 4 GB RAM
Graphics: NVidia GeForce GTX 660 2GB VRAM
DirectX: Version 11
Storage: 20 GB available space
RECOMMENDED:
OS: Windows(64-bit) 7 or Newer
Processor: Intel Core i5 3.4 GHz
Memory: 8 GB RAM
Graphics: NVidia GeForce GTX 970 4GB VRAM
DirectX: Version 11
Storage: 20 GB available space
How To Fix Car Mechanic Simulator 2018 Errors:
If you arrived here it means that your PC can run the game fine, if not, maybe this is why you are encountering your issues so, before proceeding and applying our solutions to your game, we recommend upgrading your PC.
Below you will find a list with the most common errors that players are currently complaining about in Car Mechanic Simulator 2018. For each issue, you will find workarounds or solutions on how to fix them and play your game with no problems.
Please note that we also have a Support page, where we can answer all of your questions about the game, or maybe if you are not sure how to use a workaround or if you don't find your issue below. Please don't hesitate to contact us, you can also do it by a comment at the end of the post if this is more convenient to you.
#1 Car Mechanic Simulator 2018 Black Screen

As you can see in the picture above, a lot of players are complaining about a black screen issue that is breaking the game. You might encounter this black screen randomly through the game while you remove your tires or maybe when you launch the game at startup.
Also, a lot of users reported this glitch mainly when they were playing with the Mayen M3 car. Developers said that they don't know if this issue is related to this car or not but at the moment they are investigating and they need your help with output logs.
If you are still having the black screen bug can you please write when it occures? What is happening at that time. Is the game working in the background? And does it happen with Mayen M3 car? If you have that bug, please send us your output_log.txt.
On Windows log file is located in <GAMEDIRECTORY>/CMS18_DATA/)
Email help@playway.com
But, until the developers figure out what they can do to fix this issue, you can use our workaround and fix the issue on your own and enjoy your game.
Solutions for the black screen issue:
Turn off the radio. We know that this may sound like a stupid solution, but a few players reported that the game crashes to a black screen when the music of the radio changed the title and that if they turn it off nothing happens
Install Media Feature Pack
Disable Steam Overlay
Try to turn off full-screen mode
If none of the solutions above work for you, try our tool to optimize your game and it should fix this issue for you. You can find more details in the tutorial at the end of the post!
#2 Car Mechanic Simulator 2018 Not Starting

For some players, the game is not starting at all. They try to launch it from the steam dashboard and nothing happens, or they get stuck at the loading screen, sometimes they even encounter the annoying black screen issue.
This issue might be generated by some interference between the game and third party applications on your PC like screen recorders or antivirus software. So an easy fix for this might be to disable all the third party applications that your PC is currently running, check the list below for more solutions on how to launch your game.
How to launch my game:
Make sure that your antivirus software hasn't deleted something that the game needs, for example, your .exe
Check your drivers and see if they are updated
Run the game executable in Administrator mode
Right click the .exe and then properties and look into compatibility
If none of the solutions above helped and you still can't launch your game, you can use our tool to help you do that. For more details, check the tutorial at the end of the post!
#3 Car Mechanic Simulator 2018 Missing Executable
If you get an issue like this "cm18.exe is missing" make that your antivirus is not blocking the game. If that's not the case and if your antivirus didn't delete the executable of the game, you need to restart Steam and check for a new update. After you install this new update, the game should work fine.
#4 Car Mechanic Simulator 2018 Performance Issues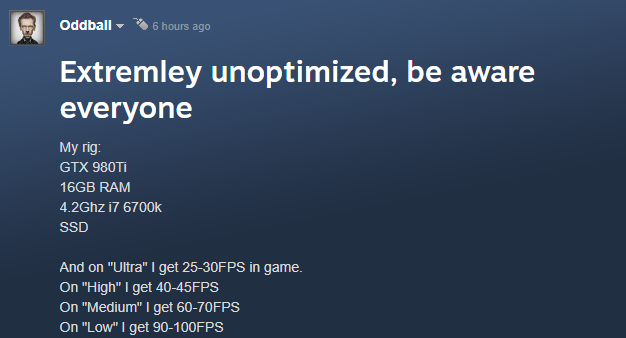 No question that the game is poorly optimized at the moment. It works like crap on high-end PC's and players are getting ridiculously low framerates. Check our workarounds below to optimize your game and get the maximum fps that your PC can get from the game.
Optimization workarounds:
Turn off VSync
Try to play the game in different graphic versions like low/medium and see what works best for you
Make sure that your GPU driver is up to date
If you still encounter unplayable framerates and your game is not optimized, you can use our tool to optimize your game automatically and get stable high fps. Check the tutorial at the end of the post for more details!
Also, check a possible fix from a user on the Steam forum below:
When I fist load the game and hit continue. . I'm staggering around like a drunk.. Due to blurriness and low fps.. If I save and go to main menu, tweak the resolution and/or graphics quality. Same then, hit continue. The lag and blurriness is gone for me.. If I exit the game, I have to repeat this as the 1st time loading its back to lag and blurriness. .

Just a heads up, I hope this works for others as I find the game enjoyable, its just a learning cube to get used to the menu wheel. I have a HP envy PC with a ♥♥♥♥♥♥ graphics card that doesn't meet minimum requirements. And I'm able to play on low with 1366×768 res. I think I can bump this up some and still be playable.
Car Mechanic Simulator 2018 Errors Solution:
*Only for Black Screen, Launch&Performance Issues
You are unable to build and expand your repair service empire in this incredibly detailed and highly realistic simulation world because your keep encountering different errors and glitches?
Don't worry anymore! We are here to help you fix those issues and play the game in no time with those great optimized frame rates :).
We know that you want to see what that Bentley in the picture below can really do. I, for one, I'm sure that I would like to drive it, just look at that amazing white chrome color.

How? That's simple, we developed a tool that will identify your issues and fix it. It's not magic, our tool will optimize your GPU and PC for maximum performance. It will install the required files and redistributables for your game to launch properly and with no crashes. It will check your internet connection and the server responsitivity and will help you login into the game at the correct moment when the queue is not so crowded.
We know that you paid quite a lot of money for your game and not being able to play it just sucks. Below you can find an image on how our tool looks like and also a tutorial on how to properly use it. Please follow the tutorial step by step to make sure that you apply the tool correctly to your game. If you are not sure about some things, please contact our support team. You can find the download link in the first step of the tutorial!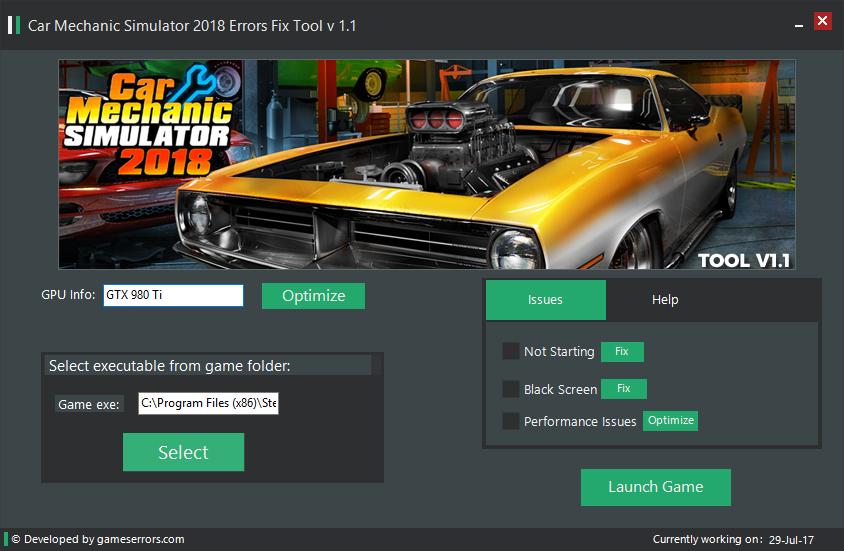 It's pretty simple to use our tool, but you also have a tutorial below. Follow the steps and if you have any questions just leave a comment or use our Support system, and someone from our team will help you.
How to apply our tool:
You can find the download link for our tool here: download
Extract the downloaded archive on your PC, and open the tool from the folder.
Your GPU will be selected automatically, make sure that you use your dedicated GPU if you have a laptop!
Select the game executable from the game folder, if you used the default Steam install folder it should be: "C:\Program Files (x86)\Steam\steamapps\common\Car Mechanic Simulator 2018".
Now select your issue or issues from the box to the right.
After your issue is successfully fixed, you can click the "Launch Game" button and play the game.
How to download: Well, you might think that our download service is pretty annoying but is very effective. To download you just need to complete a simple offer, it usually takes a few minutes, and after that, you will be able to download the tool. We use this service because it's the only way to support our developers and to keep releasing and updating patches for games. Thank you! We hope you understand us and have fun playing the game!
We hope that our guide helped you fix your Car Mechanic Simulator 2018 errors and that now you are enjoying the game. Please don't hesitate to contact us if you have any questions related to the game glitches. You can comment below or you can use our Support or Contact page. Have fun gaming guys! – Games Errors Team