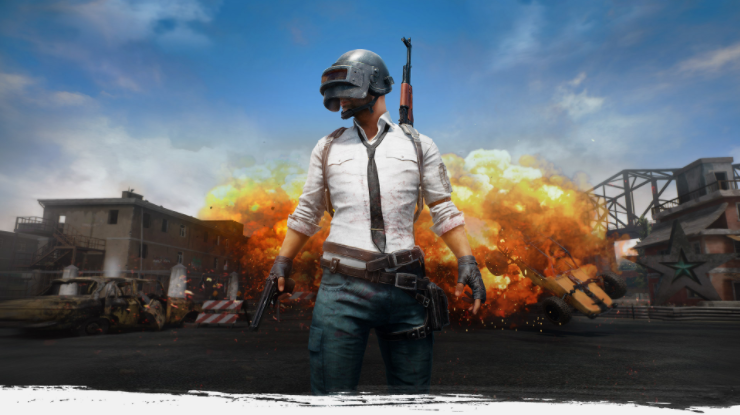 Solutions For Playerunknown's Battlegrounds Errors, Connection Issues, Not Starting, Crashes
Survival MMOs are starting to be very popular these days and a lot of gamers are interested in them. This spring, a new game of this type was released, Playerunknown's Battlegrounds. The new last-man-standing shooter is currently in Early Access, being developed with community feedback.
Brendan Greene aka Playerunknown is the creator of the Battle Royale game mode found in the ARMA series and H1Z1, being a pioneer of this genre. Greene is co-developing the game with the veteran team at Bluehole to create the most diverse and robust Battle Royale experience to date.
As you probably know by know, the game is in the early access version and that means that, like many other games that are here, that you can encounter a lot of errors and bugs. As for Playerunknown's Battlegrounds errors, users reported a lot of them in the first few weeks after launch and they are still encountering some bugs today.
Some of these issues are:
Game stuck at loading;
Connection issues;
Game not starting;
Screen tearing bug, etc;
The developers are releasing patches weekly to fix some of these issues but in the meanwhile, if you don't want to wait for a patch and you are eager to play the game, check our solutions and workarounds below.
Before starting to apply our tips, you need to make sure that you meet the minimum system requirements of the game. Please check them below and if your PC doesn't meet them, try to update the corresponding part and see if you still encounter your issues.
MINIMUM SYSTEM REQUIREMENTS:
OS: 64-bit Windows 7, Windows 8.1, Windows 10
Processor: Intel Core i3-4340 / AMD FX-6300
Memory: 6 GB RAM
Graphics: nVidia GeForce GTX 660 2GB / AMD Radeon HD 7850 2GB
DirectX: Version 11
Network: Broadband Internet connection
Storage: 30 GB available space
Let's get started, below you will find a list with the most common Playerunknown's Battlegrounds issues and bugs. For each one of them, you will find a solution/workaround that will help you fix the game.
Solutions for Playerunknown's Battlegrounds Errors:
Check our tips below and if you don't know how to apply a workaround, you can get in touch with us on our support page here.
#1 Playerunknown's Battlegrounds Connection Issues
If might encounter the "Connection Failed" error message and you are unable to enter the game. This is one of the biggest issues that players are currently experiencing. You can fix this issue and connect to the game server by following our solutions below.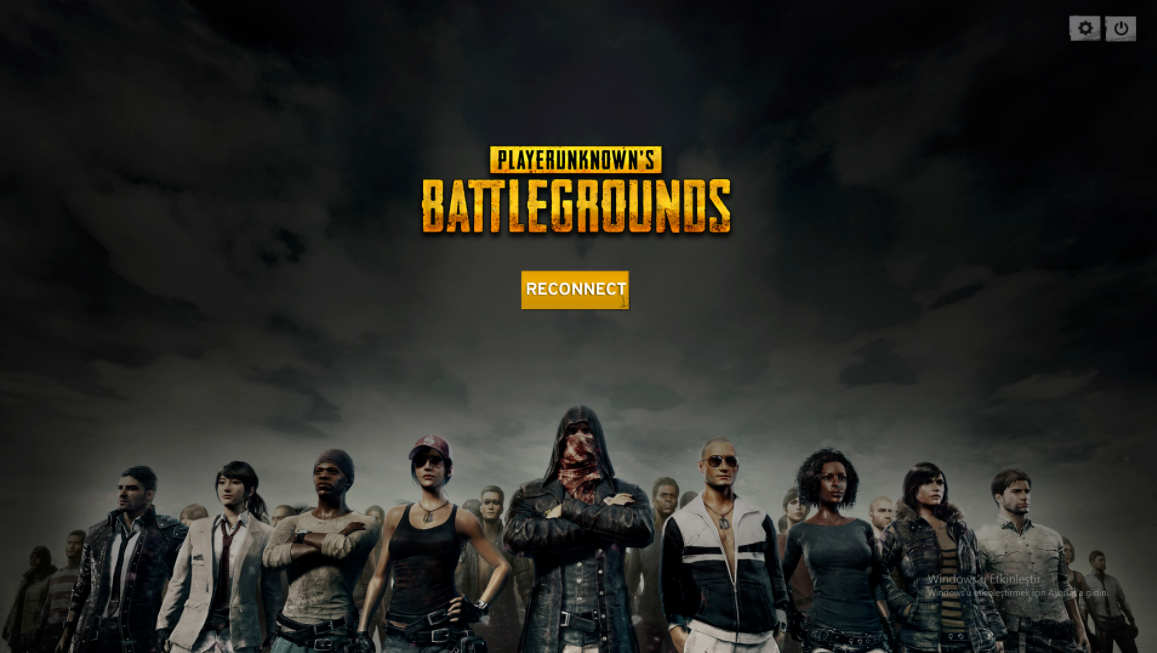 Below you can see what a moderator said about the connection issues to the servers.
Update: If you are having an issue connecting to the servers please note what type of connection you are accessing from. (Ie: Home, Work, University) If you are trying from University please also try to tether to your mobile or make your mobile a hotspot to test if you can get to the main menu/start a game. This will help to cut down on your trouble shooting time and provide valuable feedback. I am sorry for the inconvenience and I can assure you the Engineers are working on a fix. Please hang in there and thank you all for the help, it is greatly appreciated! 🙂   –Caesar of Roma
Solutions for Connection Issue:
Simply restarting steam and your computer can fix many common errors, if you just had an update it is recommended that you restart before proceeding.
Disable Windows Defender and other firewalls that might stop your game from connecting to the servers.
A weird fix but one that was discovered to work was either restarting the router and modem or bypassing the router and plugging a hardline straight into the modem from the computer. This is due to the limiting factor by the router. Also, make sure your firmware is up to date.
Here you can find a fix for the "2.1.38 connection error":
"Although I have struggled to get some kind of progress with the troubleshooting that I have done, I did actually find a temporary solution for people with the same error as me "(2.1.38 -)", and this involves Securing and swapping your IP with a VPN. I have found that even the free simple apps like CyberGhostVPN can do the job,with no bother, and you'll be back in game for now at least . We just need to give the developers some time and hopefully this will be fixed soon…..

-Thanks @INFERNOZO!"
If you think that you have a problem with your ports, open 80, 81 and 443. If that does not work, try this: Run these commands in your command prompt and see if resetting the network interface helps:ipconfig /releaseipconfig /renewnetsh winsock reset catalognetsh int ip reset reset.logBattlegrounds seem to use ports 80,81 and 443 during the launch. 80 and 443 are pretty much guaranteed to be open or you wouldn't be able to browse any http/https web pages, so check the router and firewall if there's a block or no allow rule for 81. Did you also allow TslGame_BE.exe? Although it does not do any connections it's part of battleeye and should be set allowed/trusted in your firewall and antivirus settings.
#2 Playerunknown's Battlegrounds Not Starting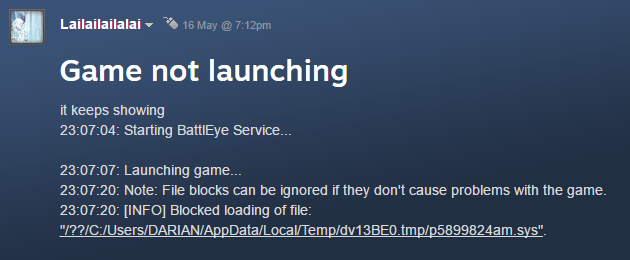 If you click on the Play button in Steam and no game starts and nothing happens, you are encountering a launch issue. Some players also reported launch issues with the BattlEye anti-cheat service. For some detailed workarounds on how to fix all the launch issues, check the tips below.
Start your game with the following workarounds:
Verify the integrity of your game files from Steam.
Make sure that your Windows is up to date.
Run Steam as an Admin. This can also help fix the "Steam Initialization Failure" error that many have been getting. Simply follow the path C:\Program Files (x86)\Steam, right click on "Steam.exe" and "Run as Administrator".
Run the game as an Admin. Not a popular one, but hey.. it can work. Your path is most likely this unless you have games split onto another Drive:
C:\Program Files (x86)\Steam\steamapps\common\Battlegrounds\TslGame\Binaries\Win64
There have been reports of BattlEye failing at startup. Please go to services.msi and manually start BattlEye. To do that follow the steps below.
Open the Start Menu and go to "Find" and type in "services.msc" (if you have Windows10 just start typing)(( No quotes)) and press Enter to launch the program.
You should have something that looks like this. Now scroll down until you see "BattlEye Services" 
Select BattlEye Services and Press "Start this Service". You will get a prompt really quickly then the service will be started.
To check to make sure it is running open up Task Manager and Check the Processes. You should see it running!
Setting the launch options to -noborder.
Changing screen size manually from the .ini file1. go to "C:\Users\"your user"\AppData\Local\TslGame\Saved\Config\WindowsNoEditor2. open "GameUserSettings"3. search for :ResolutionSizeX=
ResolutionSizeY=DesiredScreenWidth=
DesiredScreenHeight=4. change them for your desktop resolution , in my case was like this :

ResolutionSizeX=1280
ResolutionSizeY=1024
LastUserConfirmedResolutionSizeX=1280
LastUserConfirmedResolutionSizeY=1024
WindowPosX=-1
WindowPosY=-1
FullscreenMode=1
LastConfirmedFullscreenMode=1
PreferredFullscreenMode=1
Version=1001
AudioQualityLevel=0
FrameRateLimit=1000.000000
DesiredScreenWidth=1280
DesiredScreenHeight=1024

Editing Launch settings to -autoconfig or -windowed
Right-click on the game title under the Library in Steam and select Properties.
Under the General tab click the Set launch options… button.
Enter the launch options, -autoconfig OR -windowed (be sure to separate each code with space) and click OK.
Close the game's Properties window and launch the game.
#3 Playerunknown's Battlegrounds Crashes

There are some instances in which the game crashes, players reported that it might crash at the startup or randomly while playing. For some solutions on how to fix the crashes, check the list below.
Workarounds to fix crashes:
The game crashes on startup because it opens up in some weird resolution by default, that generates the Gameusersettings.ini.
" Don't worry it's just a low settings file for the game, you can replicate this if you don't trust the file, but you need a friend who can run the game, put everything at the lowest settings and then copy the GameUserSettings.ini give it to you and replace your file with it, and be sure to make a backup of the original file just in case! "

-Thanks @Rakyzura
Steam/BattlEye keeps crashing at launch:

This issue is generated because api-ms-win-crt-runtime-l1-1-0.dll is missing – go to your install file for the game: C:\Program Files (x86)\Steam\steamapps\common\PUBG\TslGame\Binaries\Win64

Now try to run TslGame.exe as admin by right clicking it – does it say api-ms-win-crt-runtime-l1-1-0.dll was missing?

If yes – you need to run your windows update to the latest date, not just critical.

If your windows update will not run or is stuck at 0% – you need to fix your windows update itsfoss.com/fix-windows-updates-stuck-0/

Install .NET Framework
#3 Playerunknown's Battleground Screen Tearing
First, try to enable Vsync from your graphic card control panel and if that hasn't helped you, you need to change some settings in the config file. Open the file from here C:\Users\\AppData\Local\TslGame\Saved\Config\WindowsNoEditor (note: make sure that your hidden files are shown).
Open the config file with a text editor and find "ViewDistance". Here change the value to 0 or 1, see which one works better.
#4 Playerunknown's Battlegrounds Performance Issues

Please note that the game is currently at an early stage of development and as such, optimization for the game has only just begun. But if you encounter horrible performance issues like FPS Drops and very Low framerates, you can apply some of the workarounds below to get a stable fps.
How to optimize performance:
Go here: Steam Library > Playerunknown's Battleground > right click > Properties > Steam launch option. Once here all you need to do is copy and paste the following code line: malloc=system +mat_antialias 0 window -USEALLAVAILABLECORES -sm4.
Add this to your Nvidia 3D Settings:
Maximum pre-rendered frames: 1
Multi-display/mixed-GPU acceleration: Single display performance mode
Power management mode: Prefer maximum performance
Vertical sync: Off
You probably did this by now but update your GPU to the latest version.
For a more in-depth guide on how to optimize the game for a stable framerate and also how to increase it, check the guide from the guys at PrimaGames here.
If you don't see your error in the list above, please comment below and we will help you fix your issue. We hope that our guide helped you fix your Playerunknown's Battlegrounds errors and that now you are enjoying the game. Please don't hesitate to contact us if you have any questions. Happy gaming!
UPDATE:

 Our team of developers launched a tool that will help you fix those errors that are still persisting in the game. For more details go below!
Playerunknown's Battleground Errors Fix(Tool):
*Only for Game Not Starting, Crashes and Connection Issues
You are unable to survive in the vast lands of the battle royale, not because of your gaming skills, but mainly because of issues like connectivity and crashes?
Don't worry anymore! We are here to help you fix those annoying bugs so you can play the game and enjoy it at maximum 🙂

How? That's simple, we developed a tool that will identify your issues and fix it. It's not magic, our tool will optimize your GPU and PC for maximum performance. It will install the required files and redistributables for your game to launch properly and with no crashes. It will check your internet connection and the server responsitivity and will help you login into the game at the correct moment when the queue is not so crowded.
We know that you paid quite a lot of money for your game and not being able to play it just sucks. Below you can find an image on how our tool looks like and also a tutorial on how to properly use it. Please follow the tutorial step by step to make sure that you apply the tool correctly to your game. If you are not sure about some things, please contact our support team. You can find the download link in the first step of the tutorial!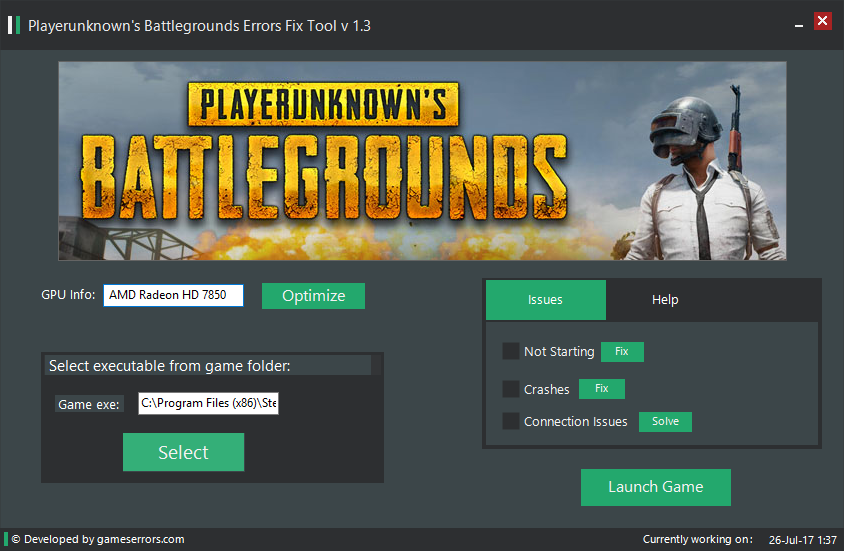 It's pretty simple to use our tool, but you also have a tutorial below. Follow the steps and if you have any questions just leave a comment or use our Support system, and someone from our team will help you.
How to apply our tool:
You can find the download link for our tool here: download
Extract the downloaded archive on your PC, and open the tool from the folder.
Your GPU will be selected automatically, make sure that you use your dedicated GPU if you have a laptop!
Select the game executable from the game folder, if you used the default Steam install folder it should be: "C:\Program Files (x86)\Steam\steamapps\common\PLAYERUNKNOWN'S BATTLEGROUNDS".
Now select your issue or issues from the box to the right.
After your issue is successfully fixed, you can click the "Launch Game" button and play the game.
How to download: Well, you might think that our download service is pretty annoying but is very effective. To download you just need to complete a simple offer, it usually takes a few minutes, and after that, you will be able to download the tool. We use this service because it's the only way to support our developers and to keep releasing and updating patches for games. Thank you! We hope you understand us and have fun playing the game!
If you have any questions about or tool or if you don't know how to use it. Please comment below and someone from our team will help you 🙂