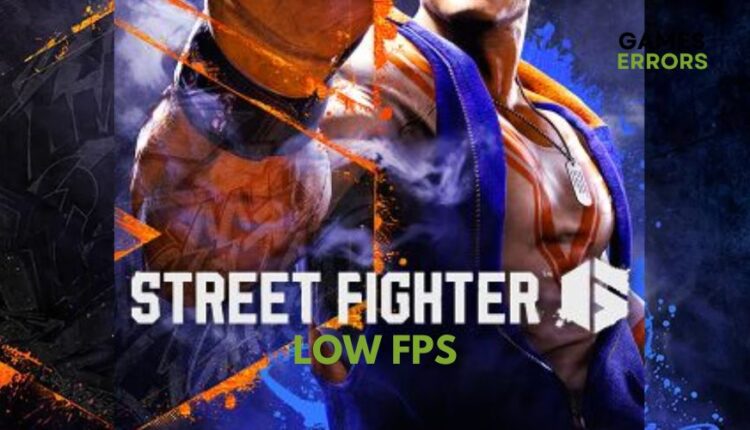 Street Fighter 6 Low Fps: How to Boost Performance
Check out the most effective troubleshooting methods for the Street Fighter 6 low fps issue and enjoy power-packed gameplay!💪
Capcom's all set to release Street Fighter 6 worldwide officially on June 2. In the meanwhile, the game's demo version for PC is already out. Several gamers have already tested its performance on PC, and issues are already bugging many. 
One of the leading ones is the Street Fighter 6 low fps issue. If you are facing a similar issue and don't want the menace to continue once you buy the official version, have a look at our list of tried and tested workarounds.
What causes Street Fighter 6 low fps issue?
Low fps or fps drop mostly reflects a problem with your PC's compatibility with the game's requirements, especially graphics-related ones.
Here are some leading causes that you can address to fix Street Fighter 6 fps drop issue.
Hardware incompatibility issues
Too many background apps
Outdated GPU drivers
Incorrect in-game graphics settings
Outdated Windows version
Antivirus intervention
Underclocked GPU and CPU
How do I fix low frame rate in Street Fighter 6?
A drop in frame rate in graphics-intensive games like Street Fighter 6 can be really annoying. Luckily, we have made a list of the solutions you can try ahead of the game's official release!
But before you try them, make sure to run the following preliminary checks:
Once done checking the above, proceed with the following troubleshooting methods.
1. Fix in-game graphics settings
Time needed: 5 minutes
Several gamers have reported that changing the following in-game graphics settings have solved the Street Fighter 6 low fps problem.
Open Steam Deck and launch Street Fighter 6.
Go to Settings > Options > Graphics > Basic Graphics Settings.
Now, make the following settings:

Turn VSync off.
Switch Display Mode to Windowed.
Set Maximum Frame Rate to 60.
Turn Motion Blur off.
Set Fighting Ground Background Object Density to Standard.
Turn Ambient Occlusion on.
Turn Limit World Tour Battles to 30 FPS on.
Set NPCs to Uncrowded.
Switch Depth of Field Effect to On.
Set Internal Resolution to 4.
Turn Screen Space Reflections on.
Turn Subsurface Scattering (Skin Effect) on.

Next, click on the Detailed Graphics Settings tab and fic the following settings:

Turn Shader Quality to Low.
Set Shadow Quality to Normal.
Switch Blown to Standard.
Set Lighting Quality to High.
Turn Texture Quality to High.
Set Sampling Quality to Standard.
Switch Mesh Quality to Normal.
Set Effects Quality to Low.
Restart the game to apply changes.
2. Update graphics card drivers
For many gamers, simply updating the GPU drivers fixed the issue of Street Fighter 6 low fps on PC.
Press Win + X to open the Quick Access Menu.
Click on Device Manager and then select the option for Display adapters.
Right-click on the graphics driver in use and click on Update Driver.
Download and install available updates, if any.
To save time further, and get more precise updates, use Outbyte Driver Updater.
Simply follow these steps.
Launch the app and it will automatically start scanning for available updates.
Next, click on Update All Drivers Now.
Restart your PC to fix the issue.
3. Set StreetFighter6.exe to high priority
Try these steps to help your PC allocate more resources to improve the game's performance.
Press Ctrl + Shift + Esc to open Task Manager.
Go to the Details tab, and right-click on StreetFighter6.exe.
Switch Set Priority to High.
4. Defragment and optimize disk drives
You can also optimize your PC's disk drives to enhance the gameplay quality and fix the issue of Street Fighter 6 low fps.
Go to Defragment and Optimize Drives.
Select the disk drive you want to defragment and hit Optimize.
5. Turn on TRIM on your PC
A popular solution for Street Fighter 6 fps drop is enabling TRIM to optimize SSD as follows.
Type "cmd" on the Start search bar and click on Run as administrator beside Command Prompt.
Enter the command: "Fsutil behavior query disabledeletenotify". Hit Enter.
The result comes 0 as shown below, it means TRIM is already on. If it doesn't, enter the following command: "fsutil behavior set DisableDeleteNotify 0" to turn on TRIM.
6. Change graphics card settings
Low GPU usage in games is often a result of incorrect graphics card settings. You can try changing them as follows to avoid the issue of Street Fighter 6 running slow on PC.
Go to NVIDIA Control Panel and click on Manage 3D settings.
Scroll down to Power management mode and set it to Prefer maximum performance.
Next, go to Vertical sync and turn it on if your PC has lower fps than the gameplay. Else, turn it off.
Also, set Threaded Optimization to On.
Some other fixes to try:
In case none of the above solutions worked for Street Fighter 6 frame rate issues, don't worry. Here are a handful of additional workarounds that might help.
Enable game mode.
Turn off Prefetch and SuperFetch (SysMain).
Disable Visual Effects on Windows.
Turn off the game bar and background recording.
Install and update game frameworks.
Switch from HDD to SSD or add SSD if not already done.
Turn off Steam Overlay.
Upgrade your PC's RAM.
Enable high-performance power settings.
Repair game files.
Close unnecessary background tasks.
Overclock GPU and CPU by not more than 15%.
Uninstall and reinstall the game.
If Street Fighter 6 still stutters, you can check our solutions for games crashing after new RAM and how to update graphics driver for better gaming performance.
In case you discover even better solutions for the Street Fighter 6 low fps issue, let us know in the comments.
If you encounter any issues or errors while playing your favorite games and require support, feel free to contact us here. Our team is always ready to assist you and ensure your gaming experience is seamless and enjoyable.