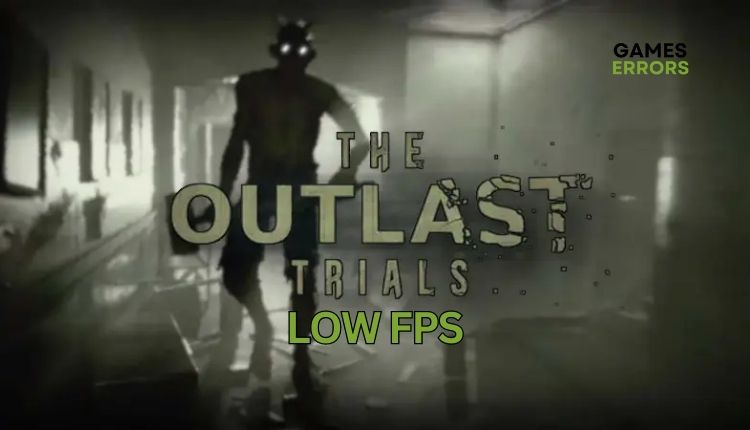 The Outlast Trials Low FPS on PC: How To Fix
To resolve the low FPS in The Outlast Trials, utilize our troubleshooting guide. 💥
The Outlast Trials began experimenting with fear and intimidation on May 18th of this year under the guidance of Red Barrels. Despite over four years of development, the game remains unfinished, prompting the decision to release an early access version. The unfinished version will only be accessible on PC platforms like Steam and Epic Games Store, with console versions to follow later. As the game is still in early access, various bugs and issues, such as Outlast Trials having low FPS on your PC, are possible. However, to quickly solve this problem with low frames and stuttering in the game, we have created this guide to solve the problem.
Why do I get low FPS in The Outlast Trials?
Here are some potential reasons why your PC may be experiencing low FPS while playing The Outlast Trials:
incompatibility of your PC with the recommended specifications
outdated GPU driver
wrong power plan
in-game graphics settings are not optimal
unnecessary apps running in the background
overlay apps issue
How do I get more FPS in The Outlast Trials?
We recommended starting with these more straightforward steps before moving on to anything more complex:
Check if your PC meets the recommended system requirements
Run the game as an administrator from the install folder.
Pause or stop any ongoing background downloads.
Close any heavy tasks running in the background.
If you have followed all the previous steps but are still experiencing low FPS in The Outlast Trials, try the following tips:
1. Update GPU driver
If you're having issues with crashes, low FPS, stuttering, or lag while playing The Outlast Trials, outdated graphics drivers (GPU) may be the cause. We recommend updating your graphics card drivers to the latest version to resolve this problem. Here's what you can do:
1. Right-click on the Windows Start Menu and choose Device Manager.
2. Double-click to expand Display adapters. Right-click on your GPU and click Update driver.
3. Choose Search automatically for drivers and wait to complete the update.
Do you find manually searching for driver updates on your PC tedious? If yes, Outbyte Driver Updater can ease your burden. It is a dependable and effective tool that automatically updates drivers whenever a new version becomes available. There is no longer a need to search for original drivers on a web browser.
⇒ Get Outbyte Driver Updater
2. Verify the integrity of game files
One or more game files may be corrupted or missing, which can cause The Outlast Trials' low FPS. We recommend that you resolve the issue as follows:
1. Launch the Steam client and go to the LIBRARY.
2. Right-click on The Outlast Trials and select Properties from the context menu.
3. Select LOCAL FILES from the left pane and click on Verify integrity of game files.
4. Wait for Steam to complete the verification and repair process before restarting your PC.
5. Upon restart, launch the game to check if the low FPS issue is gone.
3. Change power options
If you're using a Windows system set to Balanced mode in Power Options, you might not get the most out of your hardware and system performance. Try switching to High-Performance mode to enhance your gaming experience during intense gameplay. Here's how to do it:
1. Press the Win+R keys to show the Run dialog box.
2. Type; "powercfg.cpl" and press Enter to open Power Options.
3. Tick the radio button High Performance or Ultimate Performance power option.
4. Change launch options
5. Disable overlays
The overlay option in Steam or Windows can help take screenshots, stream, or record gameplay. However, enabling this feature may cause performance issues when playing The Outlast Trials. To avoid this, we recommend disabling the Steam overlay. Here are the steps to follow:
1. Open the Steam client and choose the Steam> Settings option from the menu.
2. Choose In-Game from the left pane and uncheck Enable the Steam Overlay while in-game.
ℹ️ You can disable the overlay feature in various software and applications such as NVIDIA or AMD driver software, Discord, Xbox Game Bar, Twitch, Razer apps, etc.
🪄Extra steps:
If you still get low FPS in The Outlast Trials, here are some additional options to consider:
Update Windows to the latest version.
Temporarily disable security software (firewall and antivirus)
Ensure to use discrete GPU instead of integrated graphics (IGP) – disable IGP in Device Manager
Perform clean boot (Ctrl+Shift+Esc and Disable all unnecessary apps from Startup).
Reinstall The Outlast Trials.
Conclusion
We sincerely hope that one of our solutions has effectively addressed the low FPS problem you were experiencing while playing The Outlast Trials. Feel free to share any questions or suggestions in the comments section below.