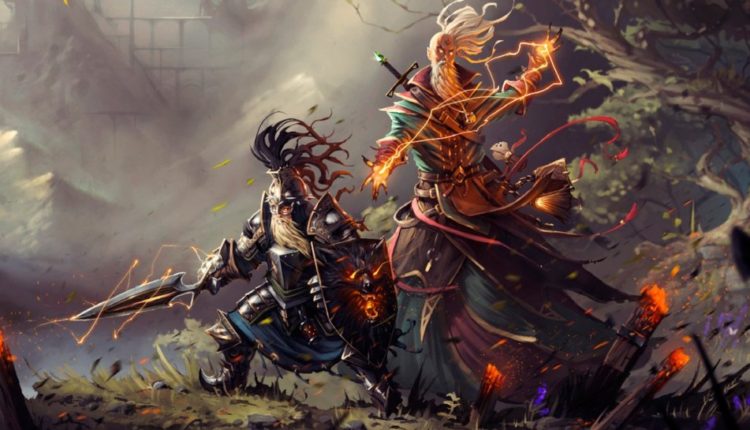 Top 6 Fixes For Divinity: Original Sin 2 Errors, Save Issues, Crashes, Launch Problems
Divinity: Original Sin 2, the eagerly anticipated sequel to the award-winning RPG, is now available on Steam and a lot of players seem to have a lot of fun with the game. The sequel is impressive, you have unlimited freedom to explore and experiment, up to 4 players online and split-screen multiplayer, game master mode and much more amazing features.
Critics and gamers are saying that the game is one of the best strategy games since XCOM. Although the positive reviews, the PC version is facing some technical issues and bugs that seem to break the game for some players.
Some of these errors are related to the Saving function, apparently, you can't save or load the game because it crashes back to the desktop or you encounter some random error. Other players are unable to create a character or they encounter crashes during the game.
Our team came up with a guide that contains top 6 fixes to help you fix your game and start playing it!
Make sure that your PC meets the minimum system requirements of the game and after that, you will find our list with solutions for your issues.
SYSTEM REQUIREMENTS
MINIMUM:
OS: Windows 7 SP1 64-bit or Windows 8.1 64-bit or Windows 10 64-bit
Processor: Intel Core i5 or equivalent
Memory: 4 GB RAM
Graphics: NVIDIA® GeForce® GTX 550 or ATI™ Radeon™ HD 6XXX or higher
DirectX: Version 11
Storage: 35 GB available space
RECOMMENDED:
OS: Windows 7 SP1 64-bit or Windows 8.1 64-bit or Windows 10 64-bit
Processor: Intel Core i7 or equivalent
Memory: 8 GB RAM
Graphics: NVIDIA GeForce GTX 770 or AMD R9 280
DirectX: Version 11
Storage: 35 GB available space
Top 6 Solutions For Divinity: Original Sin 2 Errors:
Note!
Please note that if you don't know how to apply a solution or workaround, you can contact us by leaving a comment below or on our
Support
page and someone from our team will help you fix your game as soon as possible!
#1 Divinity: Original Sin 2 Saving Issues

Some players encounter issues when they are trying to save or to load the game. Sometimes it crashes or the save files get corrupted and you are unable to load them.
Developers managed to release a hotfix for this issue pretty fast so you shouldn't encounter this error anymore. But if you still do it make sure that you installed this latest patch, restart your game and Steam. You can also try this tutorial here for bugged saves if you updated the game and you are still unable to save.
First of all, thank you for your patience. We've had a few more problems in the last few days than we had hoped, but we're working hard on fixing them. We'll have them sorted out as quickly as we can.

We have good news for everyone who had problems with their savegames after a few hours of playing – we just released a hotfix that solves the problem. The existing savegames should work now.

We're working on an additional hotfix to resolve some other problems you may have have noticed, and we'll be releasing it in the next few days.
FYI: We just released a hotfix resolving the save games problem. Old savegames should work as well. pic.twitter.com/KOLHsv8TiG

— Larian Studios (@larianstudios) September 17, 2017
#2 Divinity: Original Sin 2 Crashes

A problem that is affecting only certain users is that the game might crash from time to time, either after playing a while or maybe on the launch screen. If you are one of the players that are encountering crashes, check our solutions below to fix them.
Solutions:
Try to play the game in windowed, or Fake full-screen mode
Try running the game in compatibility mode as Windows 7
For nvwgf2umx.dll crash: this crash is related to the Nvidia drivers. To fix it, you should do a clean install of the drivers and restart your PC after that.
#3 Divinity: Original Sin 2 Launch Issues
If your game won't start or if you encounter some errors at the startup like missing some .dll's check the steps below to fix them.
1. If the game fails to start, do the usual: check your video driver and update it if necessary.

2. Normally, Steam will install the following by default as you launch the game for the first time. If you don't have these, please find them online at the following locations.

– Visual C++ Redist 2015

https://www.microsoft.com/en-us/download/details.aspx?id=48145

Choose 64bit

– .Net 3.5

https://www.microsoft.com/en-us/download/details.aspx?id=21

Choose Microsoft .NET Framework 4 Client Profile (Web Installer)

3. If you are having issues with api-ms-win-crt-runtime-l1-1-0.dll on Windows 7 or Windows 8.1, Microsoft distributes an update to fix this issue.
#4 Divinity: Original Sin 2 Character Stuck
This is a relatively rare issue, which seems to be much rarer than the previous version, but it has still been reported a couple times (there were fixes for this in the last update, but apparently not covering every possible cause).
Saving and reloading should restore control of the character. Saves can be made during combat, so you don't have to flee and return, or get through the fight with just the remaining party members.
#5 Divinity: Original Sin 2 UI/Resolution Issues
If you are encountering resolution or UI issues on a Nvidia card, go to the Nvidia control panel and disable the 3D Stereoscopic option.
#6 Divinity: Original Sin 2 Server Issues
Whenever I try to start the game the message "Connection to the Larian support server failed. The Larian support tool will be disabled. An exception occurred during a WebClient request. – Error creating the Web Proxy specified in the 'system.net/defaultProxy' configuration section.". The game itself launches just fine, but I can't get in the arena and can't play the SP campaign either, it just remains stuck on loading forever.
If you are complaining about connectivity issues, make sure that you checked your antivirus/firewall and that it's not blocking the game. After that, do a general connection troubleshoot. Resetting network adapter also seems to have fixed the issue for some. Sometimes, running the game as admin also resolves these kinds of connectivity issues.
Have Fun playing Divinity: Original Sin 2!
We hope that by now you managed to fix all your Divinity: Original Sin 2 errors and issues and that you are enjoying the game. If you still encounter some issues, and you are unable to fix them, or you don't know how to apply our solutions, please comment below or open a Support ticket on our support page. After that, a member of our team will help you as soon as possible to fix your error so you can enjoy your game. –GamesErrors Team