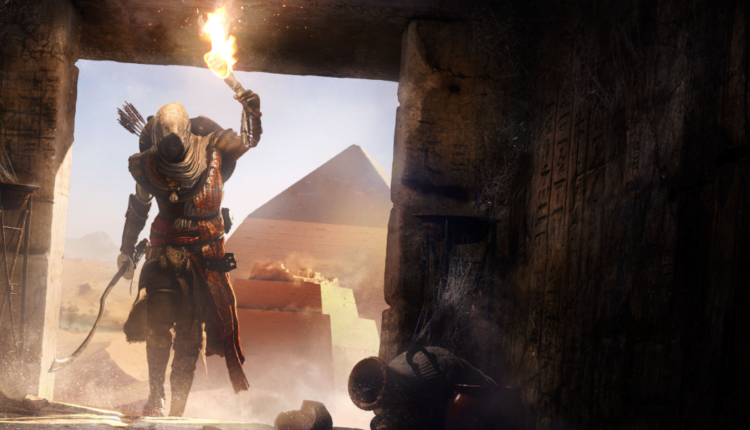 Top Solutions For Assassin's Creed Origins Errors, Crashes, Bad Performance, Not Starting, CPU Usage
X
INSTALL BY CLICKING THE DOWNLOAD FILE
Assassin's Creed Origins is the new installment in the award-winning series, now taking place in Ancient Egypt. The game is set during the time of Cleopatra – the furthest back in time the series has ever been.
Despite reinventing the franchise, Assassin's Creed Origins comes with a few errors that are making the game unplayable for some players. For example, you might encounter crashes, bad performance or your game won't start.
The new installment comes with a lot of new features like a completely new way to fight, deep progression mechanics and dozens of weapons with different characteristics and rarities.
Sail down the Nile, uncover the mysteries of the pyramids or fight your way against dangerous ancient factions and wild beasts as you explore this gigantic and unpredictable land.
Assassin's Creed Origins is available on Steam for a few days now and players are pretty satisfied with the game. The overall reviews are Very Positive, about 5,000 players reviewed the game.
But there are also some issues in the game that Ubisoft is aware of and are working to correct. Some of these errors might stop you from playing or enjoying the game so, until Ubisoft comes with a fix, you can apply our solutions and workarounds to fix them on your own.
SYSTEM REQUIREMENTS
MINIMUM:
OS: Windows 7 SP1, Windows 8.1, Windows 10 (64-bit versions only)
Processor: Intel Core i5-2400s @ 2.5 GHz or AMD FX-6350 @ 3.9 GHz or equivalent
Memory: 6 GB RAM
Graphics: NVIDIA GeForce GTX 660 or AMD R9 270 (2048 MB VRAM with Shader Model 5.0 or better)
DirectX: Version 11
Storage: 42 GB available space
Additional Notes: Video Preset: Lowest (720p)
RECOMMENDED:
OS: Windows 7 SP1, Windows 8.1, Windows 10 (64-bit versions only)
Processor: Intel Core i7- 3770 @ 3.5 GHz or AMD FX-8350 @ 4.0 GHz
Memory: 8 GB RAM
Graphics: NVIDIA GeForce GTX 760 or AMD R9 280X (3GB VRAM with Shader Model 5.0 or better)
Storage: 42 GB available space
Additional Notes: Video Preset: High (1080p)
Assassin's Creed Origins Errors Solutions:
Before applying our solutions, make sure that you meet the minimum system requirements of the game, that you can find above.
If you don't know how to apply a workaround to your game or if you have any questions, you can use our Support section and contact us.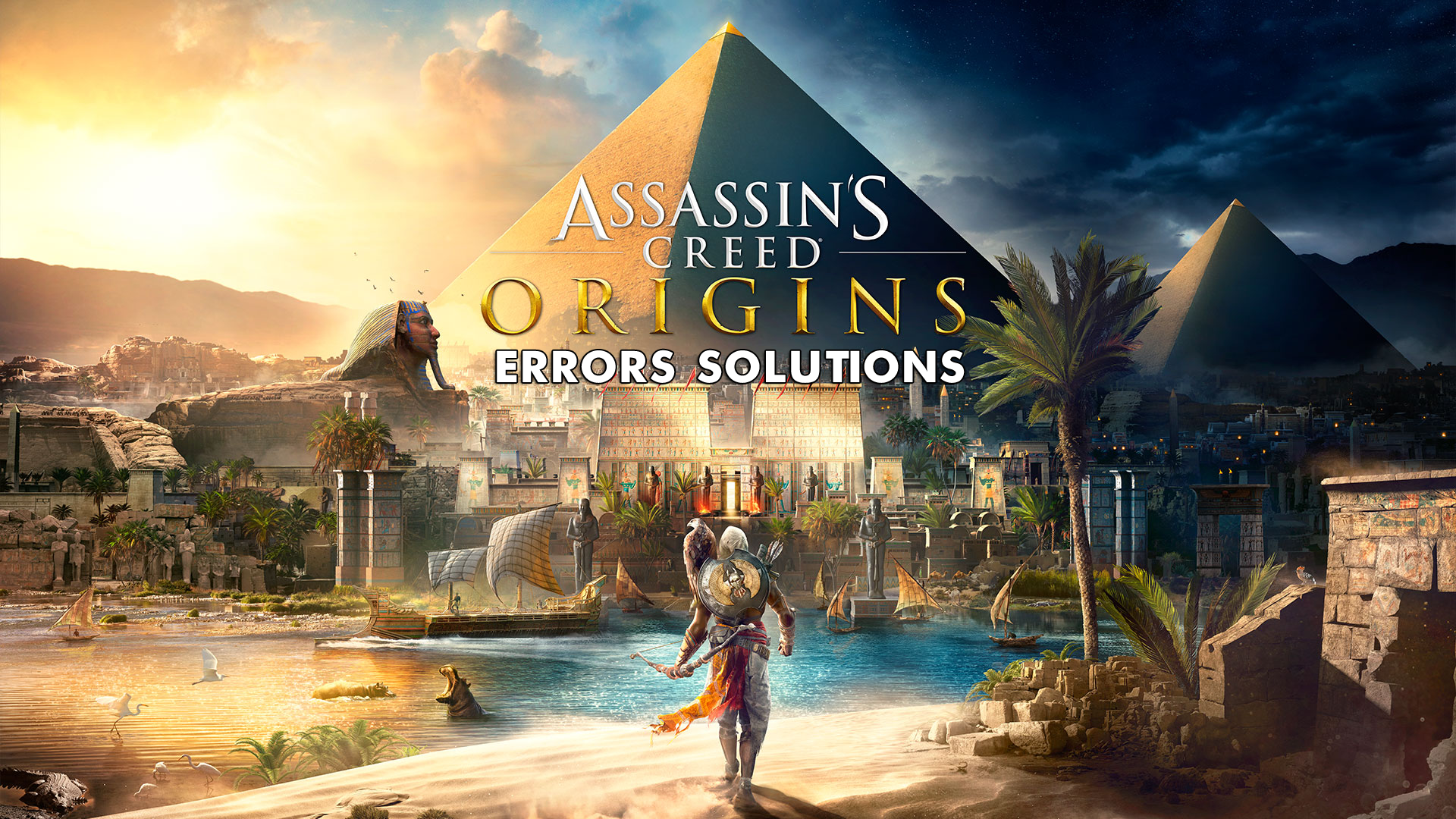 Before starting to fix your issues, try to read these notes from the developers, they might help you.
To ensure the best game experience, we encourage you to download and install the Day One Patch. You will find below some tips to verify that everything is ready before you play
• If you purchased a digital version of the game, the Day One update will be automatically downloaded and installed along with the main game.
• If you purchased a disc copy of the game for Xbox or PlayStation, you might have to check if the game is up-to-date (1.02 version), and if it's not the case to accept the download and installation of the Day One Update.
• If you purchased a disc copy of the game for PC, the Day One Update will be downloaded and installed along with the game executable.
IMPORTANT: There will be another Title Update available in early November, which will most notably include 4K and Dolby Atmos support for Xbox One X and support of HDR displays for all platforms.
#1 Assassin's Creed Origins Crashes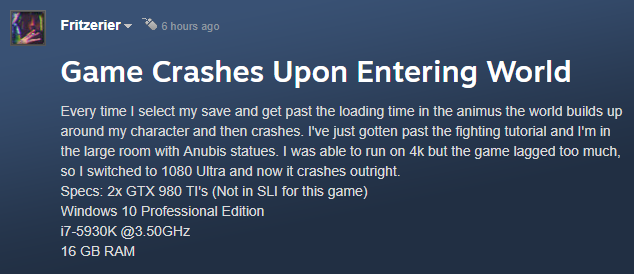 There are a few instances in which your game might crash and you will not be able to continue playing. Some of them are at startup, or if you have a 32-core PC, or maybe randomly through the game. Search below for your crash and you will find a solution.
The game crashes when trying to open a picture in Fullscreen while marked: Pressing the "Y" Button to view a picture taken in photo mode in full screen on which a marker has been set previously will result in a crash. Developers said to be sure not to mark photos on the map in the meantime and that the issue will be fixed in the next Title Update.
Crash with 32-core PC: The game may crash when playing on a 32-core PC.
We are aware of this issue affecting Assassin's Creed: Origins players with 32-core CPUs and are currently working on a fix. We are confident that we will be able to address this issue with an update soon.

In the meantime, please try to run the game on less cores, for example 28. You can configure your system to use less cores using MSconfig.

The following workaround may allow you to start the game, but this is an advanced system-wide setting that will impact other software on your machine. We suggest against using it if you are unsure of the consequences, as they fall beyond the scope of the Ubisoft supports teams.

This is how you do it:

1. Press the Windows Key + R.
2. Enter msconfig into the dialogue window and click OK.
3. Switch to the tab Boot.
4. Click on Advanced Options.
5. Check the box Number of processors and pick a number below 32.
6. Click OK and Apply and reboot your computer.

You can undo the change by going back to the MSconfig settings and setting the number of processors to 32.
#2 Assassin's Creed Origins Not Starting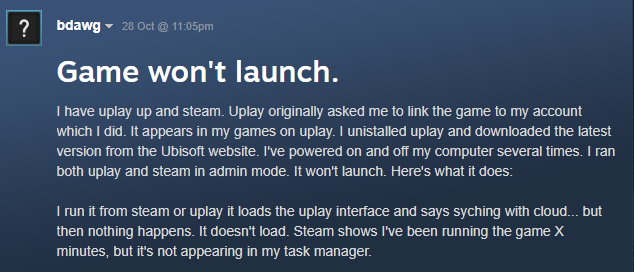 Some players are unable to launch the game due to various reasons. Below you can find a detailed step-by-step guide on how to fix this issue and launch your game.
Depending on how the issue manifests itself (for example, if it is a crash to the desktop, a black screen, or something else), the cause and the solution can vary widely. However, the following troubleshooting steps cover the most common technical issues.
The first step is to check if your machine meets the SYSTEM REQUIREMENTS for Assassin's Creed: Origins. If this is not the case, it might be impossible for the game to launch on this current system.
If your computer does meet the system requirements but you are still experiencing issues, try the steps outlined below:
Try to run the game with administrator rights 
Editor's Tip: Sometimes updating your GPU driver manually might be a bit hard or time-consuming, just know that you can update your drivers automatically with DriverFix, a dedicated third-party app. You can use it for any driver that you want to update, and it works in just a couple of clicks.
#3 Assassin's Creed Origins Bad Performance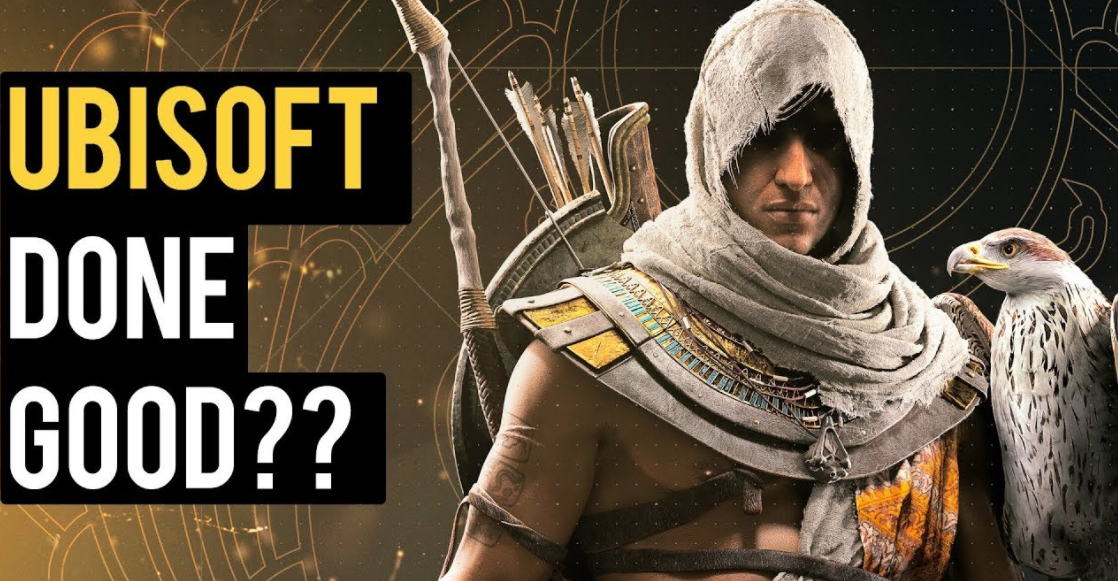 A lot of players are complaining about bad performance in Assasin's Creed Origins. They complain about low framerates, freezes, lag and other performance-related issues. To optimize your game and fix these issues, check the solutions below.
Developers optimized Assassin's Creed: Origins to run as smoothly as possible on various systems, but if you experience performance issues (for example low framerate, screen freezing for a very short time, action slowed down) the following info may help you understand the root cause of the issue and correct the situation.
Basic troubleshooting
If the game doesn't run smoothly, we would advise you to try going through BASIC PC TROUBLESHOOTING. Especially useful steps in this situation are:
– updating the video card drivers
– making sure your operating system is up to date
Change the graphics settings
An easy way to boost performance is to head to the Graphics options screen and try turning parameters down to lower settings. To reach this screen:
– From the Main menu, select the Options tab then click on Graphics.
– On this screen, you'll be able to change the Quality Preset and it to a lower setting or to fine-tune your settings. Keep in mind that some of those options are more demanding than others.
– For example, TRY EXPERIMENTING WITH THE VSYNC SETTINGS, they can have an impact on your FPS rate.
Note that there's is a handy little graph on the top right of your screen showing the amount of VRAM available to your GPU, and the projected amount of VRAM the settings you choose will require. Getting over the available VRAM (also IN SLI/CROSSFIRE SETUPS) will very likely result in slower performances. [TBC]
#4 Assassin's Creed Origins High CPU Usage
Ubisoft is using Denuvo to protect Assassin's Creed Origins from crackers. It seems that Ubisoft may have been spooked by the recent string of Denuvo cracks, which have been coming in at a much faster rate throughout 2017.
Because of that, they added VMProtect over Denuvo, which uses 30 to 40% more CPU usage.
Try the workaround below to lower your CPU usage if you don't have a high-end PC.
You might wanna try and use DSR (if you use a NVIDIA gpu) to play at a "higher" resolution (not native though) in order to put more load on the GPU which will result in lower CPU usage, this perhaps will make your GPU work harder.
Or as someone else wrote on Steam Dashboard you can just adjust the resolution scale slider in the options menu of the game, this is much easier.
Quick Tip!
To maximize your PC performance, we recommend using Restoro,
a trusted third-party tool that comes with Patented Technology
.
This tool will lower your CPU usage giving you the best gaming experience.
#5 Assassin's Creed Origins XBOX Issues
Stuck on table in Krocodilopolis arena lobby.
Description: Players might get stuck on the table in the Krocodilopolis arena lobby.
Workaround: We advise to reload the save game.
Status: Under Investigation.
Stuck after using Overpower ability on Diovicos.
Description: Players might remain stuck if they use the Overpower ability in order to kill Diovicos during the main quest "The Crocodile's Jaws".
Status: Will be addressed with a future update.
NPC Thutmose does not load properly.
Description: The NPC Thutmose might not load properly inside the case during the side quest "Blood in the Water", thus players might not be able to interact with him.
Workaround: Reload the quest objectives in the quest menu.
Status: Will be addressed with a future update.
Hippodrome not accessible
Description: Under certain circumstances, players might not be able to enter the Hippodrome after exiting the trying to re-entering the activity.
Workaround: A reboot should resolve this issue.
Status: Will be addressed with a future update.
Arena Leaderboards not being updated
Description: Leaderboards from arenas might not update after recovering from a Xbox Live connection loss on the Victory Screen.
Workaround: Reboot the game should resolve it.
Status: Under Investigation.
Game title in Russian
Description: The game title displays in Russian during the installation process from a disc.
Workaround: The game title auto-corrects itself as soon as the game installation process is completed.
Status: Resolved with distributed discs in the future.
We hope our guide helped you fix your Assassin's Creed Origins errors and that you are now playing and enjoying the game!