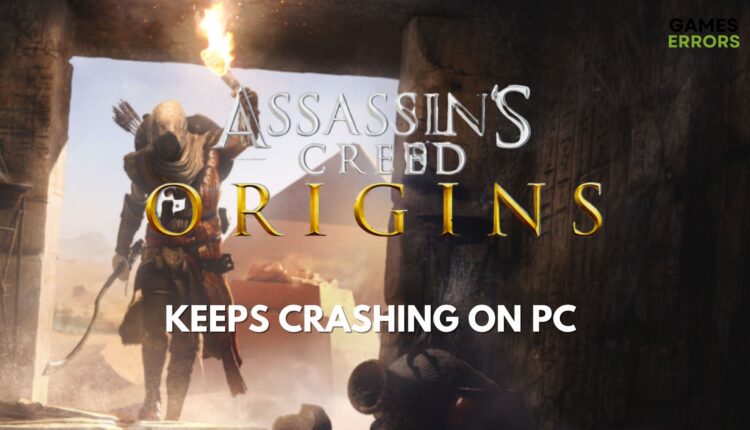 Assassin's Creed Origins Crashing When Diving: How to Fix
Is your game keeps crashing on Assassin's Creed Origins? Follow our effective steps
X
INSTALL BY CLICKING THE DOWNLOAD FILE
Assassin's Creed Origins is the new installment in the award-winning series, now taking place in Ancient Egypt. The game is set during the time of Cleopatra – the furthest back in time the series has ever been. Unfortunately, you may encounter Assassin's Creed Origins crashing on your PC.
Despite reinventing the franchise, the game comes with a few errors that make the game unplayable for some players. For example, you might encounter crashes such as Assassin's Creed Origins crashing on startup or when diving.
But there are also some issues in the game that Ubisoft is aware of and are working to correct Assassin's Creed Origins crashing on PC.
Also make sure that you meet the minimum system requirements of the game, which you can find below.
MINIMUM:
OS: Windows 7 SP1, Windows 8.1, Windows 10 (64-bit versions only)
Processor: Intel Core i5-2400s @ 2.5 GHz or AMD FX-6350 @ 3.9 GHz or equivalent
Memory: 6 GB RAM
Graphics: NVIDIA GeForce GTX 660 or AMD R9 270 (2048 MB VRAM with Shader Model 5.0 or better)
DirectX: Version 11
Storage: 42 GB available space
Additional Notes: Video Preset: Lowest (720p)
Why do Assassin's Creed Origins keep crashing?
Assassin's Creed Origins may keep crashing due to your GPU driver. If you are using an AMD or an Nvidia GPU, then you must know that some gamers have reported experiencing crashes while using these. They were able to fix the problem by updating it.
Corrupt game files or some background apps may also be a reason for Assassin's Creed Origins to crash.
How do I stop Assassin's Creed Origins from crashing?
1. Update the graphics driver
Click on Display adapters and right-click on the driver.
Choose Search automatically for the driver.
Restart your PC.
In some cases, updating your GPU driver manually might be a bit hard or time-consuming, just know that you can update your drivers automatically with DriverFix, a dedicated third-party app. You can use it for any driver that you want to update, and it works in just a couple of clicks.
2. Close the background apps
A worth-trying solution is to close all the background apps that can generate issues and game bugs on this game following the next steps.
Open Task Manager on the desktop → Go to the Processes tab, right-click on a running app and select End process to terminate them.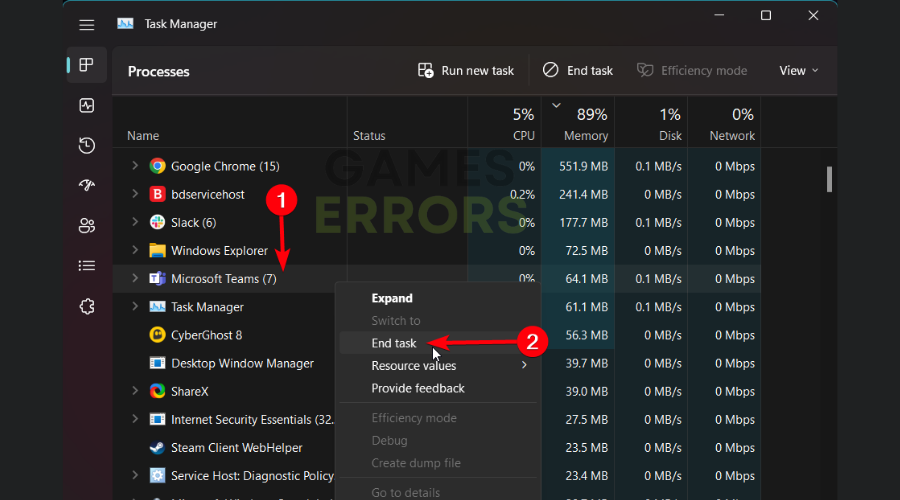 3. Repair the game files
Select Library on the Steam client.
After validating the files, it will repair them automatically.
4. Check for Windows updates
It's also possible to resolve crashing problems and repair your game by downloading the latest Windows updates. You can proceed with this like this:
Type Windows Update in the search box → Click on Check for updates → Download and install any available updates on your PC.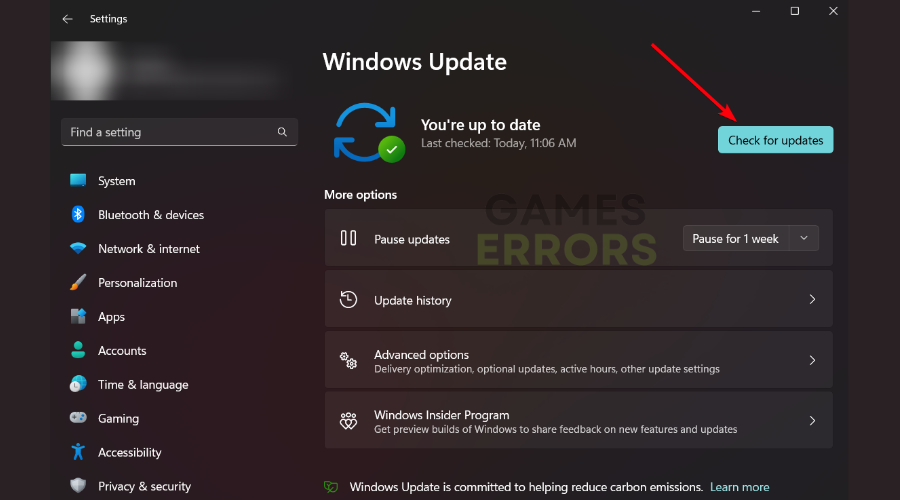 Why does AC Origins keep crashing AMD?
If you experience Assassin's Creed Origins crashing with an AMD graphics card, that is because the manufacturer may overclock your PC resources due to changes in the clock settings.
To fix it, go ahead and change your GPU settings to the normal clocking instead of the boosting.
⚙️ Other Assassin's Creed Origins issues
➡️ Crash with 32-core PC: The game may crash when playing on a 32-core PC.
➡️ Assassin's Creed Origins Not Starting: Some players are unable to launch the game due to various reasons. Below you can find fix this issue by running the game with administrator rights
➡️ Assassin's Creed Origins Bad Performance: An especially useful method in this situation is to Change the graphics settings:
From the Main menu, select the Options tab then click on Graphics. On this screen, you'll be able to change the Quality Preset and it to a lower setting or to fine-tune your settings.
➡️ Assassin's Creed Origins High CPU Usage: It seems that Ubisoft may have been spooked by the recent string of Denuvo cracks, which have been coming in at a much faster rate throughout 2017.
We hope our guide helped you fix the Assassin's Creed Origins crashing on PC issue and that you are now playing and enjoying the game.
If you encounter any issues or errors while playing your favorite games and require support, feel free to contact us here. Our team is always ready to assist you and ensure your gaming experience is seamless and enjoyable.