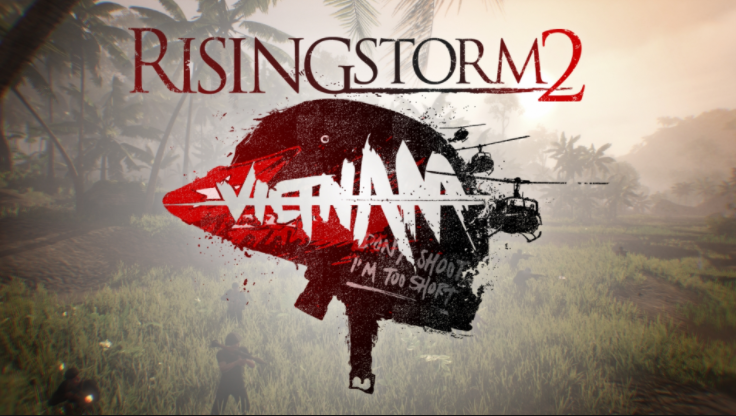 Top Solutions For Rising Storm 2: Vietnam Errors, Performance Issues, Random&Startup Crashes
Rising Storm 2: Vietnam is the sequel to the original Rising Storm, and it just got released on Steam yesterday. The game comes with the authentic gunplay and first-person shooter action of the Red Orchestra series. In this new sequel, published by Tripwire Interactive and developed by Antimatter Games, you will be able to play massive 64 multiplayer battles and use over 30 authentic weapons.
The game was received quite well by the first-person shooter gamers community and by now it has over 1900 positive reviews on Steam. The bad part is that it still has a lot of bugs like crashes when performing certain actions, performance issues and other glitches that are making the game unplayable.
If you are one of the players that are complaining about these issues, you've come to the right place because, in this guide, we will help you fix your glitches and have an amazing gaming experience.
Let's start, first, you need to make sure that your computer meets the minimum system requirements of the game. You can find them below. If your PC is below the minimum requirements, you probably need to upgrade it because this is why you are encountering your issues.
SYSTEM REQUIREMENTS
MINIMUM:
OS: Windows 7 SP1, Windows 8.1, Windows 10 (64-bit versions only)
Processor: Intel Core i3 @ 2.5GHz or AMD Phenom @ 2.5GHz
Memory: 4 GB RAM
Graphics: NVIDIA GeForce GTX 460 or ATI Radeon HD 5850
DirectX: Version 11
Network: Broadband Internet connection
Storage: 12 GB available space
Additional Notes: UNSUPPORTED HARDWARE: 32-bit Operating Systems
RECOMMENDED:
OS: Windows 7 SP1, Windows 8.1, Windows 10 (64-bit versions only)
Processor: Intel Core i5 @ 3.2GHz or AMD @ 4.0GHz or better
Memory: 6 GB RAM
Graphics: NVIDIA GeForce GTX 760 or AMD R9 270X or better
DirectX: Version 11
Network: Broadband Internet connection
Storage: 12 GB available space
Below you will find a list with the most common sequel errors and glitches. For each issue, you will find a solution or workaround on how to fix it. Go ahead and search for your bug in the list below. If you can find it, just comment below and we will help you fix your game.
Solutions For Rising Storm 2: Vietnam Errors:
Also, check our support section here, where we can help you with questions or anything related to your game.
#1 Rising Storm 2: Vietnam Performance Issues

A lot of players are encountering performance issues, the game is flickering or it has sudden frame rate drops. These are the most common ones but some players also complain about stuttering and graphic glitches. Overall, the game seems to be pretty badly optimized.
Developers said that if you encounter these type of issue to send a support email to them with the following details. This will help them fix the game faster.
Please submit a DXDIAG[/color] file. Please see the above instructions on how to send in your DXDIAG file.
Please provide a screenshot (or written details) of the graphical settings you have chosen, from the options menu[/color]
Please detail if you are experiencing framerate issues, hitching issues, latency issues etc. Be as detailed as possible in your report
Also, we will give you some tips on how to optimize the game for a better performance and a stable framerate. Check them below!
Rising Storm 2: Vietnam Optimization for Maximum Performance:
Update your GPU to the latest possible driver
Make sure that your game is not interfering with any third-party applications, is better to close all of them
Try different screen sizes: full screen, windowed, borderless and see if your framerate improves
If you have Nvidia GPU, create an Nvidia profile for VNGAME.exe and change the Power Management Mode to Prefer Maximum Performance
Disable in-game anti-aliasing
Turn off framerate smoothing in Advanced Graphic Settings
To fix the hitching/stuttering: Go to My Documents > My Games > Rising Storm 2 > ROgame > Config > Open ROEngine with notepad and search for "bUseTextureStreaming" , it should be stated as "True" , change it to "False" and save
Go to the config file, Enable bUseTextureStreaming, then in the same ini change the value of PoolSize to PoolSize=1500
#2 Rising Storm 2: Vietnam Crashes

You might encounter random crashes from time to time in the game, mostly when doing some certain actions like firing the cobra's rockets at the DShk. Also, players reported that they get startup crashes and that they are unable to launch the game.
The developers of the game came out with some fixes for the crashes, check them below and see if you can fix your game.
Please check your graphics card to make sure it is DX11 capable.
If you have a DX11 capable graphics card and also have an integrated GPU (as most laptops do), please check your graphics driver/control panel settings to make sure you have the right one selected to run the game.
If you encounter continuous crashes, delete this folder:
C:\Users\USERNAME\Documents\My Games\Rising Storm 2 Beta\ROGame
VNGame.exe crash – VNGame.exe has stopped working or hang on launch
The most common cause of this is corrupt files in the user directory or missing prerequisite files. Please try the following:
Delete your documents/my games/Rising Storm 2/ folder directory completely
Verify Steam cache. Right-click on RS22 in Steam Library > Properties > Local Files > [Verify Integrity]
For a deeper verification try deleting your steamapps/common/RisingStorm2/binaries folder as well as the /ROGame/BrewedPC/ GlobalShaderCache and LocalShaderCache .bin and .upk files before you verify integrity
The game may be trying to compile shaders if it appears to hang on launch. You can check for this by looking for a shadercompiler.exe in your Task Manager. If you find it, waiting for the process to finish should allow the game to launch as normal.
Running the .exe redist files located in your SteamApps/common/risingstorm2/_CommonRedist location
Update any device drivers you have to the latest available
Make Sure your Windows install is up to date
Windows 7 users please make sure you have this update: https://www.microsoft.com/en-au/download/details.aspx?id=36805
Disconnect USB controllers and other HID devices except for keyboard and mouse
Restart Steam client
Launch Steam (or set the game .exe) to launch as an Administrator
Turn off DxTory
Change your Steam avatar icon to a Steam default one
Make sure Easy Anti Cheat has installed properly – If you recieve an error related to RisingStorm2.exe it is likely related to EAC. More details can be found here: http://support.tripwireinteractive.com/KB/View/1483-help-with–easy-anti-cheat-issues
You will also want to try the following launch options (via Steam properties for the game): -windowed
If the game prompts you to send in a bugsplat error report, please let it do so. This will help us diagnose and fix the crash (if it isn't fixed by any of the above).
For those who have the 0xc000007b error, we are doing further investigation on this. However, we would like users to try reinstalling/repairing the following:
VC C++ Redist 2012: https://www.microsoft.com/en-us/download/details.aspx?id=30679
VC C++ Redist 2010: https://www.microsoft.com/en-us/download/details.aspx?id=14632
DirectX: https://www.microsoft.com/en-us/download/details.aspx?id=34429
.net: https://www.microsoft.com/en-us/download/details.aspx?id=17718
#3 Rising Storm 2: Vietnam Can't Connect To Server
A player said that when he connects to the server he gets a really long loading screen, about 10 minutes and that he can see the map for a bit but after that, he gets booted to the main menu loading screen with the following error: "Connection to server failed"
Solutions:
Press alt+tab continuously while loading the game
Make sure that your internet connection is working properly
Add an exception for the game in your firewall and antivirus
Restart your modem
#4 Rising Storm 2: Vietnam Sound Issues
Many sound issues can be a symptom of outdated sound card drivers. Please make sure you have the latest sound card drivers installed before reporting a sound issue. Visit your soundcard or motherboard manufacturer for the latest sound card drivers.
We hope that our guide helped you with your Rising Storm 2: Vietnam errors and that now you are in your game shooting at your enemies. If you encounter any other issues that we haven't talked about, just comment below and we will try to respond as soon as possible with a solution for your bug.