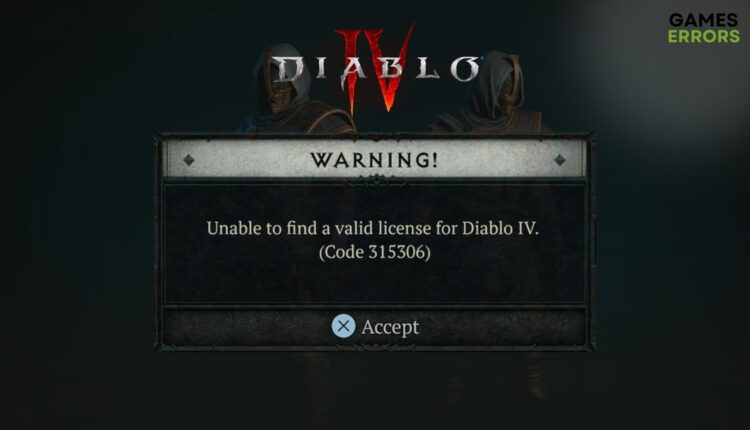 Unable to Find a Valid License for Diablo 4: How to Fix it on PS5
If you can't get early access for Diablo 4 due to valid license error on PS5, here is the news for you ✅
In PS5, Diablo 4 users may face unable to find a valid license error. After the early access release of this game, many PlayStation users are getting different types of problems, including this one.
The problem may come with various error codes like 315306. But, it's not something serious as you can fix it easily.
What is the error Unable to find a valid license for Diablo IV, and how to fix it?
Like any other device, PlayStation 5 needs a valid digital license to run any title. But, if it gets corrupted or you attempt to play before the release in your region, you will end up getting this unable to find a valid license problem with the error code 315306.
In various forums, we see that a large number of PlayStation users are experiencing this issue. It's hard to determine what exactly is causing the trouble on your end. But it's most likely the geo-restriction or corrupted cache or license.
How do I fix Diablo 4 license error?
So, to fix this problem, the best thing is you can wait until the game is available in your region. Please keep in mind that Standard, Deluxe, and Ultimate, all these three editions of Diablo IV, may become available at different times in your region.
Alternatively, you can use ExpressVPN to bypass the geo-restriction and see if it helps. This VPN has many physical servers around the world. That's why you can virtually access the region where your desired version of Diablo 4 is already released.
According to the official schedule, Diablo IV's early access is available in all regions right now. Some exceptions may happen. However, If you still get the license error after waiting or trying the VPN, it means you need to take additional steps.
An effective solution for this error can be rebuilding the database and clearing the cache. To do it, follow these quick steps on your PlayStation 5 or 4:
Shut down the PS5.
Press and hold the Power Button for a few seconds until you hear the beep sound for the second time and release it.
Navigate to the Clear Cache and Rebuild Database option and tap on it.
Click on Clear System Software Cache and then on OK.
Wait for a while.
Then, try to play Diablo 4 and see if it has fixed the Unable to find a valid license.
In case you encounter this problem on your PC, learn how to solve Diablo IV error code 315306.
We have featured many other errors and solutions for this game. To check them out, visit this Diablo 4 page.
The above suggestions are enough to solve unable to find a valid license for Diablo 4 on PS5. Hopefully, these methods will help.