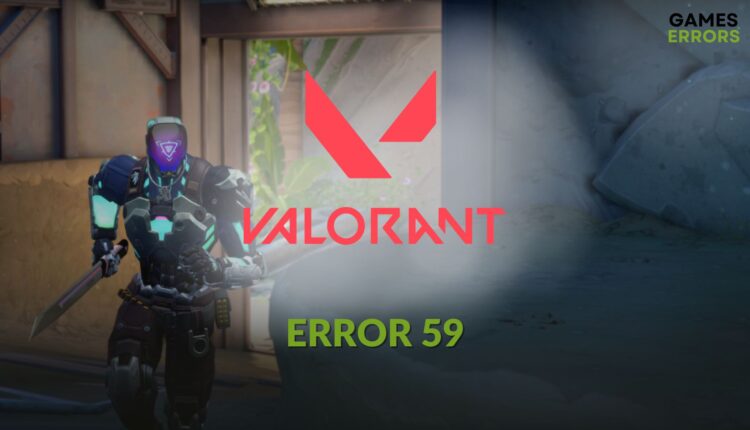 Valorant Error 59: 3 Best Methods to Resolve This Issue
If you keep getting the error code VAL 59, try the 3 most successful solutions featured in this article to fix it 🎯
While launching Valorant, you may encounter the error code 59, which can completely prevent you from playing this game. However, by tweaking certain things, you can easily overcome this situation.
In recent days, a lot of Valorant players have been going through this problem. This VAL 59 error code is also related to the Riot Client. When it appears, you may see a message like this:
There was an error connecting to the platform Valorant.
However, solving this issue is not a big deal. In the next part, you will know how to solve this problem along with some other information.
Learn how to fix Val 19 error if you are interested.
What causes error code 59 on Valorant?
Valorant error code 59 is usually caused by the following reasons:
Problematic game files: If game files related to Valorant get corrupted, the error code 59 may appear.
Problematic components: Corrupted, outdated and incompatible game components also can trigger error 59.
Internet issues: Internet connection problem is also another reason.
Server problem: The error 59 on Valorant also can be caused by the server problem.
How do I fix Valorant error 59?
Before you take any action to resolve this trouble, we suggest you do these quick things:
Check the Riot Games Services status and confirm that it's not a serverside issue. Otherwise, you will need to wait until the server problem is solved.
Disable any proxy and VPN.
Also, disable your antivirus and firewall.
Ensure that you have a stable internet connection and you are not having any connection-related problems.
Restart your PC.
Now, go through these methods one by one to fix error code VAL 59 on your PC:
1. Change VGC service startup type
If there is something wrong with the VGC service or it is not running, you may get this problem. So, to fix the error code VAL 59, do the following things.
Open the Windows Search Box, type services.msc, and press Enter.
Double-click on VGC.
Click on Start.
Restart your PC.
2. Re-launch the game properly
Time needed: 2 minutes
Relaunching the game in the proper way can help you to get rid of Valorant error code 59.
Disable all other related services.
Launch Riot Client again.
Run Valorant.
3. Repair Valorant
Still, getting this annoyance? It can be due to problematic game files and components. So, take the following steps to repair Valorant to get rid of the error code 59:
Open Riot Client.
Click on the Profile icon and go to Settings.
Give it some time to finish the process.
Now, you can run Valorant and see whether error 59 still appears or not.
More tips:
In case the problem still keeps bugging you, we suggest the following methods as well:
Update your network driver using Outbyte Driver Updater.
Update Windows.
Re-install Valorant.
Try a different internet connection.
Contact Riot Games' support.
If you are interested, learn how to solve Valorant won't launch.
Hopefully, any of the above suggestions will help you to fix Valorant error 59. If you have any questions, feel free to let us know in the comment box.