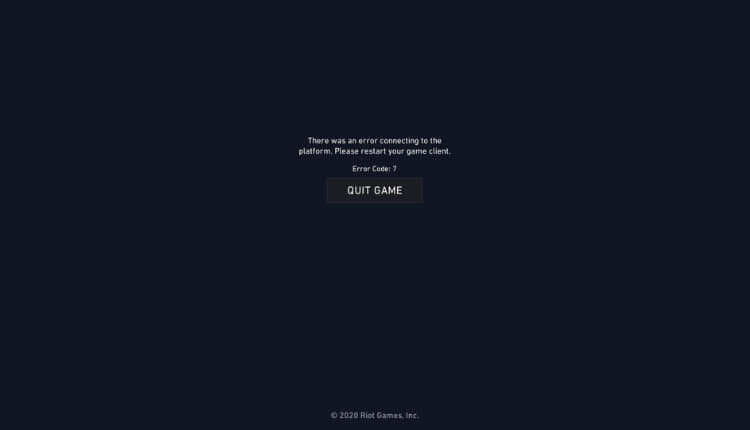 Valorant Error Code 7: What is & How to Fix [Quick Guide]
This error code prevents users from logging in
Valorant is a game developed by Riot Games. It is a free-to-play first shooter game released in 2020 after several updates. However, it is still prone to some significant errors and faults. In this guide, we will take you through how to fix Valorant's error 7.
Valorant has a massive fanbase. Although, users have made a lot of complaints about errors they encounter while playing the game. Valorant's error 7 is still one of the frequent errors people encounter.
Therefore, if you are faced with Valorant error code 7, we will explore the causes and troubleshooting fixes for it in this article.What is the Valorant error code 7? Valorant error code 7 means the Valorant servers are down, and you are shut out of the game. The full error message reads: There was an error connecting to the platform. Please restart your game client. Error Code: 7.
What causes error code 7 in Valorant?
On Valorant's official page, it states that Valorant error code 7 could result from a suspension of the user's account. So, users are advised to check the email associated with their Riot account for details. Outdated drivers might also be the root cause of the Valorant error 7.
Having multiple background apps running might cause a problem for Valorant to function effectively, which may lead to error 7 as well.
However, some users can still fix the Valorant error code 7. You should be able to fix this error if your Riot account has not been suspended. Our fixes work if the issue was caused by something else other than account misconduct. So, it is possible that your PC is malfunctioning, and you need to make some tweaks to it.
Quick Tip:
Because there might be a technical problem, and servers can become overcrowded, unblocking yourself with the use of a VPN can get you back online.
Playing Valorant is made simpler with Private Internet Access also known as PIA, which can locate the best server to login to without the concern of being restricted. With Valorant and Private Internet Access VPN, you may hide your real IP address from Valorant's servers and access your account with a new location to play the game. ⇒ Get Private Internet Access VPN
How do I fix Valorant error code 7?
1. Restart the game
The first thing you should do whenever you encounter any game error is to restart the game. Doing this will clear any temporary error occurring due to software malfunction. Also, it resolves poor communication issues between gaming software and systems software.
But, if restarting the game doesn't fix this error, you can proceed to the next option on the list.
2. Perform a clean boot of the game
Press the Windows key + R key on your keyboard to prompt the Run Dialogue Box.
Type MSConfig in the open space and press Enter.
Select the Services tab and unselect the unnecessary services you don't need at the moment.
Then click OK to save these changes.
A clean boot will stop any unnecessary applications running in the background, causing the error code 7.
3. Update your PC
Press Windows key + I to open the Settings app.
Then select Windows Update.
Click on Check for updates.
If there's any update available, install it and restart your PC.
Outdated software on your pc can cause malfunctions between the several applications on it. Thus, Updating your windows can fix the Valorant error code 7. After the update is complete, you should have access to the game back.
4. Close Background Apps
Press Windows keys, input Task Manager, and launch it.
Check the running programs to know which one is consuming more network.
Right-click on the programs, and then select End Task.
If you have too many programs running in the Task Manager, it can cause the error code 7. This can result in excessive consumption of the internet network.
5. Uninstall and reinstall Riot Vanguard
Click the Search button, type in control, and open the Control Panel.
Click on Programs and choose Programs and Features.
Select the game and click on Uninstall.
Go to the official site for Valorant and download the latest version.
Follow the onscreen prompts to install the game.
If, after executing the above fixes and you're still unable to fix Valorant error code 7, the last option is to uninstall and reinstall the game. While it is uncommon, an error might have occurred during the previous installation.
However, this should be the last resort because you'll lose your progress and saved data.
What are some of the most common Valorant errors?
Apart from the Valorant error code 7, users encounter some other common Valorant errors. For instance, Valorant error code Val 19, Valorant error code VAL 51, and the mouse stuttering in Valorant error are very rampant.
Further, issues like Valorant FPS drop in Windows 11 and VAN 1067 errors are particularly prone to Windows 11. These are just a few of the many errors users encounter while playing Valorant.
You can leave your suggestions and questions below in the comments section. We'd like to hear from you.