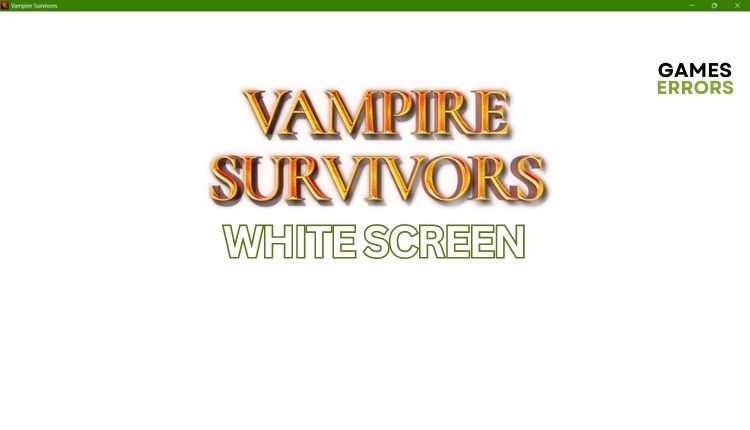 Vampire Survivors White Screen Issue [How to Fix]
Let's eliminate the "white screen" from Vampire Survivors with our practical tips. 🧛
X
INSTALL BY CLICKING THE DOWNLOAD FILE
Vampire Survivors is a dangerously addictive PC version of the Android game Magic Survival. Aesthetically and thematically, it draws on Castlevania, while the mechanics remind us of the iconic Crimsonland from two decades ago. The game has received all positive reactions on Steam, and there is no reason not to try it. However, what can ruin your gaming experience is certainly the appearance of a white screen in Vampire Survivors when starting or during the game. This guide will help you fix this problem and continue enjoying the game.
Why do I have the white screen in Vampire Survivors?
According to the developers, regarding the white screen in Vampire Survivor, "the most common solution seems to be switching the sound card or lowering your speaker's sample rate to less than 384000hz in either Windows or Realtek settings…" Other reasons include the following;
outdated or corrupted GPU driver
corrupted or missing game files
outdated system files
unnecessary apps running in the background
overlay issues
How do I fix the white screen in Vampire Survivors?
To begin, it's best to tackle these uncomplicated tasks before delving into anything more intricate:
Run Vampre Survivors as an administrator from the game installation folder.
Close any heavy tasks running in the background like P2P, Office, Photoshop, VMware, etc.
Restart the game or your PC.
Change sound settings according to developers' advice.
If you have followed all the previous steps but are still experiencing a white screen in Vampire Survivors, try the following tips:
1. Update your GPU driver
We recommend updating your GPU driver to resolve the white screen in Vampire Survivors. Outdated GPU drivers can lead to the game crashing, freezing, lagging, or failing to launch. Do the following:
1. Right-click on the Windows Start Menu and choose Device Manager.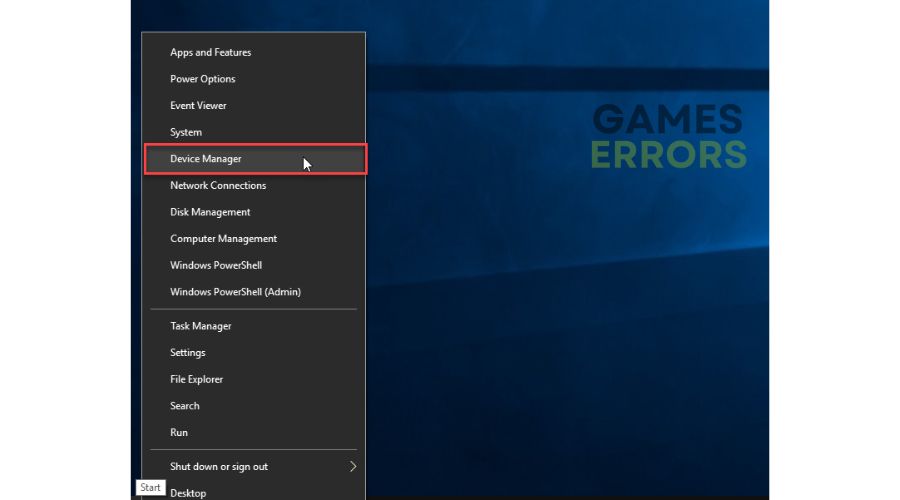 2. Double-click to expand Display adapters. Right-click on your GPU and click Update driver.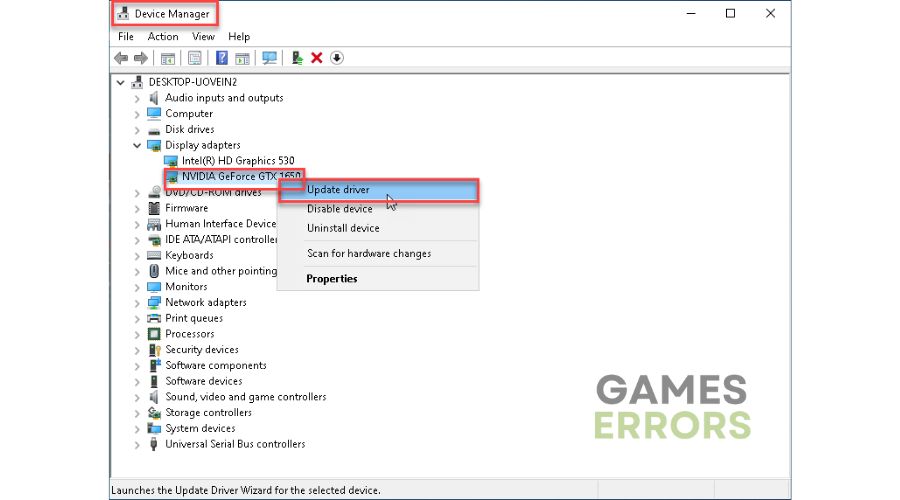 3. Choose Search automatically for drivers and wait to complete the update.
If you're seeking a hassle-free way to update your system drivers, we suggest Outbyte Driver Updater. This practical tool swiftly identifies and installs all the genuine drivers required for your hardware, saving up precious time that would have otherwise been spent on manual updates.
2. Verify and repair game files
Time needed: 2 minutes
Vampire Survivors can have a "white screen" if there are corrupted or missing one or more game files. To avoid this issue, verify and repair any corrupted game files before starting your game.
Open your game library

Run the Steam launcher and navigate to the game library.

Locate Vampire Survivors in the game library

Right-click on the game name and select Properties from the context menu.

Verify the integrity of game files

Select Local Files from the menu and click on Verify integrity of game files.

Restart your PC

Upon restart, launch Vampire Survivors to check if it still has a "white screen" issue.
3. Update the game
To prevent experiencing the "white screen" issue with Vampire Survivors, having the latest version of the game is essential. Installing all available game patches and updating to the most recent version is highly recommended. Do following:
1. Launch the Steam client and navigate to the game library.
2. Right-click on Vampire Survivors and select Properties from the context menu.
3. Click on the Updates tab. Choose "Always keep this game updated" from the drop-down menu.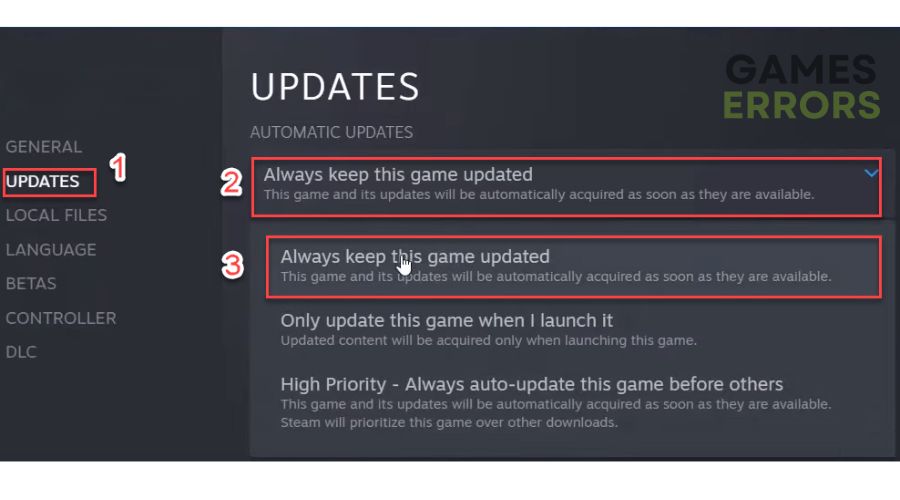 4. Disable Steam overlay
If you're interested in taking screenshots, streaming, or recording your gameplay, utilizing the overlay feature available in Steam can be pretty helpful. However, it's important to note that enabling this feature could potentially cause complications during gameplay. We recommend disabling the overlay in Steam by following these steps:
1. Open the Steam client and choose the Steam> Settings option from the menu.
2. Choose In-Game from the left pane and uncheck Enable the Steam Overlay while in-game.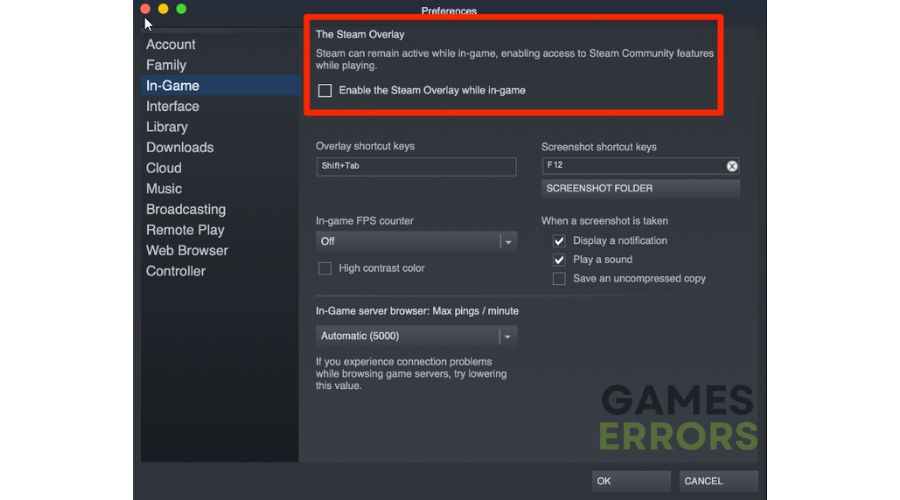 ℹ️ We recommend turning off overlay in NVIDIA or AMD driver software, Discord, Xbox Game Bar, Twitch, Razer Synapse Stats, Overwolf, etc.
🧄 Extra steps:
Do you still have a white screen in Vampire Survivors? Here are some additional options to consider:
Update Windows to the latest version.
Ensure to use discrete GPU instead of integrated graphics (IGP) – disable IGP in Device Manager.
Perform clean boot.
Reinstall the game in a different folder.
Conclusion
We hope one of our solutions effectively addresses the "white screen" problem in Vampire Survivors. If you have any inquiries or recommendations, share them in the comments section below.