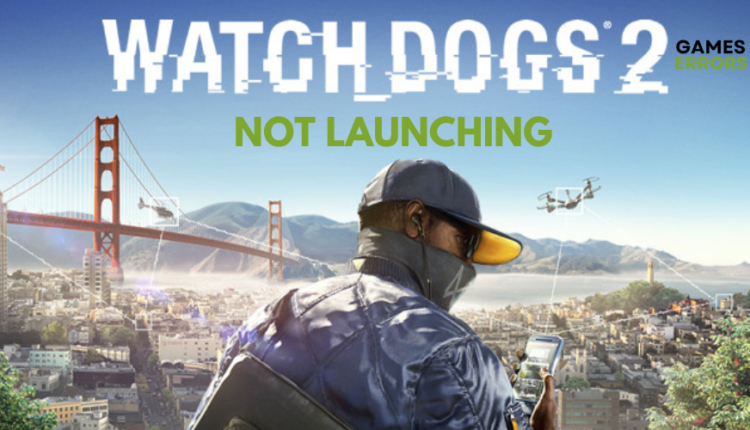 Watch Dogs 2 Not Launching: Why & How To Fix It Easily
Watch Dogs 2 Not Launching can be annoying. Here is your guide on how to fix it🎮
X
INSTALL BY CLICKING THE DOWNLOAD FILE
Ubisoft's Watch Dog 2, a sequel to 2014's Watch Dog is an action-adventure game released for the PS4, Xbox One and Windows.
The game does have stealth elements played from a third-person perspective. Despite its popularity, Watchdog 2 comes with its set of errors such as Watch Dogs 2 not launching and Watch Dogs 2 keeps crashing, among others.
If you are currently experiencing Watch Dogs 2 not launching, look no further. We have identified the reasons why this might occur and outlined possible solutions that will most likely help you get back to playing the game in no time.
Why is Watch Dog 2 not launching?
There could be several reasons why Watch Dogs 2 is not launching. Some of the common reasons include:
Outdated graphics card drivers
Corrupted game files
Your system does not meet the minimum requirements for Watch Dog 2
Other programs running in the background
Server issues
Some users have also reported problems with the game not launching after the splash screen when using Uplay or Watch Dogs 2 not launching epic games. Others have experienced problems with Watch Dogs 2 not launching on Windows 10.
As for whether Watch Dogs 2 will run on Windows 11, it's important to check the game's system requirements to make sure your PC meets them.
How to fix Watch Dog 2 not launching?
There are a couple of solutions that can fix this issue. Follow the steps below for the best possible outcome.
1. Verify the Integrity of the game file
Use the Steam client to check the integrity of your game files. This will fix any corrupted files that may be preventing the game from launching. To do this:
Open Steam and go to your Library.
Right-click on the game you want to verify and select Properties.
Click on the Local files tab.
Click on the Verify Integrity of Game Files button.
Steam will then automatically check for any missing or corrupted files and replace them if necessary.
2. Update the graphics driver
Time needed: 4 minutes.
Make sure your graphic card drivers are up to date. You can check the manufacturer's website (INTEL, NVIDIA, AMD) for updates. Alternatively, you can manually complete this process by:
Click on the Windows icon in the taskbar and type "Device Manager" in the search bar to open the tool.
In Device Manager, double-click on the "Display adapters" section to expand it.
Right-click on your graphics card and select "Update driver."

Choose the "Search automatically for updated driver software" option.

Follow the steps prompted by the "Update Driver Software" wizard to install the update.
Restart your PC to apply any changes made to the driver.
More often than not, your Windows device manager fails to find the latest drivers for your PC. Therefore, you can opt to use a third-party tool like Drivefix. Drivefix will automatically look for the latest driver suitable for your device, download, and install it for you thus solving any issues you may have with your drivers.
3. Disable background apps
The game may not launch due to background processes using system resources. To disable background apps:
Press the CTRL + Shift + ESC keys together to open the Task Manager.
In the "Processes" tab, locate the app(s) that you are not using.
Right-click on the app and select "End task" from the context menu.
Also, disable startup apps by:
Press the CTRL + Shift + ESC keys together to open the Task Manager.
Click on the "Startup" tab at the top of the window.
In the list of startup apps, locate the app(s) that you want to disable.
Right-click on the app and select "Disable" from the context menu.
Repeat the above step for each app you want to disable.
Close the Task Manager.
4. Download Visual C++ packages
If Visual C++ packages are missing or corrupted, issues like Watch Dogs 2 not launching are more likely to occur. To fix this:
Go to the official page for the Visual C++ Redist Packages download.
Click on the download link vc_redist suitable for your operating system
Double-click on the installation package and install it.
Restart your PC.
Try to launch Watchdog 2.
Conclusion
We hope this article has helped you fix Watch Dogs 2 not launching. Also, we welcome any questions or suggestions you might have in the comment section below.
If you encounter any issues or errors while playing your favorite games and require support, feel free to contact us here. Our team is always ready to assist you and ensure your gaming experience is seamless and enjoyable.