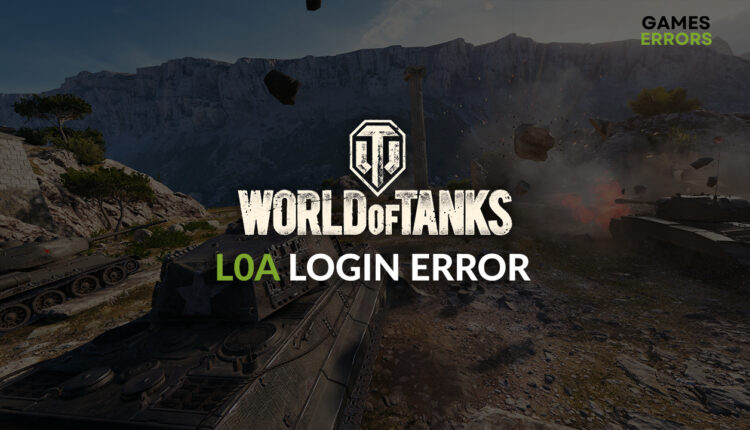 World of Tanks L0A Login Error: Fix It Quickly [Xbox]
Instead of choosing the tank and enjoying the time playing WoT, do you have to deal with a login error? We understand your frustration. This is why we listed all potential fixes! 👾
X
INSTALL BY CLICKING THE DOWNLOAD FILE
The World of Tanks L0A login error will prevent you from launching the game and make it unplayable on your Xbox console. If the issue comes from problems on Xbox or WoT services, you will have to wait for it to be patched. In general, we advise you to discover if the problem is on your end and how to fix it.
If you are playing on Series X and none of the games don't start, learn how to fix games not launching on Xbox Series X.
Why does the World of Tanks L0A login error happen?
World of Tanks L0A login error happens due to problems with Xbox services, misconfigured network devices or consoles, problems with MAC addresses, outdated software on your Xbox, or heavy cache files on your console. Additionally, the error might appear because you are using a wireless connection or there is a more severe technical issue with your Xbox console.
How to fix the World of Tanks L0A login error?
Fix this login error by applying these quick fixes and checks:
Check Xbox Status: You want to ensure all services are in the 'Up and running' state. The problem is most likely not on your end if any categories of services are 'Limited' or 'Major outages' exist.
Reset all network devices: Find your router, modem, and any other network device you use, and press the reset button, usually located on the back of the device. Additionally, you can perform a power cycle by unplugging the devices from electricity, waiting for a couple of minutes, and plugging them back in.
Restart your console: There might be a temporary issue with your Xbox console, which a simple restart can solve. Head to Settings, find General, choose Power Plan, and select the Restart Now option. Wait for the restart to complete.
If you still can't log in to World of Tanks, proceed with the below-listed solutions.
1. Clear the MAC address
Time needed: 5 minutes.
MAC address is a unique identifier for your console on the network you are using. Sometimes this identifier can cause issues with reaching the online Xbox or game service, so we advise you to clear it.
Press the Xbox button on the controller.

Navigate to Profile & System tab and then select Settings.

Navigate to the General tab and select Network Settings.

Select Advanced Settings.
Select Alternate MAC address.
Click the Clear button.
Restart your console.
2. Update your console
The Microsoft team constantly improves the software of Xbox consoles. For the improvements to arrive at your console, it must update. This is usually done automatically, but if it doesn't happen for any reason, we suggest you update Xbox manually.
Press the Xbox button on the controller.

Navigate to Profile & System tab and then select Settings.

Go to System and select Updates and Downloads.
Select the Console update available option.
If you don't see such an option, your console doesn't need an update.
Restart your console after the update.
3. Clear console memory
Like any other modern device, Xbox stores specific files on the drive to start quicker, for games to launch and run smoother, and to deliver a better overall experience. However, these files can also cause issues, so clear them whenever you see something is off with your Xbox.
Press the Xbox button on your controller.

Navigate to Profile & System tab and then select Settings.

Go to Devices & Connections and then select the Blu-ray option.

Select the Persistent storage option.

Press the Clear persistent storage button.

Restart your console.
Extra steps
Some players won't be able to fix the World of Tanks L0A login error even if they follow through with all suggestions we made up until now. If this is also your case, try to:
🔁 Re-add your account: As this login error might be related to temporary bugs related to your account, we advise you to log out, restart your console, and log back in. Ensure you know your login credentials before logging out.
🌐 Use ethernet connection: To experience fewer connection-related issues, use the wired (ethernet) connection. The latency will also improve, and you will not have to worry if the problem occurs due to a poor wireless signal.
📞 Contact Xbox support or the reseller: If your console is still under warranty, you can contact the reseller to check with them if the console is running without any problems. Additionally, you can reach out to Xbox or World of Tanks Console support teams.
💡 Remember, if the problem is at the end of World of Tanks or Xbox services, you can still apply the solutions we listed, but the chances are you will be able to play WoT once developers resolve the issues.
Conclusion
We hope you don't see the World of Tanks L0A login error when you want to play this awesome warfare game. If you still need assistance, comment with additional details on your problem, and we will happily assist you.
If you encounter any issues or errors while playing your favorite games and require support, feel free to contact us here. Our team is always ready to assist you and ensure your gaming experience is seamless and enjoyable.