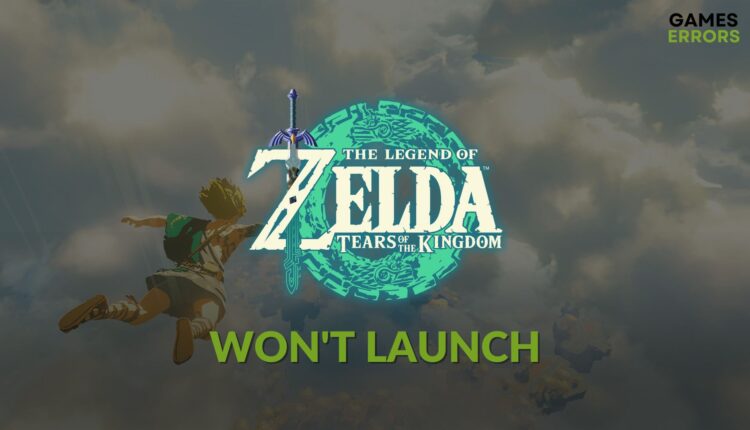 Zelda Tears of the Kingdom Won't Launch: Proper Steps to Fix
Place missing keys, install required components, and follow these things if Tears of the Kingdom doesn't run on your PC ✅
X
INSTALL BY CLICKING THE DOWNLOAD FILE
You may notice that Zelda: Tears of the Kingdom won't launch on an emulator like Yuzu or Ryujinx on your PC. But, if you can take the proper steps, you will be able to fix this problem.
The Zelda game series is exclusively available on Nintendo Switch only. However, you can play the latest Tears of the Kingdom on your PC, too, because of some powerful emulators. Yet, as this is a complex technology, you may not be able to open this item successfully in some cases.
What may prevent Tears of the Kingdom from loading in my emulator on my PC?
Zelda: TOTK may not load on Yuzu, Ryujinx, or on any other emulators if any of these reasons exist:
Problematic emulator: If the emulator you are using is not fully capable or has some internal problems, Tears of the Kingdom won't launch on it.
Improper configuration: Improper settings and configuration can cause this problem. It also can create low FPS issues on Zelda: Tears of the Kingdom.
Missing or outdated components: Outdated or missing components also can be the reason why this game is not launching on your PC.
What can I do if The Legend of Zelda: Tears of the Kingdom won't launch on my PC?
You must do the following things before getting started:
Install the latest Visual C++ packages and restart your PC, as your emulator may require this item to launch this game.
Make sure that you have placed the correct prod.keys and title.keys file in Yuzu's Keys or Ryujinx's system folder.
Ensure that the latest and correct firmware is installed on your emulator, particularly on Ryujinx.
Now, take the proper steps to play Zelda: Tears of the Kingdom on your PC.
If you are still unable to run TOTK, follow these troubleshooting methods:
1. Update the emulator
Time needed: 2 minutes.
To launch Zelda: Tears of the Kingdom without any issue, you should update the emulator or tool you are using on your PC.
Visit the official website for the emulator you are using. For example, Yuzu's website.

Finish the process.
The above instructions are valid for Yuzu. If you use Ryujinx, open it. Then, go to Help and click on Check for updates.
2. Use a different emulator
There are several tools available to emulate TOTK on your PC. However, not all of them are fully compatible. Ryujinx and Yuzu are the two best ones you can try right now. Both of them are capable and deliver better FPS.
3. Reinitiate keys
Sometimes, after placing the key files, emulators like Yuzu may still have problems launching Zelda: Tears of the Kingdom. But, if you reinitialize the keys by following these steps, the problem will be solved:
Open the Yuzu.
Now, load the game file and start playing.
4. Use a different game file
You should look for the game's latest or a different ROM file. In some cases, specific files may not work on specific emulators. In this situation, this method will help.
If you don't want to download the latest NSP (ROM) file as it is a large one, you may look for the specific smaller patches. But, in this case, you will need to configure them to run Zelda: TOTK successfully on your PC.
We also suggest you tweak a few graphics settings to see if it helps. The above methods are enough to fix The Legend of Zelda: Tears of the Kingdom won't launch. This troubleshooting guide is valid for both Yuzu and Ryujinx emulators. If you have any questions, feel free to let us know in the comment box.
If you encounter any issues or errors while playing your favorite games and require support, feel free to contact us here. Our team is always ready to assist you and ensure your gaming experience is seamless and enjoyable.