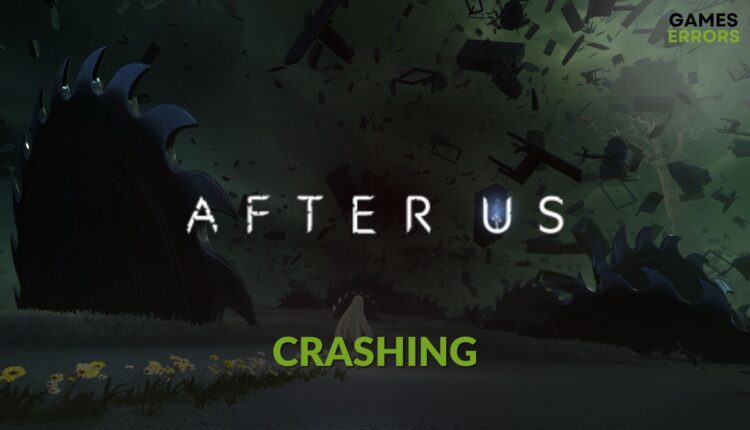 After Us Crashing: How to Fix This Issue Properly
Update GPU driver and repair game files to stop After Us from crashing 🎯
X
INSTALL BY CLICKING THE DOWNLOAD FILE
If you face After Us crashing issues, there are several ways to fix this problem. So, don't worry. Just go through this article.
This new Adventure-platformer is a unique game that has many puzzles, excellent visuals, and exciting gaming elements. If you are a platformer game lover, this title can give you amazing enjoyment.
But, sometimes, you may encounter crashing problems. So, to improve your experience with this item, you must take steps to solve this type of issue.
Why does After Us keep crashing on my PC?
Here are the most common reasons that may cause crashing problems on After Us:
Problematic game components: Some components like DirectX, Visual C++ redistributables, and other related files may get corrupted. It can be the root of the crashing issues on After Us.
GPU driver problems: Buggy, outdated, or faulty display drivers can be another reason why you are encountering this problem.
Third-party services: Third-party services also can interfere and cause problems while you are playing After Us.
Some other issues may also make this game stops working randomly. But, the solutions mentioned in the next part will work in any situation.
How can I fix After Us crashing problems?
First, we suggest you check the After Us system requirements and make sure your PC is capable. If everything seems OK, do these quick things before getting started:
Enable game mode.
Install DirectX Runtime and Visual C++ packages and restart your PC.
Disable your antivirus and firewall to see if it helps.
Make sure that you are not overclocking your GPU, CPU or RAM.
Then, go through these methods to fix crashing issues on After Us:
1. Update the display driver
Open the Windows search box, type Device Manager, and then hit Enter.
Expand the Display adapters by clicking on the arrow button next to it.
Right-click on the graphics driver you are using, and click on Update driver.
Choose Search automatically for drivers.
Go ahead and finish the process.
We recommend you use DriverFix for updating any type of driver, including the one for graphics cards. This tool can find and install the official game-ready driver. It reduces the chance of getting crashing issues on any game, including After Us.
2. Enable high-performance mode
Sometimes, if your PC is set to low power mode, your GPU will not perform with full power, so, After Us may crash. In this case, enable best-performance mode as shown below:
Press Win + I on the keyboard to open Windows Settings.
Relaunch the game and see if it fixes the problem.
3. Disable fullscreen optimization
To prevent After Us from crashing, you also can disable fullscreen optimizations. Here are the steps to follow:
Go to the game installation directory.
Right-click on the application file of After Us and then go to Properties.
Navigate to the Compatibility tab.
Click on Apply and OK.
4. Repair After Us
Time needed: 3 minutes.
You should repair the game files of After Us if it keeps crashing on your PC.
Launch Steam.

Navigate to the game library, as shown in the screenshot.

Go to the Local Files tab.
Keep patience until it finishes the process.
5. Re-install the game
In some cases, you will need to completely re-install After Us to fix crashing problems. Here are the instructions to follow:
Go to the Steam game library like before.
After that, install the game again.
When you install this title, we suggest you set the installation location to an SSD. It will help to get a better experience from this platformer.
Is the crashing issue still occurring on After Us? Boot into the clean boot and see if it helps. We also suggest you uninstall any overclocking apps, FPS Booster, Game Booster, or any apps that can appear on top of this item.
In case nothing works, update Windows to the latest version or reset the OS to see what happens.
If you are interested, learn how to stop any games from crashing.
This article has explained what may cause the After Us crashing issue and how to fix it. If you have any questions, let us know in the comment box.
If you encounter any issues or errors while playing your favorite games and require support, feel free to contact us here. Our team is always ready to assist you and ensure your gaming experience is seamless and enjoyable.