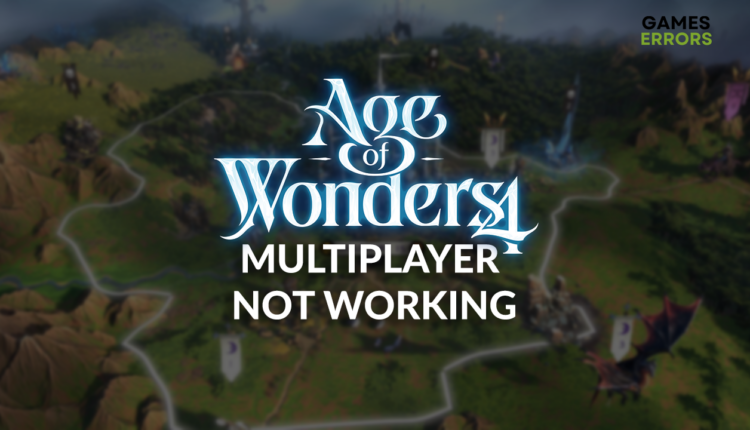 Age of Wonders 4 Multiplayer Not Working: Fix It Easily
The gaming industry evolves towards multiplayer-only games. However, if your AoW 4 multiplayer isn't working you will not be able to follow the trend! 👾
If you are wondering why is the Age of Wonders 4 multiplayer not working, you are in a good place! We discovered the most common causes and compiled a list of solutions you can apply to fix the issues with AoW 4 multiplayer effortlessly.
If none of the games work on your PC, learn what to do when games aren't launching.
Why is Age of Wonders 4 multiplayer not working?
AoW 4 multiplayer isn't working because there are issues with Windows permissions, the game is outdated, you use incompatible game modifications, Windows Firewall is blocking the connection, outdated network driver, or the game files are corrupted.
How to fix Age of Wonders 4 multiplayer not working?
To fix AoW 4 multiplayer, apply the following checks and quick fixes:
Run AoW 4 as an administrator: Many players report that the issue with multiplayer occurred due to a lack of Windows permissions. To solve this, right-click on the executable game file, select Properties, navigate to the Compatibility tab, and enable Run this program as an administrator.
Update AoW 4: The game should receive updates automatically, but if it did skip it for whatever reason, you can try to update it manually using your game distribution platform, Steam or Epic Games.
Disable game modifications: Third-party mods can be a great way to enhance your in-game experience, but they might also cause issues when you want to play Age of Wonders 4 multiplayer. Disable them one by one and discover which one, if any, is causing issues.
Some gamers will have more difficulties enabling multiplayer in AoW 4. If you are one of them, follow these step-by-step solutions.
1. Allow AoW 4 through the Firewall
Time needed: 5 minutes
Windows Firewall protects your PC from various threats from various sources. The biggest issue is that it can sometimes falsely recognize multiplayer games, such as AoW 4, as a threat. To prevent this, add AoW 4 as a Firewall exception.
Click on the Windows icon, type Windows Defender Firewall, and open it.

Click on Allow an app or feature through Windows Defender Firewall.

Click on Change Settings and Allow Another App.

Select Browse, and navigate to the AoW 4 installation folder.
Select the game executable file (.exe) and hit Open.
Check the checkbox in columns Private and Public in the Age of Wonders 4 row and hit OK.
Restart your PC.
2. Update the network driver
A network driver is needed so your network device appropriately communicates with the rest of your system and the home network. If the network driver is outdated, it might not work correctly.
Click the Windows icon, type Device Manager, and open it.

Double-click on Network Adapters.

Right-click on your internet adapter and select Update driver.

Select Search automatically for drivers.
Install the driver update.
Restart your PC.
Automatize the whole process by delegating these steps to Outbyte Driver Updater. We recommend this specific driver updater tool since it is a fast, reliable, and effective solution for complete driver management.
3. Verify game files
Corrupted game files will cause the game to act unpredictably and possibly cause issues when you want to play multiplayer. Luckily enough, game distribution platforms that AoW 4 comes on offer a simple solution!
For Steam users:
Launch Steam and go to the Library.
Right-click on Age of Wonders 4 and select Properties.
Select the Local Files tab, and click on Verify integrity of the game files.

For Epic Games users:
Open Epic Games Launcher and navigate to the Library.
Find Age of Wonders 4, click the three vertical dots, and select Manage.
Click the Verify button.

Extra steps
If you still struggle with Age of Wonders 4 multiplayer not working, try to:
❌ Disable VPN: VPN software is a great way to stay anonymous, access geo-restricted content, and be safer online. However, game servers might reject your connection from specific VPN servers.
💻 Check your antivirus settings: If you use an antivirus for additional protection, check if you can add the game as an exception, similarly to what we did with the Windows Firewall.
📞 Contact AoW 4 support: You can do so by joining the official Discord server. Other players or moderators will help you resolve the issues with the game's multiplayer.
Conclusion
At this point, you shouldn't be thinking about why is the Age of Wonders 4 multiplayer not working. However, if you still experience this or similar issues, comment in the section below, and we will happily assist you in resolving the issue.
If you encounter any issues or errors while playing your favorite games and require support, feel free to contact us here. Our team is always ready to assist you and ensure your gaming experience is seamless and enjoyable.