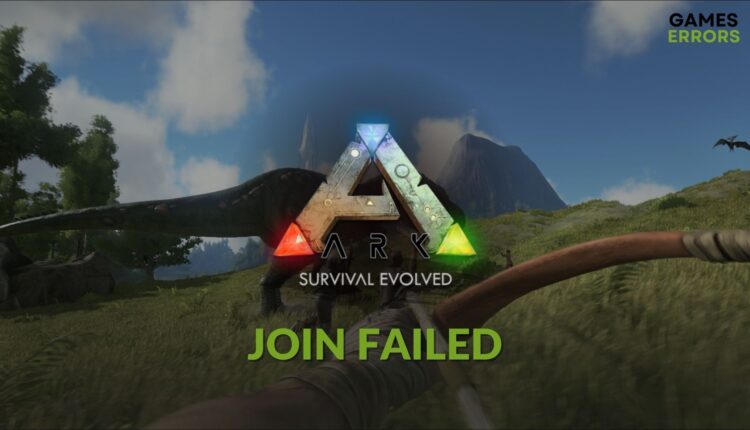 ARK Join Failed: The Best Ways to Fix
Try these methods if you can't play ARK multiplayer because of the join failed error
X
INSTALL BY CLICKING THE DOWNLOAD FILE
Is ARK joined failed error bugging you repeatedly? You are at the right place. If you or your friend is encountering this problem, the solutions from this article, along with some crucial information, will help you.
ARK: Survival Evolved is an amazing game featuring a mysterious island where you will need to survive. The multiplayer feature has given it the next level of power to attract more gamers. However, problems like server joining errors can prevent you from getting proper experience. Luckily, you can solve this type of issue.
Why do I keep getting join failed message in ARK?
If suddenly you are unable to join a multiplayer game because of the join failed message in ARK, it may be because of any of these reasons:
Service is down:

The problem may happen if the service suddenly goes down.

Problem with the connection:

In most cases, your internet connection is the reason you are not being able to join the ARK server.

Firewall problem:

The Firewall may interfere with your connection to the ARK server, which can trigger joined failed error.

Game file corruption:

If somehow the installation files of ARK get corrupted, it may affect the whole game and trigger various issues like joining failed error while accepting a friend's invitation or ARK not loading problems.
How to fix ARK join failed PC?
You must ensure a few things before applying the troubleshooting methods. Otherwise, none of them may become effective. Here are these things:
Check the service status from this Twitter account: @survivetheark or from ARK: Survival Evolved's
Downdetector page.
Make sure the game is from the official source.
Ensure that you have a good internet connection and there is no hardware-related problem on your network card.
Everything seems OK; go through these methods to fix the join failed error on ARK.
1. Change DNS
Press Win + I on the keyboard to open Windows Settings.
Select Manual if not already selected.
Enable IPv4 or IPv6, depending on the DNS server address you are going to use.
If you don't have a decent DNS address, we suggest you use 8.8.8.8 and 8.8.4.4. This is Google DNS which is free and very stable.
2. Whitelist ARK in the Firewall
2.1 Allow in Windows Firewall
Open the Start Menu, type Windows Security, and hit Enter.
Click on Change settings. It will require admin rights.

Click on

OK

.
2.2 Allow in third-party Firewall
Open the third-party Antivirus or Firewall you are using.

Go to Protection and then Firewall.

Allow the ARK for both public and private networks.
We have used Bitdefender to demonstrate these steps. If you use a different antivirus like ESET or anything else, you may get slightly different options.
After whitelisting, you can try again and see if it has solved ARK join failed error or not.
3. Repair the game files
Open

Steam

.

Right-click on ARK: Survival Evolved

and go to

Properties

.

Go to the

Local files

tab.

Wait until it finishes the process.
4. Update the network driver
Press Win + R on the keyboard to open Run.
Type devmgmt.msc and hit Enter.
Right-click on the network adapter you are using and click on Update driver.
Follow any onscreen steps to complete the process.
Device Manager is not a very good option for updating the network drivers. It may show you that everything is alright even though the driver is not up to date. So, we suggest you use DriverFix. This tool can update your network drivers to the most recent version with just a single click.
5. Re-install the game
Open

Steam

.

After that, click on the Install button to install this game again.
Now, you can launch ARK and try to join a server or accept your friend's invitation and see if it has solved the problem or not.
If you are using a different game launcher, the steps will be mostly similar.
If you still encounter this problem, we suggest you try a different network. You can consider using a different WiFi network or your mobile hotspot and see if it works. For some users, we also suggest you try a gaming VPN like ExpressVPN to see if you can play multiplayer successfully or not.
Also, you could try to Update Windows to the latest version and restart your PC.
This article has explained the best methods to fix the joined failed error on ARK. If you have any questions or opinions, feel free to let us know in the comment box.
If you encounter any issues or errors while playing your favorite games and require support, feel free to contact us here. Our team is always ready to assist you and ensure your gaming experience is seamless and enjoyable.