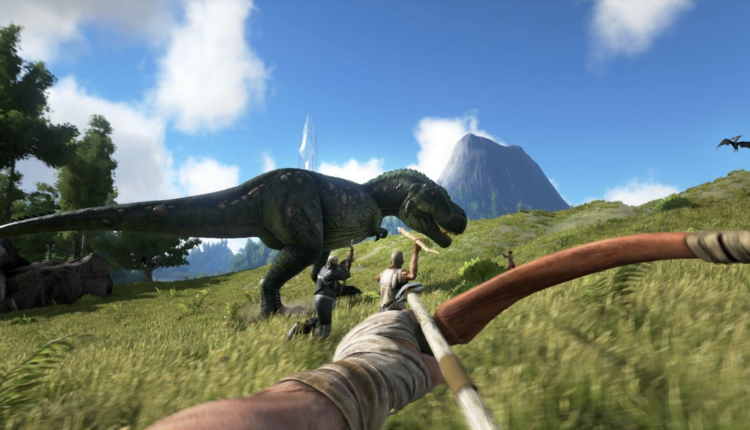 Ark Not Loading: How to Fix When is Not Responding, Crashing
If you're getting loading errors on ARK gameplay, be sure that your drivers are up to date
X
INSTALL BY CLICKING THE DOWNLOAD FILE
In ARK: Survival Evolved you need to survive in a world filled with roaming dinosaurs. The game was released a few days ago in the 'early access game' version, and because of that, it has a lot of bugs and issues.
The most common ARK: Survival Evolved errors that players are encountering at this moment are: Loading Screen Issues (infinite loading screen), Random Crashes, the Game Won't Start, Low FPS Issues, and other minor ones.
Additionally, you have the full guide on how to fix the new expansion pack ARK: Scorched Earth in order to enjoy the updated game on your own PC.
Why is ARK not loading on my PC?
There are multiple reasons why ARK gameplay won't load on your computer, thus you should consider aspects like draining background applications, outdated drivers, or corrupted game files.
Consequently, lots of players have reported issues with ARK stuck on the loading screen on PC or ARK freezing on the loading screen.
It's also essential that many players meet the ARK not responding when loading mods errors, resulting in the game not working at all.
Why does my ARK keep not responding?
It's possible to run into ARK not responding when loading due to similar causes as mentioned above, such as outdated drivers.
Moreover, launching the game without administrator rights can determine ARK gameplay crashes or not launching scenarios.
Why does ARK crash when I launch?
If you're having recurrent crashes while launching ARK: Survival Evolved is because there may be not enough HDD memory, there are corrupted game files or you need to update the graphics drivers on your device.
How to fix Ark not loading?
Table of contents:
Before starting to fix your issues, make sure that your PC meets the minimum system requirements for the game. Check these requirements down below:
MINIMUM:
OS: 64-Bit Windows 7 Service Pack 1, or Windows 8
Processor: 2.0 GHz Dual-Core 64-bit CPU
Memory: 4 GB RAM
Graphics: DirectX11 Compatible GPU and 1 GB Video RAM
DirectX: Version 11
Hard Drive: 20 GB available HDD space
Let's go ahead and fix your issues. Below you will find a list of the most common errors that players reported about ARK: Survival Evolved.
For each issue, you will have a workaround or a solution to fix it. After you apply this solution, your issue will be fixed and you will be able to play the game. So, go ahead and search for your issue below!
1. Restart the game (pre-check)
The most intuitive solution you can try in case you encounter ARK stuck on the loading screen is to close the game instantly and restart it.
In case your gameplay issues are caused by software or hardware reasons, this workaround will surely help you fix the problem.
2. Update the graphics card driver
Select the Display adapters and click to expand it.
Restart your PC to complete the update.
In addition, you can also install or update problematic graphic drivers fully automatically and resolve ARK crashing on the loading screen.
DriverFix is the go-to software to accomplish this so follow the next steps to perform it and solve ARK errors:
Download the software and install it on your computer.
Wait for each driver to be updated and close the program.
3. Run the game launcher as an administrator
Right-click on your games' launcher and select Properties.
Go to the Compatibility mode.
Then, press the Apply button to save the modifications.
Close the window and launch the game again.
4. Verify the integrity of game files
Open your game launcher client.
Go to your Library and right-click on ARK gameplay.
Wait for the result to see if your files are corrupted.
5. Close the background applications
In the Processes tab, look for the most resource-draining apps.
Repeat the action for all unused apps that take up too many resources.
Other frequent errors for ARK: Survival Evolved on PC
➡️ ARK: Survival Evolved Download Stuck at 99%
This issue happens because of the Steam Overlay, the game download is complete but the Steam blocks. Other players reported that they downloaded a new update for the game and that they are stuck with the game patch downloading and they can't do anything. To fix this issue follow the tip below.
Workaround: You can fix the download stuck issue by clicking Cancel and you should receive a Successful Download message or you can restart Steam. If you encounter the download stuck when you are trying to get an update, the best solution is to restart the Steam client and download that update again.
➡️ ARK: Survival Evolved Crashes with Fatal Error

Every time you launch the game you might get a Fatal Error and you are unable to start and play the game because of this issue. Apparently, a new version of the game, 247.81, suffers from this issue too. The game crashes after the loading screen is finished and it will send you back to your desktop.
Solution: It's pretty simple to fix this issue. Go to your local content folder. Here right-click on your game and go to Properties, under the local files tab click Browse local files. Then you should go to Engine>Plugins> Runtime> OculusRift> and here delete the oculus rift file in that folder. This should fix your issue.
➡️ ARK: Survival Evolved APPCRASH
This is a classic issue that can be fixed by changing the compatibility mode of the game to Windows Service Pack 1. If you don't know how to do that follow the workaround below and it should fix your issue.
Workaround: Right-Click on the game executable in the Steam/SteamApps/common/ARK: Survival Evolved folder and go to Properties. Here change the compatibility mode to Windows Service Pack 1.
➡️ Ark: Survival Evolved Loading Screen Issue
Probably because of the last update players are facing an infinite loading screen when they try to join a server. They are unable to play single player too.
"I know that I am not the first person who is complaining about this, but I have paid money for this game, and I can't even play it. I am stuck at the loading screen like a lot of people. Please help me, guys!"

"So how long does this game load? Because I've been sitting for more than 40 minutes, and it's still loading. If you tell me, that would be great."
Solution: This error is now fixed with the last game update. If you are still encountering this issue make sure that you updated your game.
➡️ Ark: Survival Evolved Random Crashes
For some players, the game crashes when they try to start it, when they try to connect to a server or when they are playing the game and getting random crashes constantly from 10 minutes to 10 minutes.
"I finally have been able to enter the actual game, for about 5 seconds. Then it crashes, or exits to the main menu, and then I can start all over."
"Tried joining a server, even local, and through the loading screen the game crashes. I've looked into the save log location. However, every .log file is empty."
Solution: You need to change the compatibility mode to Windows Service Pack 1 and restart the game. If this won't work for you try updating your latest GPU drivers.
Fatal error crashing, if you encounter this issue follow the tip below from a Steam user to fix it:
The first fatal crash I experienced I had steam do a local file check and it found 6 files that needed replaced. It replaced them and the game loaded but in the options screen it crashed again. I went directly to the .ini files that are located at

<…>\ShooterGame\Saved\Config\WindowsNoEditor\GameUserSettings.ini

Here I noticed that the default resolution was 1600×1000… an odd resolution that I have never seen before. So I altered that to my native resolution of 2560×1440. I then noticed that the other 7 of the 8 ini files were blank so I copied them over from the CleanSourceConfigs folder in the Config folder. I then edited my keybindings in the input.ini.

After doing this the game has run without crashing for 4 hours. I think that odd resolution may be the source of some peoples issues. Note: after playing and checking those .ini files they are all blank again except for GameUserSettings.ini and input.ini.
➡️ Ark: Survival Evolved Game Won't Start
This is a common error of the game too, when you begin the game nothing happens, and you can't enter the game. You click Play in the Steam Library and simply the game won't start and you can't do anything to start it from the Steam interface.
You can also try to run the game in compatibility mode:
Right-click ARK: Survival Evolved shortcut and choose Properties.
Go to the Compatibility tab.
Check Run this program in compatibility mode and choose Windows 7 Service Pack 1 from the list.
Click Apply and OK to save your changes.
Try running the game again.
Another fix might be to run the game from the installation folder. Just go to the folder where you installed ARK and Run the game executable in Administrator Mode.
➡️ Ark: Survival Evolved Low FPS
You can fix this issue by changing some options in the game, and it will run smoothly at 60FPS, see how to do that:
Solution: Enter the game menu and go to options, now drag the resolution scale to a minimum and you should have a constant 50-60 FPS.
Try to reinstall Visual C++ Redistributables:
Go to ..\steamapps\commmon\ark\_CommonRedist\vcredist.
Run all the installers that you have in that folder to reinstall Visual C++ Redistributables.
After you've done that, you start the game and check if the issue has been resolved.
We hope that our article helped you fix Ark Survival Evolved issues and that now you are playing and enjoying the game.
If you encounter any issues, or if you have questions, please use the comment section below and we will help you fix your game.
If you encounter any issues or errors while playing your favorite games and require support, feel free to contact us here. Our team is always ready to assist you and ensure your gaming experience is seamless and enjoyable.