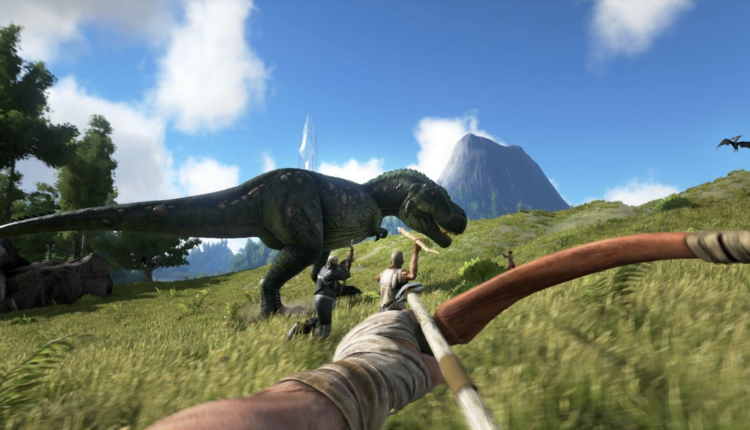 How To Fix ARK: Survival Evolved Errors, Loading Screen Issue, Crashes
X
INSTALL BY CLICKING THE DOWNLOAD FILE
Update

: If you are looking for a guide to fix your errors in the new expansion pack ARK: Scorched Earth, go here:

In ARK: Survival Evolved you need to survive in a world filled with roaming dinosaurs. The game was released a few days ago in the 'early access game' version, and because of that, it has a lot of bugs and issues. The most common ARK: Survival Evolved errors that players are encountering at this moment are: Loading Screen Issue (infinite loading screen), Random Crashes, Game Won't Start, Low FPS Issues and other minor ones. Below you can see all these major issues detailed and solutions on how to fix them.

Before starting to fix your issues, make sure that you meet the minimum system requirements of your game and that your PC can handle the game. You can check these requirements below.

MINIMUM:
OS: 64-Bit Windows 7 Service Pack 1, or Windows 8
Processor: 2.0 GHz Dual-Core 64-bit CPU
Memory: 4 GB RAM
Graphics: DirectX11 Compatible GPU and 1 GB Video RAM
DirectX: Version 11
Hard Drive: 20 GB available HDD space
Read below to fix ARK: Survival Evolved Errors:
Table of contents:
Let's go ahead and fix your issues. Below you will find a list of the most common errors that players reported about ARK: Survival Evolved. For each issue, you will have a workaround or a solution to fix it. After you apply this solution, your issue will be fixed, and you will be able to play the game. So go ahead and search for your issue below!
1. ARK: Survival Evolved Download Stuck at 99%
This issue happens because of the Steam Overlay, the game download is complete but the Steam blocks. Other players reported that they downloaded a new update for the game and that they are stuck with the game patch downloading and they can't do anything. To fix this issue follow the tip below.
Workaround: You can fix the download stuck issue by clicking Cancel and you should receive a Successful Download message or you can restart the Steam. If you encounter the download stuck when you are trying to get an update, the best solution is to restart the Steam client and download that update again.
2. ARK: Survival Evolved Crashes with Fatal Error

Every time you launch the game you might get a Fatal Error and you are unable to start and play the game because of this issue. Apparently, a new version of the game, 247.81, suffers from this issue too. The game crashes after the loading screen is finished and it will send you back to your desktop.
Solution: It's pretty simple to fix this issue. Go to your local content folder. Here right-click on your game and go to Properties, under the local files tab click Browse local files. Then you should go to Engine>Plugins> Runtime> OculusRift> and here delete the oculus rift file in that folder. This should fix your issue.
3. ARK: Survival Evolved APPCRASH
This is a classic issue that can be fixed by changing the compatibility mode of the game to Windows Service Pack 1. If you don't know how to do that follow the workaround below and it should fix your issue.
Workaround: Right-Click on the game executable in the Steam/SteamApps/common/ARK: Survival Evolved folder and go to Properties. Here change the compatibility mode to Windows Service Pack 1.
4. Ark: Survival Evolved Loading Screen Issue
Probably because of the last update players are facing an infinite loading screen when they try to join a server. They are unable to play single player too.
"I know that I am not the first person who is complaining about this, but I have paid money for this game, and I can't even play it.I am stuck at the loading screen like a lot of people.Please help me, guys!"
"So how long does this game load? Because I've been sitting more than 40 minutes, and it's still loading. If you tell me, that would be great."
Solution: This error is now fixed with the last game update. If you are still encountering this issue make sure that you updated your game.
5. Ark: Survival Evolved Random Crashes

For some players, the game crashes when they try to start it, when they try to connect to a server or when they are playing the game and getting random crashes constantly from 10 minutes to 10 minutes.
"I finally have been able to enter the actual game, for about 5 seconds. Then it crashes, or exits to the main menu, and then I can start all over."
"Tried joining a server, even local, and through the loading screen the game crashes. I've looked into the save log location. However, every .log file is empty."
Solution: You need to change the compatibility mode to Windows Service Pack 1 and restart the game. If this won't work for you try updating your latest GPU drivers. You can do it manually, however, we would recommend a trusted third-party tool like DriverFix that will scan, download and install the latest drivers automatically.
Fatal error crashing, if you encounter this issue follow the tip below from a Steam user to fix it:
The first fatal crash I experienced I had steam do a local file check and it found 6 files that needed replaced. It replaced them and the game loaded but in the options screen it crashed again. I went directly to the .ini files that are located at

<…>\ShooterGame\Saved\Config\WindowsNoEditor\GameUserSettings.ini

Here I noticed that the default resolution was 1600×1000… an odd resolution that I have never seen before. So I altered that to my native resolution of 2560×1440. I then noticed that the other 7 of the 8 ini files were blank so I copied them over from the CleanSourceConfigs folder in the Config folder. I then edited my keybindings in the input.ini.

After doing this the game has run without crashing for 4 hours. I think that odd resolution may be the source of some peoples issues. Note: after playing and checking those .ini files they are all blank again except for GameUserSettings.ini and input.ini.
6. Ark: Survival Evolved Game Won't Start
This is a common error of the game too, when you begin the game nothing happens, and you can't enter the game. You click Play in the Steam Library and simply the game won't start and you can't do anything to start it from the Steam interface.
"My game will not start whatsoever. I click play and all it says it Preparing to launch: Ark: Survival Evolved… then that little box with close and nothing will happen. Apparently, I need to install Microsoft Visual C+++ 2013 Redis, but I tried, and it won't do anything either, it just sits at Initializing… and never moves."
"Lots of people are having this problem, fully downloaded, reinstalled & doesn't even start please how do I fix this?"
You can also try to run the game in compatibility mode:
Right-click ARK: Survival Evolved shortcut and choose Properties.
Go to the Compatibility tab.
Check Run this program in compatibility mode and choose Windows 7 Service Pack 1 from the list.
Click Apply and OK to save your changes.
Try running the game again.
Another fix might be to run the game from the installation folder. Just go to the folder where you installed ARK and Run the game executable in Administrator Mode.
7. Ark: Survival Evolved Low FPS
You can fix this issue by changing some options in the game, and it will run smoothly at 60FPS, see how to do that:
Solution: Enter the game menu and go to options, now drag the resolution scale to a minimum and you should have constant 50-60 FPS. You can also use our patch for a definite fix for the Low FPS issue. See the tutorial below for more details!
Try to reinstall Visual C++ Redistributables:
Go to ..\steamapps\commmon\ark\_CommonRedist\vcredist.
Run all the installers that you have in that folder to reinstall Visual C++ Redistributables.
After you've done that, you start the game and check if the issue has been resolved.
Tutorial! Your computer's graphics drivers will perform and function less effectively if they are out-of-date. It means that your computer is missing the necessary patches and upgrades to help you fix bugs and boost performance. Therefore, it can be the reason for the FPS decrease.
To avoid these types of problems, you can use an automatic tool that will find, download, and install the right driver version on your Windows PC in just a couple of clicks, and we strongly recommend DriverFix.
We hope that our tutorial helped you fix your Ark Survival Evolved errors and that now you are playing and enjoying the game. If you encounter any issues, or if you have questions, please use the comment section below and we will help you fix your game. – GamesErrors Team