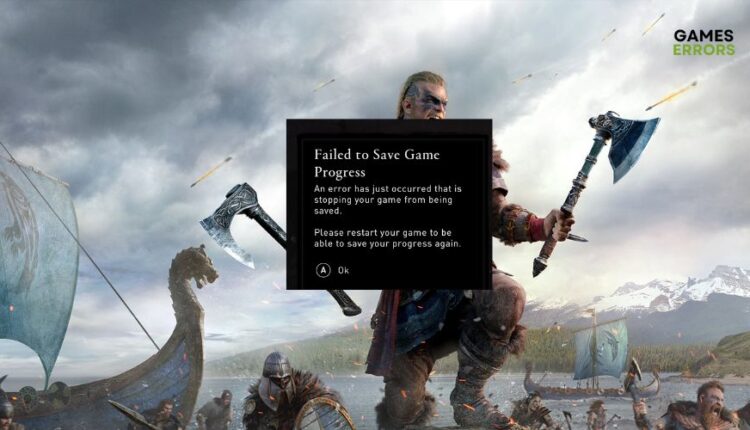 How To Fix Assassin's Creed Valhalla Game Save Error
Troubleshooting solutions for resolving game save errors in Assassin's Creed Valhalla 🎮
X
INSTALL BY CLICKING THE DOWNLOAD FILE
Assassin's Creed Valhalla is among the most immersive open-world games of the current generation. After endless hours leveling up your character and completing the game's near-infinite objectives, losing your progress is mortifying. So, anyone who gets the Assassin's Creed Valhalla game save error should look for a solution instead of giving up on months or years of progress. 
Is there a saving glitch in AC Valhalla?
Years after Assassin's Creed Valhalla's release, the game is still riddled with bugs that remove your immersion from the game. Unfortunately, this is nothing new for the franchise since most Assassin's Creed games are prone to crashes and errors. Assassin's Creed Valhalla's game save error keeps you from saving your game. Instead, the game prompts you to restart, which is not the best solution if you've been playing for hours without saving. 
How to fix the game save error in Assassin's Creed Valhalla?
Before you start troubleshooting, please ensure you've followed these simple steps first:
Ensure you have a stable internet connection
Ensure Assassin's Creed Valhalla is connected to the internet
If you still get the game save error in Assassin's Creed Valhalla, the steps below should help.
Table of contents:
1. Create Multiple Saves
Your game save files are your lifeblood in Assassin's Creed Valhalla, so we don't recommend relying on a single save file. Even though the game has an autosave feature, we recommend creating manual saves on your local drive in case one gets corrupted. Assassin's Creed Valhalla allows up to 20 manual saves; we recommend filling those slots to ensure a game save error won't affect you significantly.
Launch Assassin's Creed Valhalla.
Go to the Main Menu and select Save.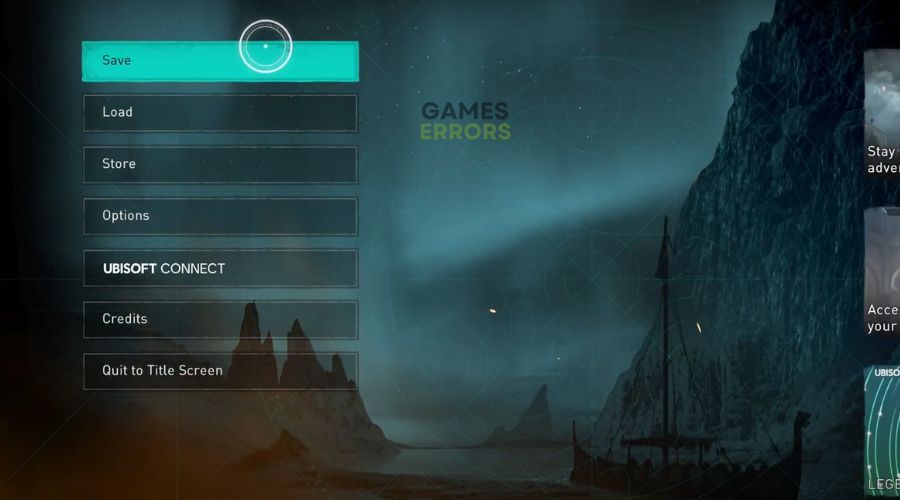 Choose Create a New Save Game or overwrite an existing one.
Repeat this process at least every 30 minutes when playing the game.
2. Update Your Network Drivers
Time needed: 5 minutes.
Since Assassin's Creed Valhalla autosaves to the cloud, you need a stable internet connection. Even with manual saves, you might still encounter the game save error if your internet is unstable. We recommend updating your network drivers to ensure your internet connection is not the problem. 
Press Windows + X on your computer's keyboard and click on Device Manager. 

Double-click on Network adapters to show the list of your device's available adapters.

Right-click the relevant adapter (whether you've connected your computer through Wireless or Ethernet) and select Update driver.

On the new window, click on Search automatically for drivers.  

Install the new drivers, restart your computer, and launch Assassin's Creed Valhalla. 
If you're having difficulties updating your network drivers, third-party tools exist to simplify the task. DriverFix, for instance, can update your network drivers in only a few clicks.
3. Restart Assassin's Creed Valhalla
If Assassin's Creed Valhalla is running, don't load the save file.
Instead, close the game and restart it.
After the restart, go to the title screen and choose Continue.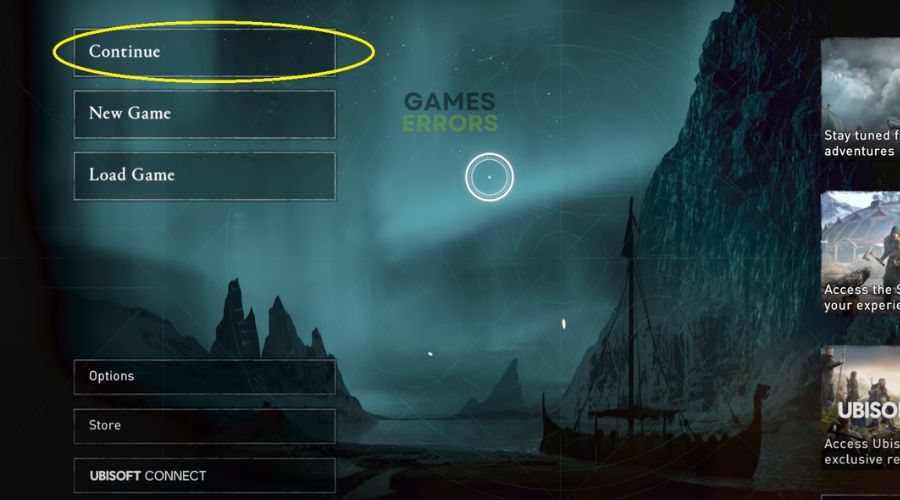 4. Do Not Overwrite Your Cloud Saves
Although we recommend manually saving your progress, you shouldn't overwrite your cloud saves. This might overwrite your previous save, and you'll lose your progress.
Conclusion
Hopefully, the above solutions have helped you fix the Assassin's Creed Valhalla Error. If you're still having trouble, we suggest contacting Ubisoft Support for further help.
If you have encountered any additional fix or resolution for the error, kindly share it with us by leaving a comment below.
If you encounter any issues or errors while playing your favorite games and require support, feel free to contact us here. Our team is always ready to assist you and ensure your gaming experience is seamless and enjoyable.