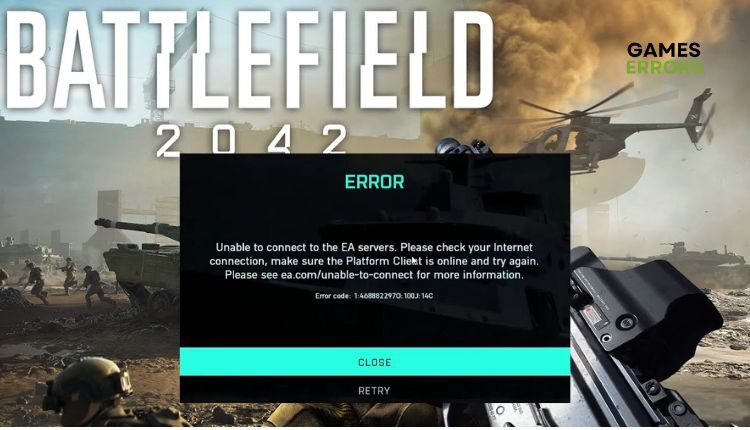 Battlefield 2042 Unable to Connect to EA servers [Fixed]
Battlefield 2042 unable to connect to EA servers? Stop by because we know how to fix this error. 👍
X
INSTALL BY CLICKING THE DOWNLOAD FILE
Battlefield 2042 is unfortunately not great as the previous sequels because it came out unfinished and unoptimized from the day of its appearance. That is why the frequent occurrence of errors when playing is no coincidence. The game has no single-player campaign, and the multiplayer requires a constant internet connection, meaning you cannot enjoy the game if you are not connected to the EA servers. What should you do if you get the Unable to connect from EA servers error? We suggest that you apply our effective solutions to overcome the problem quickly.
Why is my Battlefield 2042 not connecting to EA servers?
The key reasons you are getting the "Unable to connect to EA servers" error are issues with the EA servers, as they may be overloaded, have a problem (server is down), or have scheduled maintenance. The problem may also be on your end due to network and software issues.
How do I fix when Battlefield 2042 not connecting to EA servers?
First of all, do these simple steps to eliminate the problem:
Check Battlefield 2042 server status. If the server is down, wait a while until it is operational.
Close and restart the game or computer.
Temporarily disable third-party antivirus.
If the problem is still present, follow our next tips:
1. Check your internet connection
A slow and unstable internet connection on your end can be one of the main reasons for the "Unable to Connect to EA servers" error in Battlefield 2042. We recommend that you do the following:
Turn off the modem or router from the power source for at least one minute, then turn it on again and wait until the LED indicators return to normal.
Check your download speed via a web browser in one of the popular test programs.
Check the condition of the network cable (for a wired connection) or wireless network devices.
Turn off any unnecessary WiFi devices that eat up your bandwidth.
Always use ethernet for a faster and more stable connection than wireless for gaming.
Finally, check with your ISP (Internet Service Provider) that they have not limited your resources.
2. Update network driver
The inability to connect to the EA servers may also be due to an outdated or unstable network driver. We recommend updating this driver as soon as possible to ensure it is not causing the problem.
1. Right-click Windows Start and select Device Manager.
2. Double-click the Network adapters and right-click on your network card to select Update driver.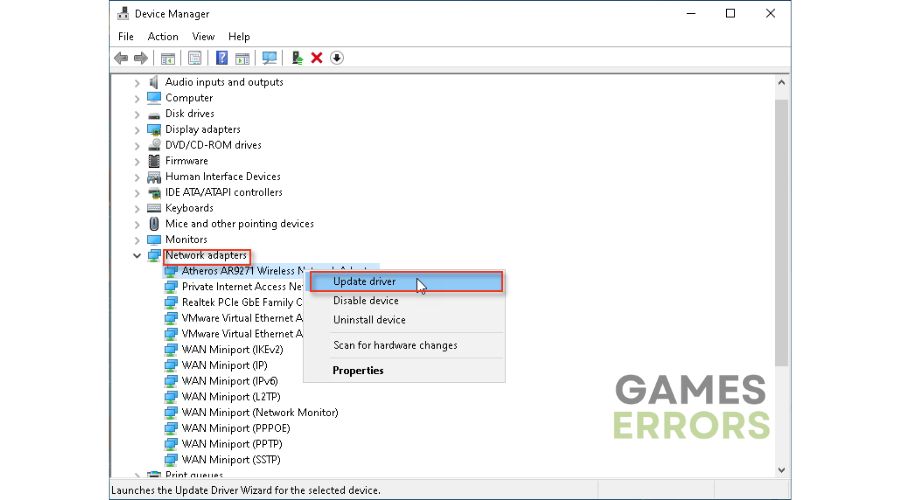 3. Click on the Search automatically for drivers and wait for the wizard to finish the update process.
4. Restart your PC, and try to launch a game to see if the error is gone.
Often you are unsure which drivers in your system are outdated, and it will take time and patience to update them all manually. We recommend a simpler method of updating all drivers via DriverFix. This tool will help you always have all up-to-date drivers, saving you time and nerves.
3. Change your DNS server
If the DNS assigned to you by your ISP is unreliable, you can change it to Google's public DNS address. Do this as follows:
1. Press Windows+R on the keyboard to open the Run dialog.
2. Type: ncpa.cpl and press Enter (or click OK.)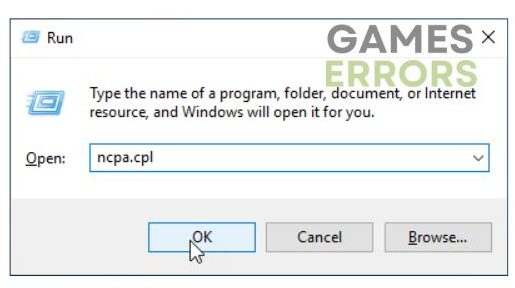 3. Right-click on your network adapter, and select Properties.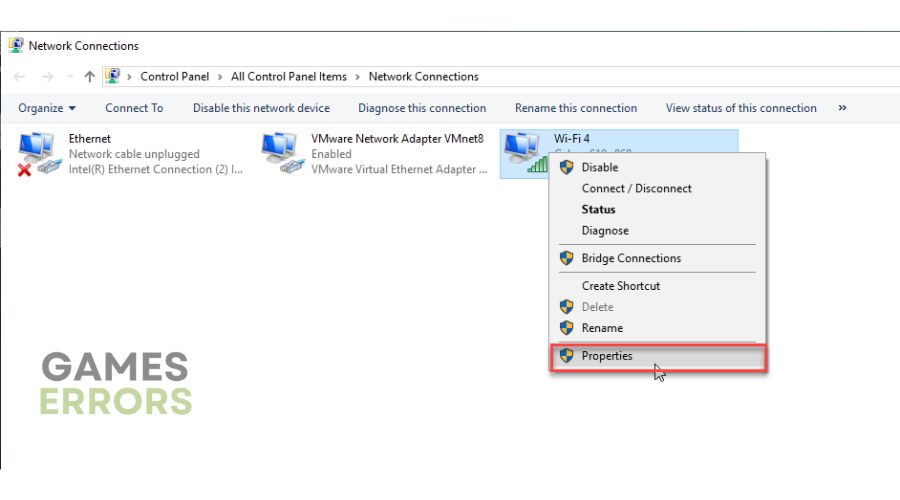 4. Choose Internet Protocol Version 4 (TCP/IPv4) and click on Properties.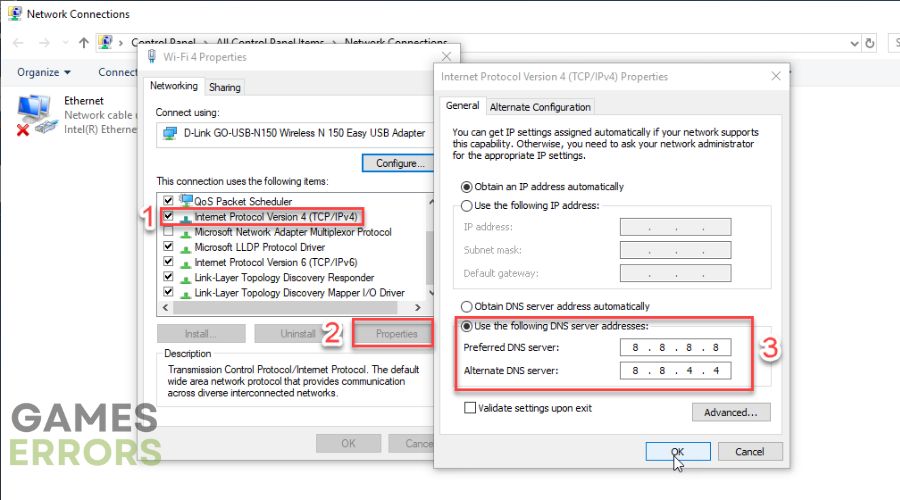 5. Check the option: Use the following DNS server addresses. For the Preferred DNS server, type: 8.8.8.8, and for the Alternate DNS server, type: 8.8.4.4.
6. Reboot the PC, and try launching Battlefield 2042 to check if you can connect to the EA servers.
4. Reset your network
Time needed: 3 minutes.
Sometimes your network may be unstable or too slow, making the game unable to connect to EA servers. In that case, you can try a network reset to resolve any issues related to your network and return all settings to their default values.
Open Network connections

Right-Click on Windows Start and choose the Network connections.

Select Status option

Click the Status option from the left side and choose Network reset.

Reset network

Click on Reset now button and choose Yes, then OK.

Reset your PC

After restarting, launch the game, and check if the problem is solved.
5. Clear game cache
If you have had no luck with the solutions above, there is a possibility that your game client's cache causes the problem. When you face various game issues, clearing the cache can often help solve them. To remove the cache for the Origin client, do the following:
1. Press the Windows+ R keys on your keyboard to show the Run dialog.
2. Type; %ProgramData% in the dialog box and press Enter.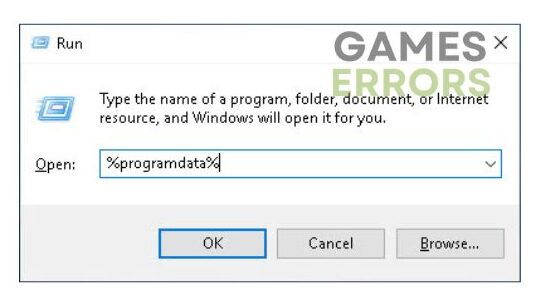 3. In the Origin folder, delete all except LocalContent and Logs subfolders.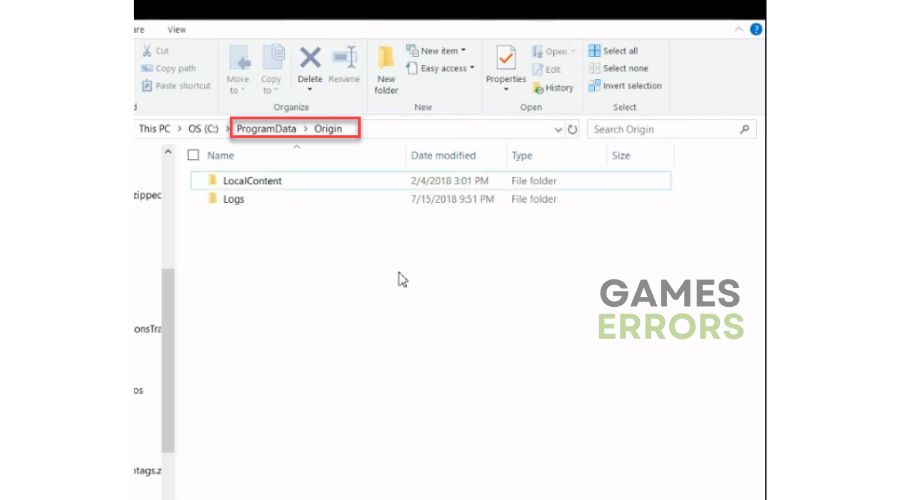 4. Once you're done deleting, open the Run dialog again and type; %appdata%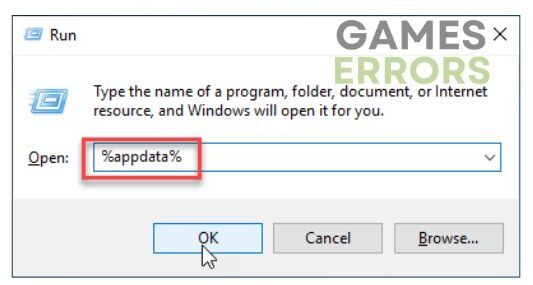 5. Right-click and delete the Origin folder (or select Delete from the menu).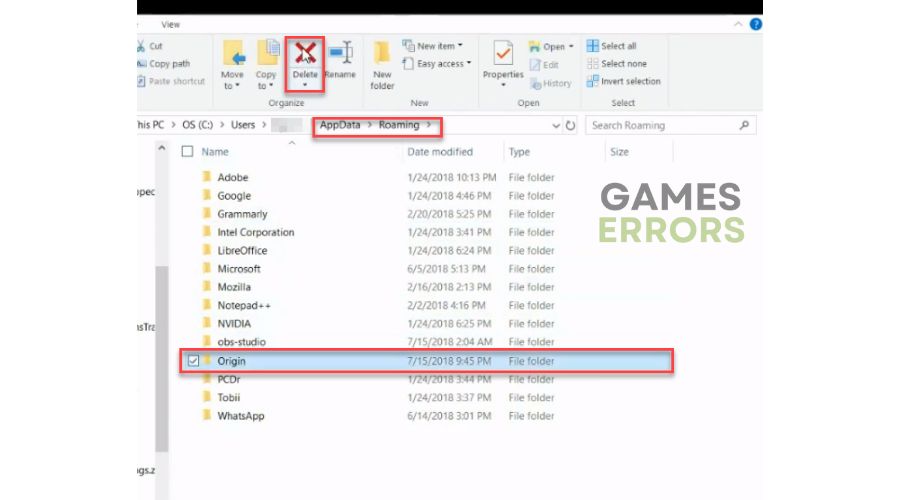 6. After you're done, restart your computer and open Battlefield 2042 to see if the problem with connecting to the EA servers still exists.
Related articles:
Conclusion
You have seen the best solutions when your Battlefield 2042 is unable to connect to EA servers. Don't hesitate to comment if you still have a problem or another way to solve it.
If you encounter any issues or errors while playing your favorite games and require support, feel free to contact us here. Our team is always ready to assist you and ensure your gaming experience is seamless and enjoyable.