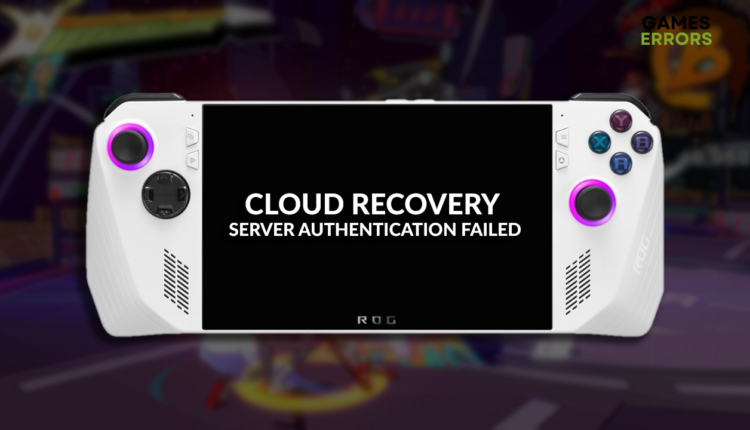 Cloud Recovery Server Authentication Failed ROG Ally [Fixed]
Although it seems the error occurs due to server problems, it can happen due to problems on your device or network! 👾
X
INSTALL BY CLICKING THE DOWNLOAD FILE
Starting your console only to see that Cloud Recovery Server Authentication Failed ROG Ally problem appeared is not the definition of quality gaming. We are here, determined to help you resolve this annoying network-related issue on your ROG Ally.
Some gamers also experience issues with completing Cloud Recovery. Learn what to do when ROG Ally gets stuck on Cloud Recovery.
Why Cloud Recovery Server Authentication Failed ROG Ally?
Cloud Recovery Server Authentication Failed on ROG Ally due to a faulty internet connection, temporary issues on the console or network, an outdated network driver, router security features, overloaded servers, or other network-related problems.
How to fix Cloud Recovery Server Authentication Failed ROG Ally?
Get started with these easy checks and fixes:
Check your internet connection: Use the Google Speed test on another device connected to the same network to check whether it works and the speeds.
Restart your ROG Ally: Some gamers claim the issue disappeared after they restarted their console.
Restart network devices: Press the restart button on the back panel of your router and modem.
Proceed with the step-by-step solutions for troubleshooting Server Authentication Failed on ROG Ally.
1. Update the network driver
Time needed: 3 minutes
This solution will work if you experience the problem occasionally. Asus provides a way to manually download and install the latest network driver for ROG Ally.
Head to the Asus Driver & Tools page and select your ROG Ally model.

Select Windows 11 for your OS.

ROG Ally runs only Windows 11.

Click the Download button under the Networking section.

Run the installation on your ROG Ally and follow the steps.
2. Disable network security features
Many gamers report that security features on their router blocked the console from connecting to the server, which led to Server Authentication Failing. Disabling these settings is the best way to check if this is the issue.
Open your browser and type the IP address of your router.
It is usually written on the device and is something like 192.168.X.X or 10.0.X.X.
Type the login credentials and hit the Log In button.
The username and password are also written on the router.

Navigate to the Security settings under Advanced and select None for Security Settings.
⚠ Important: this will also make your network more vulnerable, so if it works out for fixing the Server Authentication Failed error, contact your ISP to help you configure the router so it allows only your ROG Ally through these security settings.
3. Use a VPN
If the outage of Asus servers causes this network-related problem, there is a high chance it will persist for some time. You can't fix servers, but you can try to connect to another one using a reliable VPN.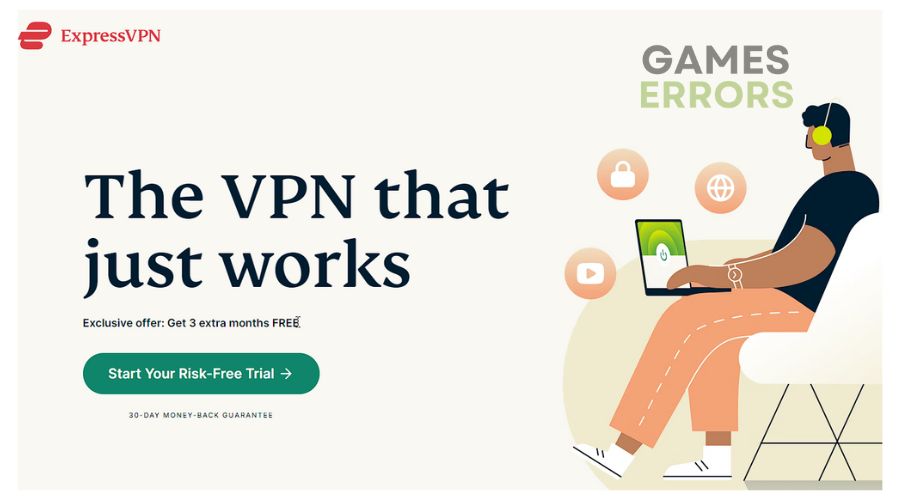 The VPN provider we advise you to use is ExpressVPN, a reliable and available way to access content through servers in more than 90 countries worldwide. Use it on multiple devices simultaneously, and if you experience an issue, an excellent 24-hour support team is available!
Extra steps
Here are some additional fixes to help you get rid of the Cloud Recovery Server Authentication Failed ROG Ally problem:
📶 Use an alternative network: Connect your handheld console to another WiFi network or use your mobile hotspot. This solved the issue for many gamers.
🌐 Use a wired connection: Although ROG Ally doesn't have an ethernet port, you can use an ethernet cable with a USB adapter to connect the console directly to the internet, skipping the WiFi.
📀 Run the network test in BIOS: Some gamers claim that this initiated connection to their WiFI network and made a good connection possible.
Related articles:
Conclusion
Fixing the Cloud Recovery Server Authentication Failed ROG Ally might be challenging but possible. If the issue isn't occurring, repeatedly update the network driver, and if it is, use ExpressVPN or an alternative network. Don't forget to tweak your router's security settings, and enjoy your handheld console!