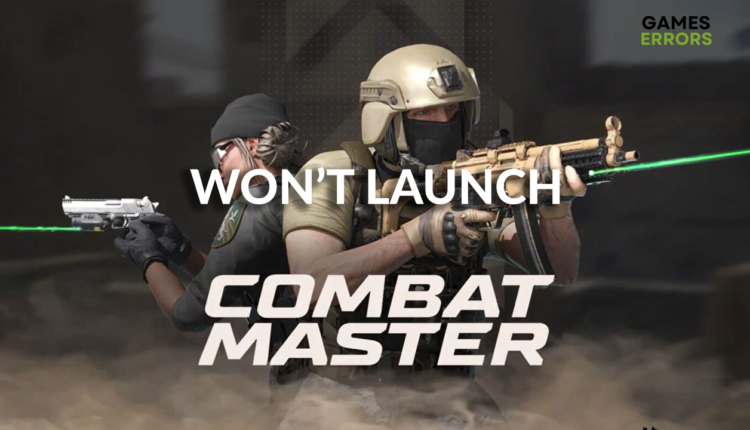 Combat Master Won't Launch: Fix It Quickly
Are you annoyed by the fact that you can't play this first-person shooter because the game is simply not launching? Don't worry we know how to solve it! 🚀
X
INSTALL BY CLICKING THE DOWNLOAD FILE
Combat Master won't launch, and you don't know what to do? Don't worry. We know the causes and solutions you can apply to solve the issue. Follow our solutions and enjoy the time playing Combat Master.
Why won't Combat Master launch?
Combat Master won't launch because your PC doesn't meet system requirements for the game, the game isn't set to fullscreen, the GPU driver is outdated, there is a compatibility issue with your Windows, or there are corrupted cache files on your PC. The problem might also be with the game itself, and only Combat Master developers can solve these issues.
How to fix Combat Master won't launch?
To make Combar Master launch start with these easy fixes and checks:
Check the system requirements for Combat Master: Although this game was ported to PC in April 2023, it doesn't have too demanding system requirements. However, your PC must meet these requirements. Otherwise, the game won't launch and run properly.
Restart your PC: If you don't restart it daily, start doing it, as it can cause issues when launching games. You can also tweak what apps launch on startup, and disable all unnecessary apps, so once you perform a restart, your PC isn't loaded.
Launch the game in fullscreen: Navigate to the game library in Steam, right-click on Combat Master, and select Properties. In the General tab, you will see Launch Options, where you must add -fullscreen. This will force the game to run on the fullscreen automatically.
If you still have the issues and cannot play Combat Master because it is not launching, proceed with the following solutions.
1. Verify game files
Corrupted game files are the first suspect when a game doesn't launch. In the case of Combat Master, since Steam distributes it, you can use the built-in feature for verifying and repairing faulty game files.
Launch Steam and go to the Library.
Right-click on Combat Master and select Properties.
Select the Local Files tab, and click on Verify integrity of the game files.

2. Update the GPU driver
Time needed: 5 minutes.
Whether you have the newest GPU or it is somewhat old, you must update the GPU driver. This way, you will ensure Combat Master and other games launch and perform as expected.
Click the Windows icon, type Device Manager, and open this tool from the Best Match.

Double-click on the Display Adapters section.

Right-click on GPU and select Update driver.

Select Search automatically for drivers.
Install driver update.
Restart your PC.
DriverFix is a complete solution for driver management. Your GPU driver will stay updated, and the tool will monitor all other devices for potential updates. This will save you time and nerves since you will avoid many game problems by constantly installing the latest drivers.
3. Run the game in compatibility mode
Since many Windows 11 users experience this problem, it is safe to assume that it is somehow related to the version of your Windows. Now, you don't need to change your OS. You can use compatibility mode to launch Combat Master.
Use the Windows key + E shortcut to open Windows Explorer.
In the address bar, enter the path to the Combat Master installation folder and press Enter.
Right-click on the executable file (.exe) and select Properties.
Open the Compatibility tab.
4. Delete cache files
Every app and game on your PC creates so-called cache files. These files allow the program to launch faster and run smoother. However, they can sometimes cause issues, so we recommend you delete them occasionally. This way, you will also free some memory space on your drive.
Use the Windows Key + R shortcut to open the Run dialog, type %localappdata%, and hit OK.

Use the CTRL + A shortcut to select all files in the folder.
Press the Delete key on your keyboard to delete all the files in the folder.

Extra steps
Combat Master won't start, even after applying all of the solutions? You can try to:
👩‍💻 Run the game as an administrator: If you use the executable (.exe) file to run the game, you can assign the administrator permission so you avoid issues with Windows. Right-click on the game, select Properties, navigate to the Compatibility tab, and tick Run this program as an administrator.
⬆ Update the Windows: You should constantly update your Windows to have the latest security and compatibility patches. Click on the Windows icon, type and open Check for updates, and update Windows if needed.
💻 For portable gamers: Use the Best Performance mode and keep your laptop on the charger when possible. To enable this mode, click on the battery icon in the taskbar and set the slider to Best Performance ⚡.
👉 You can also read a guide that explains why some games won't start to learn more about the topic and to find suitable solutions.
Conclusion
Combat Master won't launch regardless of what you do, and you have already applied all the solutions from our list? In this case, you can contact the game developers and ask if they are familiar with the issue and if they are working on it. Let us know what solved the problem for you.
If you encounter any issues or errors while playing your favorite games and require support, feel free to contact us here. Our team is always ready to assist you and ensure your gaming experience is seamless and enjoyable.