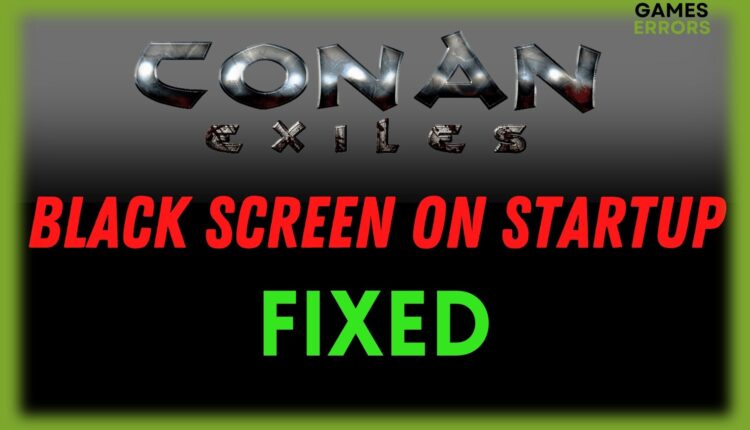 Conan Exiles Black Screen on Startup: How to Fix
Conan Exiles displaying black screen on startup is usually caused by outdated GPU drivers and corrupt game files ⬛
Since its launch, gamers have been complaining about the different technical issues they face with the game, one of which is Conan Exiles black screen on startup. 
This issue is encountered on different game consoles and Windows. Fortunately, the game developers have been working tirelessly to provide solutions to the issue, but if you're still experiencing it, this article will help you fix the problem.
Why won't my Conan Exiles start?
Outdated or corrupted GPU drivers

: outdated or corrupted graphic drivers will disrupt the functioning of your graphic card which will in turn affect your game.

Corrupted or missing game files

: your game file could get corrupted by viruses or other malware and this will prevent your game from launching.

Server error

: issues with the Conan Exiles server can cause the game to show a black screen on startup.

Incompatible system requirements

: if your PC does not meet minimum requirements, your Conan Exile will show a black screen on startup.
How to fix Conan Exiles black screen on startup?
Before trying any fixes, it is always advisable to carry out preliminary checks like ensuring you have a stable network connection, checking if Conan Exiles' server is active, closing some background apps, and restarting your PC. You should also confirm that your PC meets the minimum requirements to play Conan Exiles.
If the Conan Exiles black screen on startup still persists after the pre-check above, let's dive into troubleshooting:
1. Update GPU drivers ✅
If your Conan Exiles displays a black screen on startup, you might need to update your graphic processing unit drivers to the latest version. To update your GPU drivers in Device Manager on Windows PC, you should do the following:
Click on Windows Key + X and select Device Manager from the menu
Click and expand the Display Adapters option

Right-click on your

graphics card

and choose

update driver

Choose

search automatically for updated driver software

Windows will search for available updates and install them if any

Restart your PC after completing the process
Alternatively, for an easier and safer process, we recommend using a specialized driver update tool, such as Outbyte Driver Updater that will automatically do this for you. This third-party software works by scanning your system for outdated or missing drivers, then downloading and installing the latest versions from the manufacturer's website.
⇒ Get Outbyte Driver Updater
2. Verify the integrity of the game files
Verifying the integrity of your game file will ensure that all missing or corrupt game files are restored in Conan Exiles. This can be done through steam by following the steps below:
Click and open

Steam Client

on your PC

Log into your game account

Locate Conan Exiles on

Library

Tab

Right-click on Conan Exiles

and select

Properties

Select the

Local Files

tab and click on

Verify Integrity of Game Files

Steam will check the game files and compare them to what is available on the steam server.

If there are missing or corrupted files, Steam will install new files to replace them.
3. Clear Game Cache
Another way to fix issues of black screen on startup is to clear cache data and cookies. Game cache data can prevent Conan Exiles from launching or cause a black screen on startup. Below are the steps to clear the game cache:
Launch

Steam Client

and log in to your account

Go to the

Library

tab and find Conan Exiles

Right-click on

Conan Exiles

and select

Properties

Press the

Local Files

tab

Click

Delete Local Game Content

Confirm you've deleted the game file by clicking on the "

Delete

" button

Reinstall Conan Exiles
Please be aware that clearing the game cache will cause all game files, saved games, and configuration files to be deleted, meaning you will have to reinstall the game and lose all of your progress.
Related article: Conan Exiles Keeps Crashing, Not Launching: How To Fix
Conclusion
In conclusion, updating your GPU drivers will solve the black screen on the startup problem as well as improves game performance. If you have any other suggestions, please drop a comment down below.