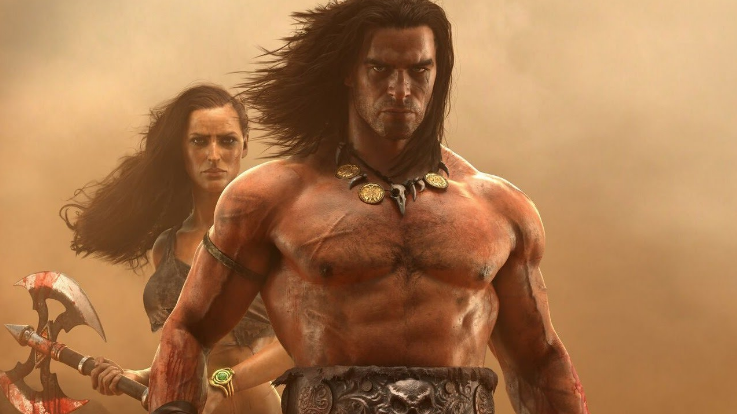 How To Fix Conan Exiles Errors, Server Issues, Not Launching, Crashes, Performance Issues
Conan Exiles is now available on Steam in the Early Access version, that means that you get involved with the game as it develops. But there is a downside to this release because you will encounter a lot of errors that are making the game unplayable. The game has been released for almost a day, and by now there are a lot of players complaining about the issues of the game.
The developers chose to release the game in this version because they get to develop the game together with you, the players. Getting valuable feedback from Conan and open-world survival fans alike as we head towards full launch will help us focus on the things that are important to the community.
Let's talk a little bit about Conan Exiles errors because that's why you are here, to fix your issues and play the game. Many people are upset about the server issues, they don't see any server showing up, or they can't join any server because it times out.
Others are saying that they can't start the game because of the launching issues. When you try to launch the game, the Steam icon changes to green for a few seconds, and then it crashes, or nothing happens.
Besides all this, you might encounter random crashes throughout the game or performance issues like low fps or fps drops.
Below is a quick recap of the game issues and also, what you can fix by following our guide below.
Server Issues (no servers showing up)
Not Launching
Crashes (random crashes)
Performance Issues (low fps, fps drops, stuttering)
If you experience one of the errors above you are in the right place because further, we will help you to fix them.
The first step is to check the system requirements of the game and make sure that you at least meet the minimum ones. If you don't, you need to upgrade your PC because this is why you are encountering your issues. If everything checks out go ahead and find your issue in the list below.
Conan Exiles System Requirements:
Conan Exiles Official Early Access Minimum System Requirements
CPU: Intel Quad Core i5, or AMD equivalent
GPU: GeForce GTX 560
RAM: 4GB
DirectX: Version 11
OS: Windows 7, Windows 8, or Windows 10 (64-bit versions)
HDD: 35GB free space
Conan Exiles Official Early Access Recommended System Requirements
CPU: Intel Quad Core i5/i7 3.3 GHz, or AMD equivalent
GPU for Ultra Graphics: GeForce GTX 1070
GPU for High Graphics: GeForce GTX 1060, GeForce GTX 970 or GeForce GTX 780 Ti
RAM: 8GB
DirectX: Version 11
OS: Windows 7, Windows 8, or Windows 10 (64-bit versions)
HDD: 35GB free space
Conan Exiles Errors List:
In this list, you will find the Conan Exiles errors that players are currently encountering and for each issue, you will also find a solution or a workaround on how to fix it. If you have questions check our Support page here.
#1 Conan Exiles Server Issues


We will start with the Conan Exiles no servers showing up because this is the most encountered error in the game and it's starting to annoy a lot of players. The second server issue is that players are able to see the game servers but they can't connect to any because the server times out.
Below you will find some workarounds to fix the server issues and also a definite solution if nothing works for you.
Workarounds:
Try clicking "Show Invalid Servers" in your server list. The list should populate. All servers marked with white text are valid and you should be able to connect to one.
Make sure that the "Combat" and "Community" lists are set to "All". The filter should be set to "Internet".
Go up to View – Servers. Filter by game – Conan Exiles. And now you should see the servers but the only problem here is that you can't tell which PVP servers are Regular or Blitz.
You have to refresh then wait about 5 min. If nothing pops up then refresh again and wait again. Eventually, servers will come up.
Solution: If you are still encountering server issues, check our tutorial at the end of the post. There you will find our tool, and it will help you fix the connection of the server or showing up the issue. Go there for more details!
#2 Conan Exiles Black Screen on Startup
You might encounter from time to time a black screen on startup and you are unable to start the game and play it.
The developers of the game came out with a fix for this issue, check it out below.
If your client is hanging on the loading screen and is not progressing beyond a black screen, please either wait a little longer, or you may end the task by pressing CTRL+SHIFT+ESC and manually ending the Conan Exiles task. You may then restart the game after that. This issue may be caused by hardware that is close to the minimum specifications.
#3 Conan Exiles Not Launching

If the game won't start for you, don't worry, a lot of players are unable to launch Conan Exiles at this moment because the game suffers from some weird bug. The good news is that you can fix this issue and start the game in just a few minutes by checking our solution below.
Before applying our solution try the workarounds below:
Reinstall BattlEye because the developers said the following: We've pushed out an update that should address the BattlEye issues. Update your game client and BattlEye, please.
Install all the Windows updates
Install Visual C++ Redistributable
Solution! If you don't want to wait that long and do all of that updates, check our solution at the end of the post. Go there for more details!
#4 Conan Exiles Crashes

The game suffers from a lot of crashes, some of them are:
Crash on Server List
Server Crash
Crash to Desktop
Crash after Loading Screen
Yep, the list is long and you are probably experiencing some sort of a crash. It seems that most of them are happening in the multiplayer part of the game, especially when you try to open the server browser. For a solution on how to fix the crashes read below.
Solution for crashes! To fix the Conan Exiles crashes you need to make sure that you have the latest compatible graphics driver and that you have all the required redistributables. You can do this on your own but we recommend to use our tool that will optimize your game for you and fix the crashes. Go to the end of the post for more details!
#5 Conan Exiles Performance Issues (Low framerates or drops)

Performance issues are common in an Early Access game like Conan Exiles. The best thing you can do now is to optimize the game and your PC for maximum performance until the developers of the game release an update.
A review on Steam from a player complaining about FPS issues:

The game looks fun i havent got far because the fps goes from 30 to 1 in less than a second and it keeps doing it soooooooooo ♥♥♥♥♥ often i cant bare to play it. Ill just say my pc Runs arma3 in Ultra. I wish they fixed the fps problem im having and in the future ill do another review. For this time been Its a negative review and i really want this to change.
If you are experiencing Conan Exiles low fps or fps drops make sure that your PC meets the system requirements and that you have the latest recommended graphic driver installed. After that you need to optimize your game for performance and you should have constant framerates.
How to optimize Conan Exiles? You can optimize the game and your PC by using our tool. It will check for the Conan Exiles Early Access Game Ready Driver and it will install it, following by the optimization of your PC and the game. Read below for more details!
Solution for Conan Exiles Errors:
*Only for Not Launching, Server&Performance Issues and Crashes
Do you want to start building your settlements, exploring the world, and conquering your foes? But you are unable to do this because you can't play the game due to some errors or issue? 🙁
Don't worry anymore! We are here to help you do all of that and enjoy the game with no frame drops, crashes or any other issues that you are currently experiencing.
How? That's simple, we developed a tool that will identify your issue and fix it. It's not magic, our tool will optimize your GPU and PC for maximum performance. It will install the required files and redistributables in order for your game to launch properly and with no crashes. And it will check your internet connection and server connection to see if everything works fine.

We know that you paid quite a lot of money for your game and not being able to play it it's just annoying. We also know that you are eager to play the game with that character above. Right? 🙂
Below you can find an image on how our tool looks like and also a tutorial on how to properly use it. Please follow the tutorial step by step to make sure that you apply the tool correctly to your game. If you are not sure about some things please contact our support team. You can find the download link in the first step of the tutorial!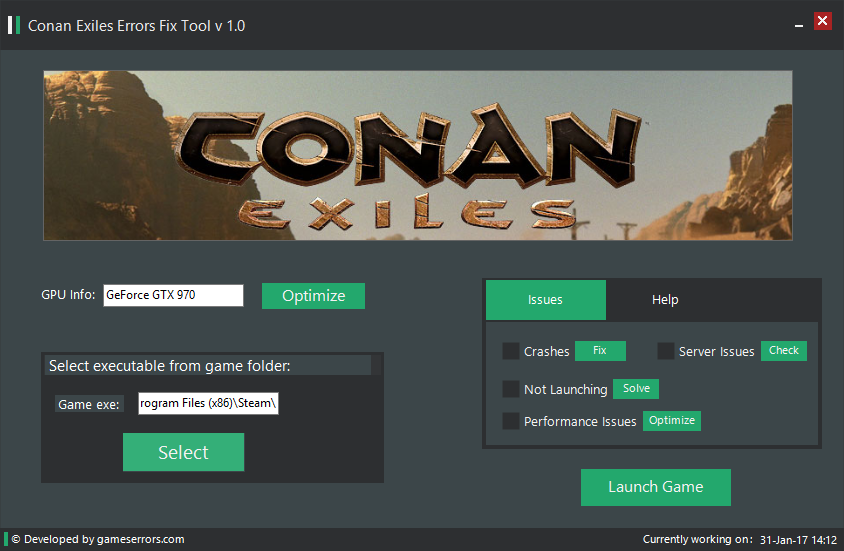 To make sure that you apply the tool correctly to your game please follow the tutorial below step by step. If you are not sure about something just ask us, our Support Team answers in a matter of minutes.
How to apply our tool:
You can find the download link for our tool here: download
Extract the downloaded archive on your PC, and open the tool from the folder.
Your GPU will be selected automatically, make sure that you use your dedicated GPU if you have a laptop!
Select the game executable from the game folder, if you used the default Steam install folder it should be: "C:\Program Files (x86)\Steam\steamapps\common\Conan Exiles".
Now select your issue from the box to the right.
After your issue is successfully fixed, you can click the "Launch Game" button and play the game.
How to download: Well, you might think that our download service is pretty annoying but is very effective. To download you just need to complete a simple offer, it usually takes a few minutes, and after that, you will be able to download the tool. We use this service because it's the only way to support our developers and to keep releasing and updating patches for games. Thank you! We hope you understand us and have fun exploring Conan Exiles world!
We hope that by now you managed to fix your Conan Exiles errors and that you already started to explore the vast world of the game and conquer your foes. Our team members are also playing the game at this moment so maybe we'll see you in multiplayer. Have fun!–GamesErrors Team