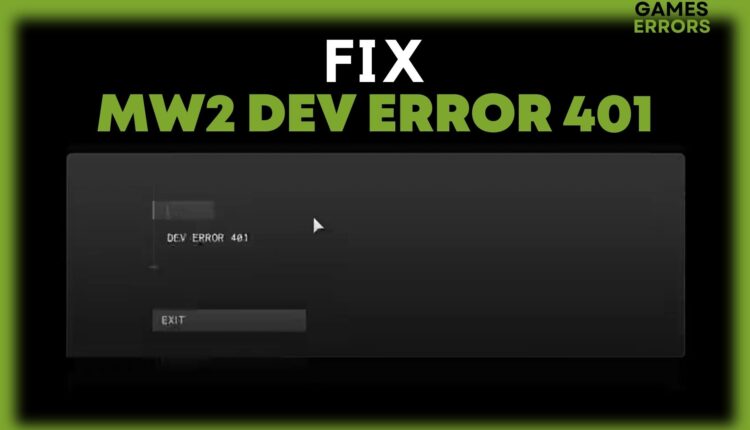 Constantly Having DEV Error 401 Trying to Play MW2 [Fix]
The Dev error 401 can be a real nuisance while playing MW2, so be sure your drivers are updated
X
INSTALL BY CLICKING THE DOWNLOAD FILE
Despite the fact that Call of Duty Modern Warfare 2 is one of the top shooters worldwide, numerous bugs and errors in the game severely deter players from playing it. MW2 Dev error 401 is a recent bug that is displayed while trying to play private matches.
Don't worry if you find yourself a victim of errors like Dev Error 401; we'll give you some instructions on how to fix the problem.
What is Dev Error 401 in MW2?
Dev Error 401 in MW2 yusually indicates a problem related to authentication or authorization when trying to access online features of the game. The first thing you need to be aware of is that Dev Error 401 on MW2 may be connected to Dev Error 292 and 11642, which are some system issues brought on by the attempt to create a private match.
Additionally, the errors occasionally are triggered when you simply try to load the map.
How do I get rid of developer error 401?
Infinity Ward acknowledged this bug, and it was fixed in the Season 1 patch update. Try switching the custom frame rate limit from custom to unlimited if the error persists.
Launch the game
Open the Settings tab
Locate the Graphics section and click on it
Click on the Display tab
Scroll down to 'Custom Frame Rate Limit' and change it to Unlimited
If changing the Frame Rate Limit doesn't work, let's dive into troubleshooting:
1. Verify & repair the integrity of game files
You could occasionally experience a lot of problems, including dev errors which are caused by corrupted or missing game files. Verifying and fixing corrupted game files is mandatory, here is how you do it:
Steam users:
Open Steam and click on Library.
Right-click on COD MWII from the list of installed games.
You will have to wait till the process is done.
Once done, restart your PC.
Battle.net users:
Open the Battle.net client and click on Call of Duty: Modern Warfare II game.
Near (Gear icon) you'll have OPTIONS, click on it.
Click on Scan and Repair.
Select Begin Scan and wait for the process to complete.
Once done, restart your PC.
2. Update your GPU driver
Updating your graphic card driver might be the best solution to fix any in-game errors. Most of the time, outdated GPU drivers can cause various crash problems, connection problems, or even developer errors.
Battle.net website also recommends updating your drivers as it could be a fix for your dev 401 error. Download the required GPU drivers by visiting the official websites:
You can also use Device Manager to update your drivers. However, if you find it difficult or time-consuming, you can use a trusted driver update tool that will scan, download and install your drivers automatically.
Launch the app, and it will start scanning.
Click Update All Drivers Now

to fix all errors.
3. Update the game
Steam users:
Open the Steam client, head to Library, and click on COD MWII.
It automatically notifies you of available updates. If there are any updates, you need to click on Update.
Once the updates have been installed, restart your PC and launch the game.
Battle.net users:
Open the Battle.net app.
Near (Gear icon) you'll have OPTIONS, click on it.
Click on Check for Updates and follow the process.
Restart your PC
4. Turn off your VPN
To prevent any kind of networking issues, it is strongly advised against using any VPN service on your computer or router.
Although VPNs can normally link you to a server in a different part of the world, it won't help you reduce latency or ping delay. Your gaming server will experience more connection issues the larger the ping delay it gets.
5. Optimize your internet connection
The first thing you need to do is make sure your internet connection is reliable, fast, and uninterrupted.
To enhance your internet speed when playing the game, avoid using Wi-Fi.
Shut down internet-dependent applications including Skype, Messenger, and Chrome.
Consider rebooting the router if you're using wifi.
If you're facing any stuttering issues or you ever asked yourself why the FPS has dropped, make sure to read our article on how to make CoD less laggy.
I sincerely hope that one of the above troubleshooting will assist you in fixing DEV Error 401 that you are experiencing. If not, contact Activision Support or wait till the devs release fresh updates.