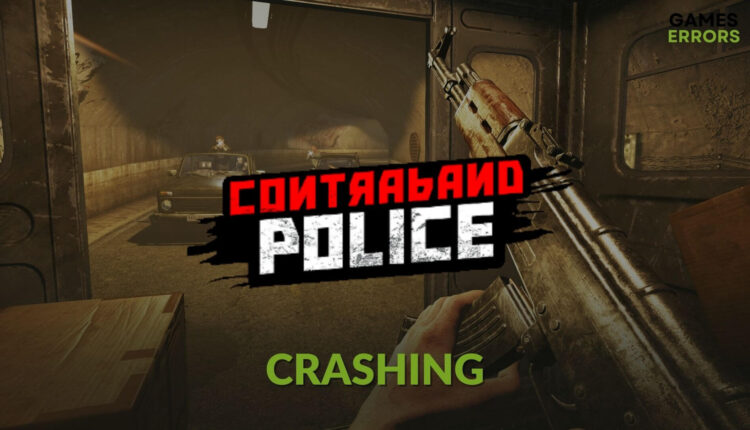 Contraband Police Crashing: Best Ways to Fix This Problem
If the Contraband Polce keeps crashing, update the GPU driver and run in high-performance mode 🔥
X
INSTALL BY CLICKING THE DOWNLOAD FILE
Is Contraband Police crashing on your PC? You can try the most effective troubleshooting methods described in this article to solve this problem.
This new open-world action first-person game is a unique addition to the game industry. Compared to most other recently released games, the Contraband Police is smaller in size and not a very resource-hungry title. But, still, this game may suddenly stop working and crash for some gamers.
Why does the Contraband Police keep crashing on my PC?
This game may crash or stop working due to the following reasons:
Graphics driver problem: Even though you don't need a decent GPU to play Contraband Police, it still may crash due to the outdated or buggy graphics driver.
System requirement issues: If your PC doesn't meet the system requirements adequately, this will keep crashing.
Third-party apps and services: Interference from some third-party apps and services can be a reason you are facing problems with this police simulation game.
Problematic game components: Problems with game files and some key components also can be the root of this issue.
How can I fix Contraband Police crashing problem?
You can easily solve this issue. But before taking the actual steps, we suggest you do these quick things:
Now, follow the methods mentioned below to solve crashing issues with Contraband Police:
1. Update the graphics card driver
Time needed: 4 minutes.
To solve most of the game issues, including crashing problems, updating the GPU driver is the best solution.
Choose Search automatically for drivers.
Complete the update process.
To update the GPU driver, we strongly recommend DriverFix. This tool can find the most compatible latest game-ready graphics driver for your Windows PC. It helps to get efficient performance from GPU, which solves crashing issues on a lot of games like Contraband Police.
2. Run the game as an administrator
Open the Steam desktop app.
Go to your game library.
Right-click on the Contraband Police, hover your mouse cursor on Manage and click on Browse local files.
Right-click on ContrabandPolice.exe and then click on Properties.
Go to the Compatibility tab.
Click on Apply and OK.
3. Run Contraband Police in high-performance mode
Press Win + I on the keyboard to open Windows Settings.
Now, try to play Contraband Police and see if it still crashes or not. If it is a laptop, rather than playing on battery, connect it to the power cable.
4. Install/update the game components
Visit the Microsoft Visual C++ redistributables page.
Click on the download link for X64-bit architecture.
Install it on your PC.
Go to the DirectX download page.
Select the language and download the runtime installer.
Install it.
Restart Windows.
Without these components, the game will not run. However, if your PC already has these items but is corrupted, the Contraband Police will run but crash during the gameplay or startup. Doing the above steps will fix this problem.
5. Disable problematic background services
You should disable services related to the apps like a game booster, MSI Afterburner, Razer Synapse, and any other overclocking app. It helps to get rid of the crashing problem. To do it, follow these steps:
Press CTRL + Shift + Esc on the keyboard to open the Task Manager.
Make sure you are in the Processes tab.
Select the process you want to disable and click the End Task button.
Disable every other problematic process in this way.
6. Disable fullscreen optimization
Go to ContrabandPolice.exe's properties, like method 2, and navigate to the Compatibility tab.
Check the box next to Disabled fullscreen optimization.
Click on Apply and OK.
7. Repair Contraband Police
Go to your Steam game library again.
Right-click on Contraband Police and go to its Properties.
Go to the Local Files tab.
Click on Verify integrity of game files.
Give it some time to finish the process.
Now, try to play Contraband Police and see if it has solved the crashing problem.
Extra steps:
If you still cannot play the game because of this problem, we suggest you do the following things:
Re-install the game completely.
Update Windows to the latest version.
For more suggestions, check out this ultimate guide on how to stop games from crashing.
These are the most effective ways to solve Contraband Police crashing issues on PC. If you have any suggestions, let us know in the comment box.
If you encounter any issues or errors while playing your favorite games and require support, feel free to contact us here. Our team is always ready to assist you and ensure your gaming experience is seamless and enjoyable.