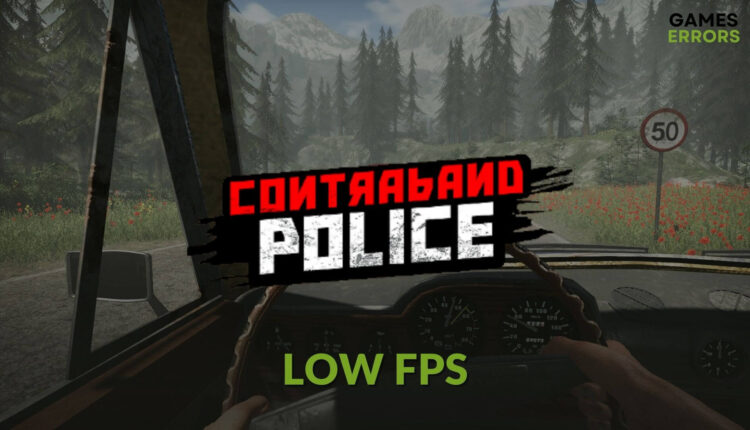 Contraband Police Low FPS: Ways to Get Stable Performance
Improve the Contraband Police's frame rate by following these effective methods 😎
The Contraband Police low FPS problem is not something very hard to solve. This article will explain more about this problem and also will tell you how to fix this issue.
This police simulation game lets you act as a young officer trainee and work at a border post. The gameplay is interesting and enjoyable. But frame drop and stuttering issues with this game, Contraband Police, can make you upset. For some users, it may happen in a PC with good configuration too. Luckily, you can improve its performance.
Why is Contraband Police's performance so bad on my PC?
If you are currently going through low FPS, stuttering, and unstable performance issues in Contraband Police, it may be because of the following things:
System requirements: Even though you have a good processor, if your PC doesn't meet the system requirements for this game, the frame rate will always go down.
Outdated graphics driver: A decent GPU with an obsolete or buggy driver will not give you proper performance.
Improper settings: If you play this game with settings unsuitable for your PC configuration, you will get very poor performance.
Third-party services: Excessive active third-party services in the background can also cause low frame rate problems with this game.
How do I fix Contraband Police low FPS problem?
First, you should ensure the following things to avoid unwanted hassles:
Now, you can follow these methods to solve low FPS problem on Contraband Police:
1. Update graphics card driver
Time needed: 4 minutes
Most of the time, people with or without a decent GPU experience low FPS issues due to outdated drivers. So, updating the display driver by following these steps is the best solution:
Click on Search automatically for drivers.
Finish the process.
You can use Outbyte Driver Updater to update the GPU driver more comfortably. This tool is also better at finding outdated drivers and updating them to the most recent version, as it has a more extensive database than the device manager.
⇒ Get Outbyte Driver Updater
2. Disable unnecessary background services
Press CTRL + Shift + Esc on the keyboard to open the Task Manager.
Go to the Processes tab.
Click on a process, and then click on End Task.
In this way, you will need to kill all unnecessary processes. It will free up system resources, letting the Contraband Police utilize more computing power. So, you will get better FPS.
3. Enable game mode
Press Win + I to open Windows Settings.
Go to Gaming and then click on Game Mode.
Toggle the switch next to the Game Mode to turn it on.
This feature is available on both Windows 10 and 11, which optimizes Windows to prioritize your gaming experience.
4. Roll back the graphics driver
Go to Device Manager like before.
Right-click on the graphics driver and click on Properties.
Go to the Driver tab.
Follow any on-screen steps to finish the process.
5. Re-install the graphics driver
5.1 Uninstall the driver
In Device Manager, right-click on the graphics card driver and click on Uninstall.
Restart Windows.
5.2 Install again
Depending on your GPU, go to AMD, Intel, or NVIDIA driver download page.
Select the graphics card model and click on the Search button.
Download the driver and install it on your PC.
6. Repair the game files
Open the Steam app.
Navigate to your game library.
Right-click on Contraband Police and then click on Properties.
Go to the Local Files.
Click on Verify integrity of game files.
The repairing process may take some time, depending on various things. But, it has a very good possibility that it will fix Contraband Police's low frame rate issues.
7. Disable Vsync
Open NVIDIA Control Panel or any other similar software depending on your GPU.
Go to Manage 3D settings.
Locate the Vertical sync and turn it off.
Restart your PC.
Alternatively, you also can disable the Vertical Sync from Contraband Police's in-game settings.
Additional tips:
If you still get poor and unstable performance from this game, we suggest you consider doing these things too:
Re-install the Contraband Police completely.
Disable in-game overlay.
Update Windows to the latest version.
Uninstall any suspicious third-party software.
It's also possible that the problem is related to the current version of the game. In this case, you should wait for the next update.
If interested, you can learn how to fix Contraband Police's crashing problem.
These are the most effective ways to improve performance and solve Contraband Police low FPS issues. You can let us know in the comment box if you have any opinions or suggestions.