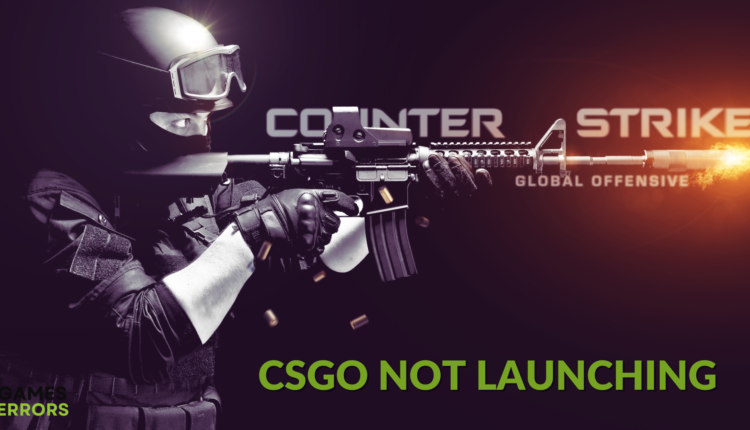 CSGO Not Launching: How to Fix [Easy Peasy Guide]
You can resolve CSGO not opening by applying the fixes below ⤵️
X
INSTALL BY CLICKING THE DOWNLOAD FILE
CSGO (Counter-Strike: Global Offensive) is among the most cherished multiplayer shoot 'em ups for Windows. However, some players can't enjoy CSGO because it doesn't start when they select to run the game.
Does the CSGO game crash at startup every time you try to launch it? If so, this is how you can fix CSGO not launching on Windows 11 or any OS you're running.
What to do if CSGO is not opening?
Before proceeding to the following solutions make sure your PC meets the minimum system requirements of CSGO.
1. Run CSGO with admin rights
First, open an Explorer window by clicking the folder library taskbar button.

Navigate to the Counter-Strike Global Offensive installation folder on your PC. The default Steam directory for the game is: C:\SteamLibrary\SteamApps\common\Counter-Strike Global Offensive\csgo.exe
Select Compatibility to access some launch settings for the game.
To exit CSGO's properties window, select the OK option.
2. Update the graphics driver
To update your GPU's driver, you'll either need to manually download it or utilize a driver updater tool. The Device Manager tool in Windows 11/10 doesn't search online for the latest drivers.
A driver updater tool like DriverFix enables will scan your PC and list devices with outdated drivers. Then you can select to download and install the latest driver for your PC's graphics card with its update options.
The other option is to manually download a new driver for your graphics card from the Intel, AMD, or NVIDIA sites. All those sites include the latest drivers for their GPU models. After downloading a driver package, you can manually install it with its setup wizard.
3. Verify the integrity of CSGO's files
Open Steam and select its Library tab.
Select Local Files on the Counter-Strike: Global Offensive Properties window that opens.
4. Disable the Windows Instrument Management service from the Windows startup
Click inside the Type here to search box tool at the top of Windows 11's Start menu.
Enter the search phrase MSConfig in the box.
Click Services to access the options on that tab.
Then click the Service column to sort the list alphabetically.
Deselect the checkbox for the Windows Management Instrumentation service.

Select OK to exit out of the System Configuration (MSConfig) tool.
Click Restart within the small dialog box that opens after exiting System Configuration.
5. Erase the autoxec.ctg file
Launch File Explorer, and input this path in its folder address bar: C:\Program Files (x86)\Steam\userdata\<Steam ID>\730\local\cfg
Select the autoxec.ctg file.
Try playing CSGO again.
6. Reinstall CSGO
Open your Steam software.
Select Library along the top of Steam's window.
Right-click CSGO and select Manage.
Click the Uninstall context menu option.
After uninstalling, right-click CSGO in the Library tab again to select Install.
Why does CSGO take so long to launch in Windows 11?
CSGO can be slow to launch in Windows 11 because of superfluous background apps and services. Such services consume system resources and slow down CSGO's launch speed.
CSGO might start a bit quicker if you disable third-party background apps and services starting with Windows. You can disable such startup items by clean booting in the following steps.
Bring up System Configuration as instructed in the first three steps of solution three above.
Uncheck the checkbox for the Load startup items option to disable third-party apps starting with Windows.

Select Disable all to deselect all the services that remain listed.
Click Apply > OK to set the new settings.
Launch Counter-Strike after clean booting.
Although there isn't a guaranteed way to fix CSGO not opening in Windows 11, the potential solutions above are more widely confirmed to work. So, they're worth a try for all players who need to kick-start CSGO.
Also, note that overclocking CPUs can also cause CSGO launch issues. If you've applied any such overclocking, try restoring your CPU to its default speed.
There are also probably other ways players can fix CSGO not starting. If you've fixed CSGO not opening with a resolution not mentioned above, feel free to share your fix in the comments below. Some of the resolutions in GE's guide to fixing game crashing might also help you kick-start Counter-Strike.
If you encounter any issues or errors while playing your favorite games and require support, feel free to contact us here. Our team is always ready to assist you and ensure your gaming experience is seamless and enjoyable.